Blue Diamond Dark Chocolate Almonds Are The Most Satisfying Sweet And Salty Snack
05/20/2021
Snacking is one of my biggest weaknesses, and I have no plans to change that in the near future. With so many delicious options out there, how could I? What I do try to do is swap snacks like French fries and candy for options like nuts and dried fruit. The latest addition to my snack arsenal came from a simple browse through Amazon's bestselling snacks. At the top of the list were Blue Diamond's Dark Chocolate Almonds ($10, Amazon).
To be honest, my first reaction was to wonder how in the world some simple almonds had garnered over 31,000 five-star reviews. How could so many people like a snack so much that they would feel compelled to go back to write a full review on them? After trying them, I have no questions left.
Here's how I became one of the thousands of customers to leave these a five-star rave review, too: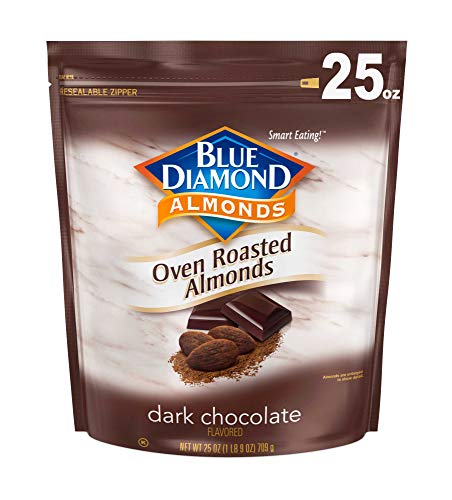 These aren't typical dark chocolate almonds.
I was happily surprised to learn these almonds are simply dusted with a light cocoa powder, making them different than those chocolate-coated almonds that come in boxes near the checkout line at the grocery store. While those are delicious, they're really more chocolate than almond in my opinion.
Blue Diamond's dark chocolate almonds, on the other hand, actually just taste like almonds with a light cocoa taste. They're great for people like me who don't have much of a sweet tooth but occasionally want just a bit of chocolate. They also feel less like a dessert and more acceptable as a mid-day (or morning, or night) snack.
They're versatile.
While I love these alone, they also make a light, crunchy add-on to a lot of my favorite foods. They taste amazing chopped up in some yogurt and granola, or on top of ice cream. I also love mixing these in with my charcuterie boards as a unique addition to cheeses and jams.
But, my favorite way of eating these is by adding some in my oatmeal. I simply mix in three or four chopped almonds, and the cocoa on them mixes in to the whole blend for a semi-sweet chocolatey treat for breakfast.
They're satisfying.
Not only are these filling—just a small handful staves my late-afternoon cravings—but they're also incredibly satisfying. They have a tiny bit of sea salt sprinkled on them, so the sweet-salty taste gives me the same satisfaction that chocolate covered pretzels used to.
That's also the reason every single person I've introduced these almonds to seems to love them. I've gotten my mom and several friends totally hooked—we've all officially joined the thousands of happy customers.
Source: Read Full Article