Adele Just Opened Up About Falling for Rich Paul—Get Alllll the Details Here
11/11/2021
Adele has a new album coming out which is presumably going to rock our collective worlds and win every possible Grammy including "Best Song to Weep Openly to on the Subway." And while the album is largely about her divorce (meaning we're in for a lot of emotions), Adele's in great place these days when it comes to dating and relationships.
In case you hadn't noticed the wildly cute pics, Adele is dating Rich Paul. They've been spotted court-side together (the gold standard for celebs going public with relationships), attended a friend's party looking all kinds of glam, and are making no effort to hide their 'ship—which is kinda new for notoriously private Adele!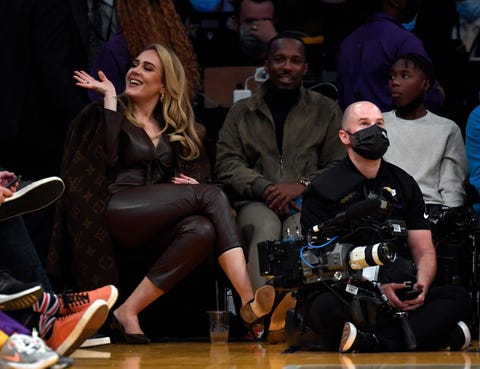 The singer even opened up about dating Rich in a new interview with Rolling Stone, saying they met on the dance floor at a friend's birthday years ago, and that @deuxmoi broke the news of their relationship before she had a chance to tell her friends. "I didn't really tell many of my friends at the beginning because I wanted to keep it to myself," she said. "None of them believed it!"
She also opened up about the relationship to Vogue, saying Rich is "just so fucking funny" and she doesn't "feel anxious or nervous or frazzled" around him and instead "It's quite the opposite. It's wild." And while Adele says she didn't mean to go public with the 'ship, she loves being around Rich. Which means the time has clearly come to get to know him better, since it's important that we keep our best friend's boyfriends close, ya know?
Rich Paul Is an Incredibly Successful Sports Agent
As in, he represents LeBron James, not to mention a ton of other NBA stars, through his company Klutch Sports Group. His first public outing with Adele was actually at Game 5 of the NBA Finals in Phoenix, Arizona—and apparently they talked about the outing ahead of time. As Adele told Vogue "He was like, What are people going to say? And I was like, That you signed me. As an athlete. You're my agent. And he was like, Okay, cool."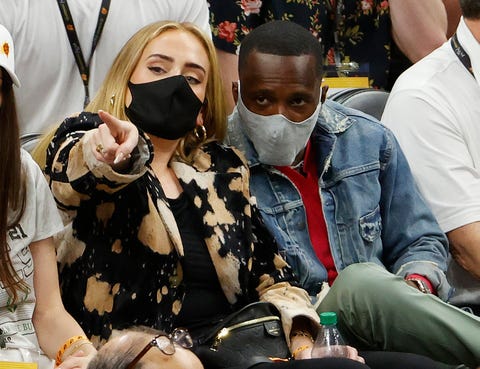 With clients like LeBron, Rich is obviously super successful. In fact, a quote from a profile of Rich in the New Yorker describes him as being "absolutely unrelenting in getting his players what they want," and Forbes says he's negotiated more than $1 billion in active deals for LeBron James, as well as Ben Simmons and John Wall. Dang.
He Met LeBron in the Coolest Way
Like, they legit met and bonded while waiting for a flight to Atlanta at the Akron-Canton Airport in 2002. LeBron, who was just 17, spotted Rich, who was just 21, wearing a Houston Oilers jersey and asked where he'd gotten it. They ended up staying in touch and talking "basketball, football, and the greatest that have ever played the game." Rich says they also talked "just about being a Black kid growing up in the inner city and the struggles that come with that."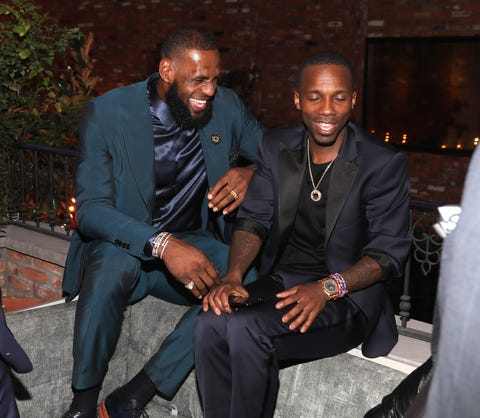 Rich eventually started working for LeBron in 2003, and the rest is history. "I have always felt that he had a purpose, and that's why I kept him around," LeBron told the New Yorker. "I knew he was going to be something more than even what he thought he could possibly be at the time. It was just a feeling I had."
He's Writing an Memoir
It's called Lucky Me and will be published by Roc Lit 101, Roc Nation's publishing division. The book will chronicle Rich's early life in Cleveland (where his father owned a store called R & J Confectionery) before his eventual move to Beverly Hills.
https://www.instagram.com/p/CMh20WMlac_/?utm_source=ig_embed&utm_campaign=loading
A post shared by Rich Paul (@richpaul)
Like Adele, He's a Parent
Rich has three kids and Adele has one—and both of them them keep their children pretty much out of the spotlight. But a source tells E! News that "They have both met each other's kids but have been keeping it low-key around them. They both stay at each other's places in L.A. and are pretty much inseparable."
He's Obsessed With Movies
Rich is a total pop culture nerd and has been since he was a kid, when he watched a ton of movies and TV shows and—per the New Yorker—"saw them as subjects to be mastered as much as relished."
"I remember when Bloodsport came out—I used to watch that movie over and over again," he said. "I was a big Ninja Turtles fan."
Yes, He and Adele Are Insta Official
Just in case you were wondering, they definitely showed up together on Adele's grid…swipe right:
https://www.instagram.com/p/CT_s4RMASgx/?utm_source=ig_embed&utm_campaign=loading
A post shared by Adele (@adele)
Cutest. Couple. Ever. Can't wait for an album all about their love.
Source: Read Full Article