Meet the Mom Who Looks Practically Identical to Meghan Markle
01/30/2020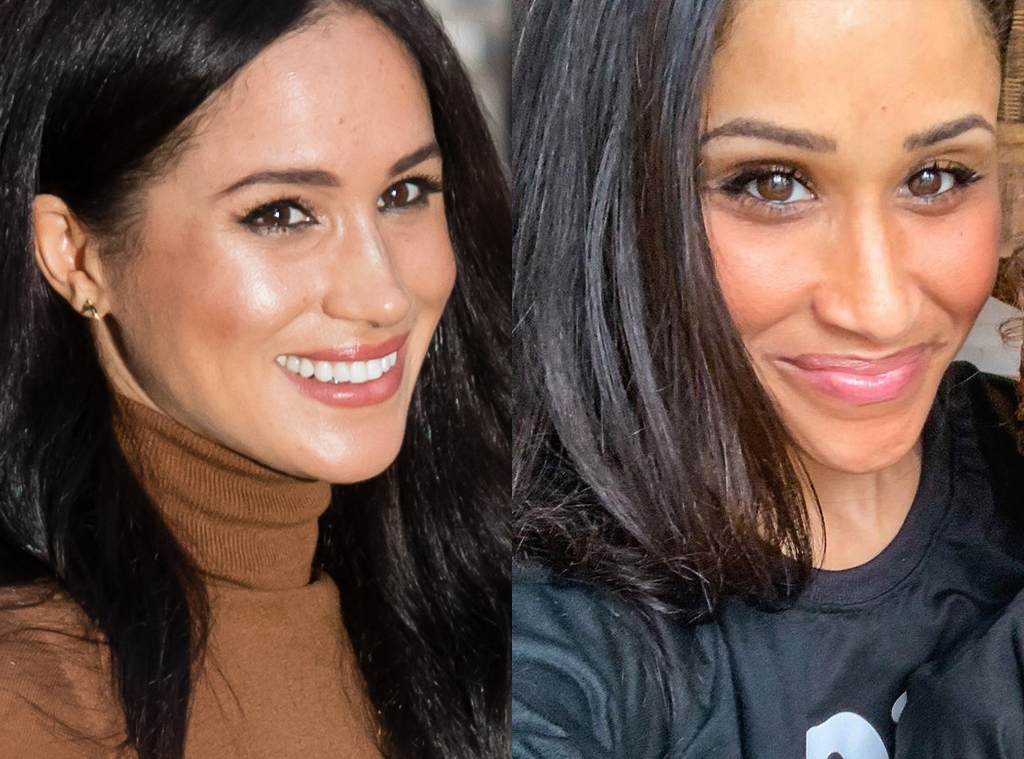 Getty Images/Instagram
If anyone's looking to book a Meghan Markle lookalike, then this mom has you covered.
This week Akeisha Land had people doing double-takes when her picture with her daughter, Grayson, popped up on their Instagram feeds a few days ago. Immediately after, the mother-of-two noticed the account was flooded with comments on how she looks eerily similar to the Duchess of Sussex Meghan Markle. From her head to her toes, Akeisha could basically be the Duchess' twin, which had everyone flocking to see the picture.
This came as a shock to Akeisha since Greyson's account, which is run and monitored by Akeisha, is typically just photos of cute toddler outfits and other family moments.
But with the recent revelation, the mother-of-two says she can see herself stepping into the spotlight. She tells E! News about her potential future as a body double and more in our interview below!
E!: What has the response to the story been like for you?
A: Madness. It's been crazy. I legitimately have anxiety right now. The outpouring of comments that have been coming in just off a photo I posted of me and Greyson… Literally every comment is about me. Normally it's like, 'Oh, she's so cute,' and that sort of thing but it's all about me this time. It's very different! I'm not used to being in the forefront. I'm used to it being about my kids. It's overwhelming.
View this post on Instagram
Wonder why you're seeing my face and not Bitty's? I know you'd rather see her cute face, but I had to make a brief cameo to say, CHIEFSSSSSSS!! 🙌🏾 Our team is going to the Super Bowl y'all; so I had to (finally) post these photos of the only game we were able to make it to this year ❤️ Wish we could go to more, but with two young kiddos and church on Sunday's, it's hard to make it to many games. Plus parking alone is $60 and ain't nobody got time for that! 😅 • Also, can we just take a minute to talk about my hair?! I've been on my natural hair journey for over 5 years now and hadn't straightened my hair in over two years. A couple years ago when I straightened my hair, even though I'd been natural for so many years and used Curly Girl Method approved products only, when straightened, my hair was dull, dry, slightly brittle and my ends were a disaster. This year though, I think the results speak for themselves in these photos! And I have @olivabrand to thank! Remember back in September I told you guys I was going to start a hair trial with them? Well as you can see, my hair loves @olivabrand! It's perfect for my low porosity hair because it's not as thick and heavy as most hair oils. I use it for my scalp massages as well as hot oil treatments. It's made my hair sooooo soft, smooth, and shiny! Bye frizz! ✌🏾I've also been using it on Bitty's hair and her curls are really starting to POP (as you can see in my previous post)! • Definitely go check them out @olivabrand and use code grey15 to save 15% off of your purchase ❤️
A post shared by Greyson Regina Land (@greyson_land) on
E!: Do you follow the royal family? Or Meghan?
A: Not really. I follow one of her fan pages because I am a fan but that's really about it. I don't follow really besides that.
E!: Do you find it flattering?
A: Definitely. I take it as a huge compliment. I think she's gorgeous so to be mistaken for a royal is definitely quite a compliment.
E!: Would you be interested in lookalike work?
A: For sure. I was joking and told one of the commenters on my post I need to reach out to her people and tell them if they ever need a doppelgänger…
E!: Or work for hire? If someone wants an Meghan lookalike for their event?
A: Yes, definitely. If they want me to go to a party as her, I'm your girl.
E!: Will you start your own page now?
A: I am going to start to try to be more in front of the camera. Yes, I definitely want to put myself out there more and not just my kiddos. I really love fashion and also talking about mom stuff. Just real life stuff.
Source: Read Full Article