Kelly Ripa or Ryan Seacrest: Which 'Live' Host Has the Higher Net Worth?
05/20/2019
Kelly Ripa and Ryan Seacrest co-host the morning show LIVE With Kelly and Ryan. Together, they make a dynamic duo who entertain their viewers from the show's start to finish. Ripa has been doing the show for years, while Seacrest only joined her a few years back but has plenty of other business endeavors. Between these two widely known talk show hosts, who has the higher net worth?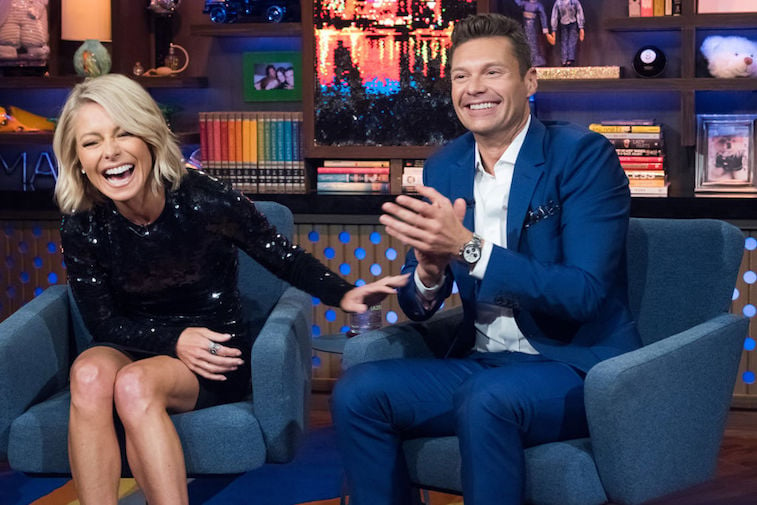 Ripa originally hosted the show with Regis Philbin
Before Ripa's days as a talk show host, she was a soap opera star. She got her start in the entertainment industry when she had a breakout role on All My Children back in 1990. Ripa starred on the show from 1990 to 2002. Starting in 2001, Ripa became the host of LIVE with Regis and Kelly alongside Regis Philbin after Kathie Lee, the previous host, announced she was leaving. After she began starring on the talk show, she also starred in the show Hope & Faith from 2003 to 2006. After Philbin announced his retirement from LIVE in 2011, Ripa rotated through several hosts before Michael Strahan eventually became the full-time host.
Today, Ripa is worth an estimated $100 million
Ripa has made a massive name for herself, and she essentially started from nowhere. She was born and raised in South Jersey, and her drama teacher is the one who convinced her to start a career in acting. She took his advice and eventually stopped going to college to move to New York City and pursue a career. Clearly, it worked out for her. She met her husband, Mark Consuelos, on the set of her soap opera, and the two have been together since and have three children. Today, she primarily only hosts LIVE, but she has an estimated $20 million annual salary for the show and is worth a reported $100 million.
Seacrest joined Ripa on 'Live' back in 2017
In 2016, Michael Strahan announced that he was leaving LIVE to take a full time position on Good Morning America. And so the hunt began for Ripa's next co-host. Several people stood in, but out of all of them, Seacrest stood out. He was brought on full-time and started as co-host in 2017. Since then, the ratings have been high and the two appear to get along well. It's unclear how long Seacrest will remain co-host, since he's one of those entertainers who has plenty of other jobs. He is truly someone who is married to his career.
Seacrest is worth an estimated $410 million
His incredible net worth is thanks to his various endeavors that stretch far beyond LIVE. Seacrest has also hosted American Idol since 2002, along with Dick Clark's Rockin' New Years' Eve. He hosts On Air with Ryan Seacrest, a radio show, as well as the American Top 40 countdown each week. During American Idol season, Seacrest takes a red eye to get from California to New York City each Sunday to be there to film LIVE on Monday morning. But all of his hard work has clearly paid off; Seacrest has an estimated $410 million net worth.
Check out TheCheat Sheet onFacebook!
Source: Read Full Article