How Did Meghan Markle's Parents Meet and When Did They Get Divorced?
05/27/2019
Meghan Markle has been the star of headline news with the birth of her first born son, Archie. The Duke and Duchess took to Instagram to announce the birth of their baby boy.
Meghan's mother has been with her every step of the way in preparing for little Archie's arrival.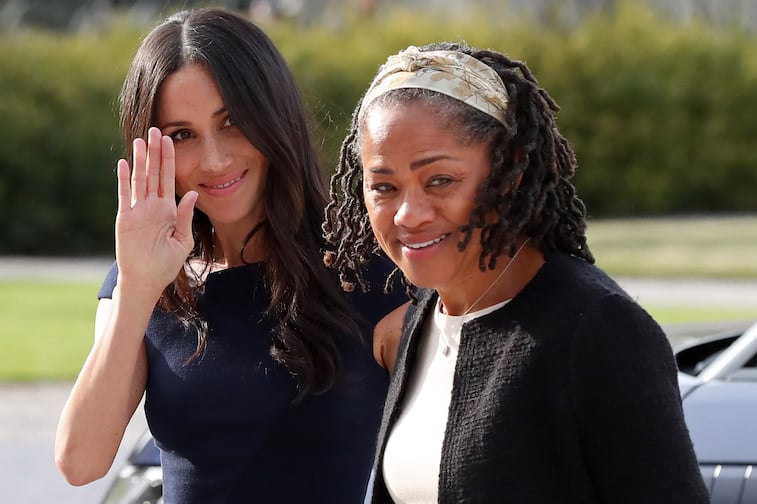 Meghan Markle's parents
Doria Ragland and Meghan's dad, Thomas Markle Sr., met in California. His marriage to Doria was his second marriage. Thomas had previously divorced his first wife Roslyn despite having two children together, Thomas Junior and Samantha.
Meghan remains quite close with her mother, but relationships have been strained with her siblings and her father. Doria was the only member of Meghan's family to attend her wedding.
How did Meghan Markle's parents meet?
Meghan's parents met in the late seventies at the television set where Thomas worked.
In her book Harry & Meghan: A Royal Engagement, author Halima Sadat writes: "Doria was working as a temp at the television studios where Thomas was the lighting director for a popular soap opera…they fell in love and were married in 1979, with Meghan being born two years later."
Meghan has written of her parent's meeting, stating, "I like to think he was drawn to her sweet eyes and her Afro, plus their shared love of antiques. Whatever it was, they married and had me."
The Markle divorce
The Markles divorced when Meghan was only 6 years old. However, Meghan has some powerful childhood memories of what it means to be a family.
She remembered one such memory in an essay she wrote for Elle magazine,"On Christmas morning, swathed in glitter-flecked wrapping paper, there I found my Heart Family: a black mom doll, a white dad doll, and a child in each color," she wrote for Elle. "My dad had taken the sets apart and customized my family."
Meghan and her mom
Meghan has remained quite close with her own mother, social worker, and yoga instructor, Doria. In fact, Doria had been living with Meghan and Harry in their home in Windsor prior to Archie's arrival.
Even Prince Harry has mentioned that he adores his mother in law. They have an excellent relationship.
But where is Meghan's dad?
We all recall how Meghan's father, Thomas, was supposed to walk Meghan down the aisle, but at the last minute it was announced he would not be in attendance at the wedding due to apparent health complications.
"Sadly, my father will not be attending our wedding," Meghan announced in a statement. "I have always cared for my father and hope he can be given the space he needs to focus on his health. I would like to thank everyone who has offered generous messages of support."
Then, there were all those times where her father leaked information to the press, even when both Meghan and Harry begged him to stop.
Now that the Duchess has delivered her baby, many are wondering if her father will make an appearance in the U.K. to visit.
Thomas Markle's reaction to baby Archie
Thomas Markle is no stranger to the press, in fact, his relationship with reporters is one of the reasons Meghan and Harry don't have much contact with him. However, after the birth of Archie, Thomas wished his daughter and son-in-law well on their new parenting adventure.
"I'm delighted to hear that mother and child are doing well," Thomas Markle said in a statement to The Sun. "I am proud that my new grandson is born into the British royal family and I am sure that he will grow up to serve the crown and the people of Britain with grace, dignity, and honor."
At this time, it appears that Thomas has no plans to visit the U.K. to meet his grandchild.
Source: Read Full Article