Exclusive: Natacha Karam shares what Marjan's exit from 9-1-1: Lone Star really means
02/22/2023
9-1-1: Lone Star made a big change at the end of Tuesday's episode – Marjan Marwani handed in her notice to the 126.
The shocking decision came after the firefighter (played by Natacha Karam) was threatened with legal action from a woman she had rescued in the season four premiere; as Marjan was attempting to rescue the victim from a mobile home, she radioed to the team that the woman was "crazy", and the victim was now demanding not only a public apology on Marjan's popular Firefox Instagram account, but also financial help.
WATCH: 9-1-1: Lone Star: Marjan Marwani hands in her notice
In response, and after much soul-searching, Marjan handed in her notice to a shocked Captain Owen Strand (Rob Lowe), who had stood by her. The good news is that Natacha is not leaving the hit Fox show, but Marjan will be out of town for a few weeks.
As Natacha tells HELLO! the once confident firefighter now has to confront herself and "find out whether this is an opportunity to do something new, or an opportunity to reaffirm that this is the path she's supposed to be on".
Did Tim call you before you received the script to confirm you were not fired?
Natacha: Yes – I figure if you're getting fired, you get some notice about it! Tim did call me and say, 'Listen, there's a script coming down the pipeline that looks a little suspicious, but it's not.'
But Marjan has resigned and she's not coming back immediately – I can tell you that for free! Yet the story isn't Marjan leaves and then comes back, it's actually Marjan leaves and then the audience goes with her through the season and follows her journey elsewhere. She's not going to be in Austin for quite some time.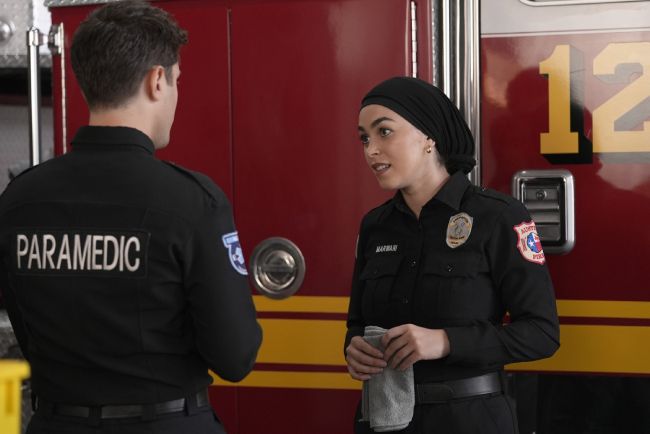 Marjan will depart from the show for a few weeks
When I got the script and realized that she was going to resign because she has been backed into a corner I was excited because it's a really interesting and dynamic way to have an introspective episode for her. Marjan turns in on herself and gets vulnerable and figures out what her calling in life is – and that's much more interesting than just being physically incapable of doing the job.
The audience will be going with Marjan on this journey outside of Austin, what can we expect?
Natacha: I can say that it won't be a non-eventful journey because it is the world of Lone Star!
But people are used to seeing things get resolved very quickly on procedurals and it's not going to be quick. She's going to be gone for a while and she's going to have to confront herself in order to come to a conclusion about whether she wants to even be a firefighter enough to overcome all the obstacles that are now in her way, and what's being required of her in order for the whole firehouse not to be sued.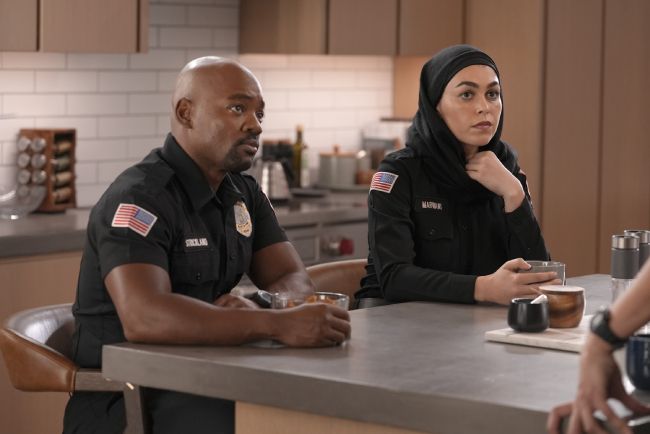 Natacha and Brian Michael Smith as Marjan and Paul Strickland
Exclusive: New Girl's Hannah Simone on why new series Not Dead Yet is breaking more boundaries
Exclusive: Abbott Elementary star Lisa Ann Walter praises Quinta Brunson for surprise casting decision
There's a mountain to overcome before she can really become a comfortable firefighter again. Marjan needs to find out whether this is an opportunity to do something new or an opportunity to reaffirm that this is the path she's supposed to be on.
How will that look on-screen?
Natacha: There will be FaceTimes with friends; she hasn't disappeared out of their lives.
But Marjan is alone – she's gone on Route 66 heading in whatever direction, and in episode eight and nine, the audience will get to be with her [again].
So what I'm actually hearing is that Marjan's heading west to Los Angeles for a crossover with the original 9-1-1?
Natacha: A lot of people were hoping that that would happen! But I will say Marjan heads more in the direction of New Mexico so not quite as far west.
Episode five has some really lovely scenes with you and Rob Lowe, which was again a really nice callback to early season three. What was that like, working closely with Rob again?
Natacha: Rob and I worked really well together. I think we just get in the flow as soon as we kind of get our pages, and things happen very quickly – we don't do many takes of things when we're together.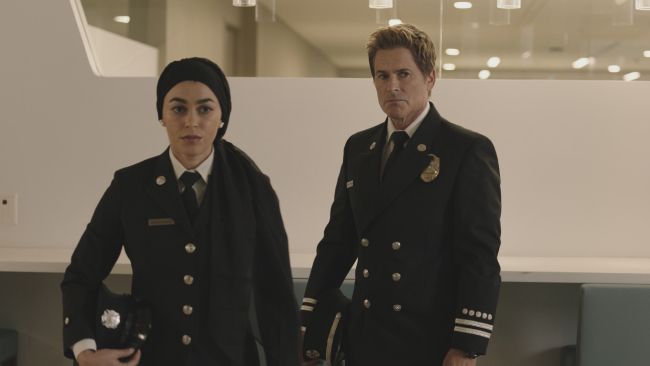 Natacha and Rob as Marjan and Captain Strand
He made a joke one time that there's always a couple [of actors] that you like seeing paired up on the call sheet together because you know things are going to go quick, and that was me and him. Rob and I also get nice scenes rather than exposition scenes, and I think this particular arc probably complicated things for Captain Strand internally because he's part of this cowboy culture and has done things that could be considered a lot worse than what Marjan's done.
Now he has to watch her go down for something; this is the straw that broke the camel's back.
How do you feel so far about this season overall?
Natacha: This has been my favorite season so far. It really feels like, for me as an actor, most of the time when I've gone to work this season, it's to actually do good work.
Sometimes you have to just be a vehicle for the story and be in the background and fleshing out the world that exists to make it realistic, and then other times you actually get to spearhead things and have feelings and obstacles and journeys to overcome.
I've been allowed to grow and expand and challenge myself, which is really nice, and it's nice that four seasons in, there's a way to still keep things fresh.
Read more HELLO! US stories here
Like this story? Sign up to our newsletter to get other stories like this delivered straight to you
Source: Read Full Article