Chet Hanks Slams Eric André Claim He Was 'Dangerous' On Comedy Series Set
03/15/2023
André, for his part, called Hanks a "f—ing liar," while also daring him to "take a f—ing DNA test" to "prove" he's Tom Hanks' son.
Chet Hanks is hitting back at Eric André after he claimed he was "very dangerous" on the set of his sketch comedy series.
In an interview with Rolling Stone, which was published on Tuesday, André discussed the upcoming sixth season of "The Eric André Show," including some of the celebrity guests who will appear on the Adult Swim series. However, it's safe to say the comedian didn't have a great experience working with Hanks, claiming the actor "stole a motorcycle" and wreaked havoc on set.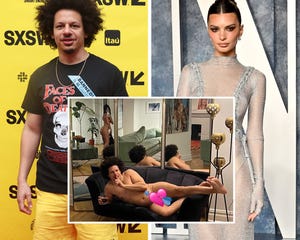 Eric André Talks Emily Ratajkowski Nude Pics, Reflects on Short-Lived Romance
"Chet Hanks, on the other hand, was a tough cookie," André told Rolling Stone of Hanks, who is the son of actors Tom Hanks and Rita Wilson. "He broke our crew. It felt like 'Rust.' He broke us down."
"He is … emotionally disturbed," the 39-year-old added. "He stole a motorcycle and rode it around. He almost knocked a bunch of grips and gaffers off their ladders. It was very dangerous. He tried to prank us back, but we edited out all his bulls—! He's not well. How did Colin Hanks come out so good and Chet Hanks come out so bad?"
Later on Tuesday, Hanks responded to André's comments, sharing a series of posts on his Instagram Stories — and he didn't hold back. The 32-year-old slammed André, calling him a "p—-y," while also arguing his behavior on the set of "The Eric André Show" was simply him matching what he believed was the "energy" of the comedy series.
"@ericf—ingandre had no idea you were such a puss," Hanks wrote in his first post, before fully clapping back at André in two videos.
"Here's what happened with the Eric André s—. So Eric André invites me on his show," he began. "I had never seen it before, so I started watching episodes. I see that it's, like, really on some, like, weird, like, outlandish, troll s—, so I'm like, 'Alright, cool, I'll match that energy.'"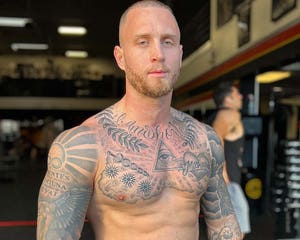 Chet Hanks Says Parents Sent Him to Remote Wilderness Program Amid Teenage Addiction
"So I come on the show, and I'm on some super, like, outlandish f—ing troll s— thinking that he would get it, you know what I mean?" he continued. "At one point, he has a dude come and jump a dirt bike on the stage. Well, they must not have known that I ride dirt bikes 'cause I put that s— up [and] start riding it around the set. And everyone's like, 'No no no no! Don't do that! You can get hurt!' I popped a little wheelie and put the bike down."
As for André's calling him out in Rolling Stone, Hanks said, "He must just not have liked that the fact I f—ing outshined you on your own f—ing show, and honestly, when I was on there, the dude seemed shook 'cause when I came out and sat down, he seemed, like, genuinely nervous, like, just being around me, the dude seemed like f—ing shook I don't know what it was."
"There's a lot of f—ing weirdos in Hollywood, and I think you are one of them," he added. "I thought you were funny and cool, but it turns out you're just a p—-y, dude. That's what's up."
The "Empire" star went on to say that he believes that André didn't like him because of his reaction to a technical issue during filming.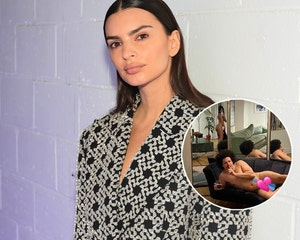 Emily Ratajkowski Alludes to 'Situationship' Ending After Eric André Nude Photos
"I think what it was is that when I came out and sat down at, like, you know, the desk and s— when he introduced me, they had a mic problem, like, my mic wasn't working or some s—, so I went like, 'F—!' right to, like, play around with the schtick of the show, like, I wasn't serious," Hanks explained, "but I look over at him, and he was shook, like, he genuinely thought, like, that I was pissed or some s—, so I just had him on, like, sitting on the edge of his seat the whole time."
Hanks described André as "really soft" and "really nervous," claiming the comedian "gets easily scared."
He then concluded his video, saying, "I was just playing along with your schtick dude, but, you know, it is what it is. Some people are just straight bitches and apparently, Eric André is one."
In other posts on his Stories, the "Your Honor" star continued to poke fun at André's comments, also writing, "Motherf—ers mad he couldn't out based me."
Meanwhile, André caught wind of Hanks' posts, and proceeded to blast him on his own Instagram Stories.
"Everything Chet Hanks just said about me is a f—ing bold-faced lie," he said in a video. "He's a f—ing liar! And I dare him to take a f—ing DNA test, and prove that Tom Hanks is his f—ing father!"
He went on to share a post that featured the hashtag: "#chethanksbirther."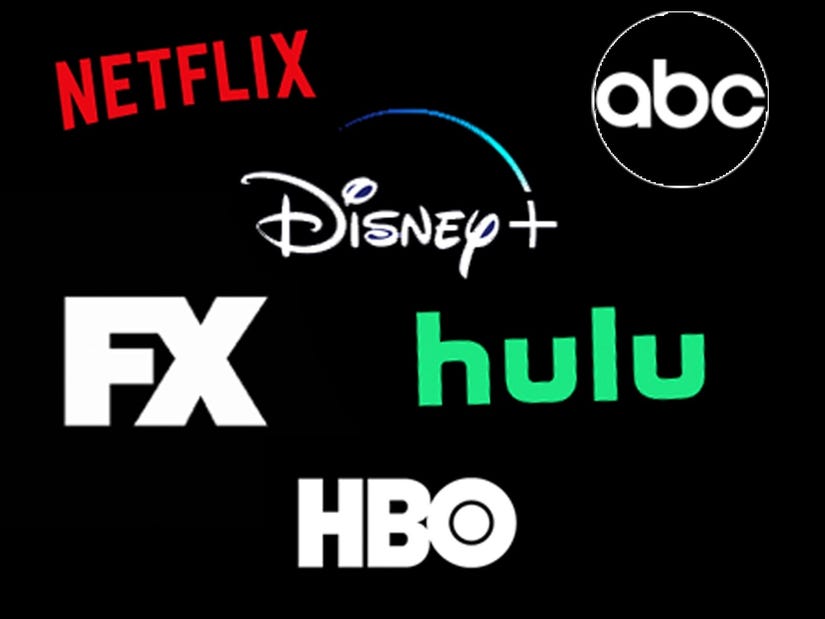 Source: Read Full Article