'Blissonance' effect as Melbourne's early spring signals hot, dry summer
08/29/2023
Save articles for later
Add articles to your saved list and come back to them any time.
Flower buds bursting forth, a flush of green on the trees, and birds busily building their nests. It should feel uplifting, right? These mild, almost-spring days we've been having.
But in the wake of record-breaking summer temperatures across the northern hemisphere and building ocean heat off south-eastern Australia, the simple enjoyment of an early spring feels fraught.
Amy Hall with her daughter Elena Bonneau with magnolias in bloom on Gertrude Street, Fitzroy. Credit: Joe Armao
Perhaps we are experiencing 'blissonance' – when an otherwise blissful experience in nature is disrupted by thoughts of how the place will be negatively affected in the future. (It's an unofficial term coined by a public artwork called the Bureau of Linguistical Reality, which finds new words to describe living through climate change).
It has been balmy: Melbourne and Victoria have experienced anomalously warm temperatures this winter. According to measurements from the Melbourne weather station at Olympic Park, June was about 1.1 degrees warmer than the long-term average, July was about two degrees warmer and August was 1 degree warmer, Weatherzone meteorologist Corine Brown said. This was similar for Melbourne's surrounding suburbs.
To put that in context, the hottest June in Melbourne was in 1957, the hottest July was in 2013 and the hottest August in 2011. Melbourne's warmest winter to date occurred in 2013. And nationally, the temperature outlook for Australia this spring and summer is for above-average temperatures, and the strong possibility of a drying El Nino climate driver.
"Globally we have been seeing an increase in average temperatures – the same is happening here as well," said Brown. "If you look back at the records, some of the warmest winters have been in the last 15 years."
A critically endangered helmeted honeyeater. This year, they started breeding weeks earlier than usual.Credit: Joe Armao
This year, Zoos Victoria's critically endangered helmeted honeyeaters started building their nests in July, several weeks earlier than usual, and some birds already have nestlings. Early nests have been recorded before, during similar conditions in drought years, but egg laying in early August is unusual.
The honeyeaters, which live in only two locations in the wild – Yellingbo Nature Conservation Reserve in the Upper Yarra Valley and a site near Warburton – usually nest and produce chicks from spring through to autumn. This raises questions about how the birds will behave this year, said helmeted honeyeater field officer Nick Bradsworth.
"We could have an extended breeding season if rainfall continues through spring and summer, or the birds may stop if summer temperatures get too high. It's currently a case of wait-and-see," he said.
Dr Noushka Reiter with infant orchids grown in the Cranbourne lab.Credit: Simon Schluter
The warmer winter has also prompted rare orchids at the Royal Botanic Gardens Victoria to flower six weeks to two months early, said Noushka Reiter, a senior research scientist who won this year's Eureka Prize for excellence in botanical science. The gardens grow more than 200 species of orchids, including 100 nationally endangered species, which are reintroduced into the wild across south-eastern Australia.
"Once-off seasonal highs and lows are not climate change, but in the long term, we're seeing gradual drying in sites where orchids would usually grow," says Reiter. "In summer …you're seeing declines of species throughout these areas. Climate change is here."
Disruptions to long-term weather patterns can confuse the natural world and lead to "asynchrony", says Associate Professor Rachael Gallagher, a plant conservation scientist from Western Sydney University. This mismatch in timing between two ecological partners – like a flower and a pollinating insect, for example – can mean some plants are unable to create seed for the next generation.
And, of course, a warmer winter and spring also mean an earlier fire season. "It's important to think about the fire season and the effect on plants, which are the primary habitat for animals, including mammals, birds and insects," said Gallagher.
This summer, ocean temperatures around Australia are likely to hit record heat levels in the coming months, prompting fears of marine heatwaves and increased coal bleaching risks.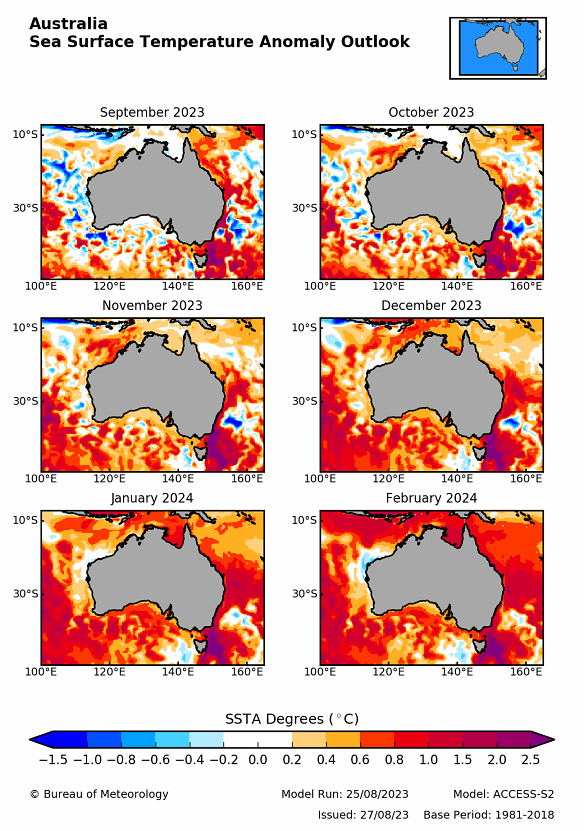 The ocean temperature forecast for the coming months shows above-average temperatures around all of Australia.Credit: Bureau of Meteorology
The Bureau of Meteorology forecasts show that part of the Tasman Sea off Tasmania and Victoria could be at least 2.5 degrees above average from September to February. Meanwhile, the waters off NSW could be between 0.8 degrees and 1.5 degrees warmer than average for the same time period.
Already, Australia's top marine science agency has warned the Great Barrier Reef is at increased risk of severe damage from coral bleaching this summer, despite finding so-called hard coral cover is at near record highs.
Climate Council research director Simon Bradshaw said the forecasts were extremely concerning, particularly following months of record ocean and land temperatures.
"We've seen record high ocean temperatures in many parts of the world, an astonishing decline in Antarctic sea ice, and signs that the currents which distribute heat, carbon and nutrients around the world are changing faster than previously thought," he said.
"It is particularly worrying to see such high temperatures forecast for the east coast of Tasmania, where we have already seen the enormous loss of kelp forests due to climate change."
Get to the heart of what's happening with climate change and the environment. Our fortnightly Environment newsletter brings you the news, the issues and the solutions. Sign up here.
Most Viewed in Environment
From our partners
Source: Read Full Article