30 Best Maid Of Honor Gifts For 2021 Brides
06/30/2021
It doesn't matter if you are the most chill bride around, the to-do list is loooong when you're planning a wedding, amirite? From headcounts to hemlines to choosing the d*mn silverware, putting together a soirée that suits you and your beloved requires some serious juggling.
And that's why having a maid of honor is kind of a big deal, whether you want her at your side because she keeps you in check or you need an extra set of helping hands stuffing those favor bags at 1 a.m. But how do you thank your MOH for stepping up to her bridal party duties? You've gotta get her a top-notch maid of honor gift.
Don't start biting those nails just yet. Yeah, you want to choose a MOH gift that lets your BFF know just how grateful you are to have her in your corner, but there's no need to stress about adding yet another task to your seemingly never-ending calendar of wedding appointments and reminders. While it's true your maid of honor can't help you with this part, this list of fool-proof presents definitely will.
Think of this gift guide like a completed task your MOH would have knocked out of the park if it wasn't, well, for her. Just like your right-hand woman planning an epic bachelorette party, I've already done the hard part of scouring the internet to find the 30 best gift ideas for your maid of honor. All you have to do is sit back, and choose the perfect one.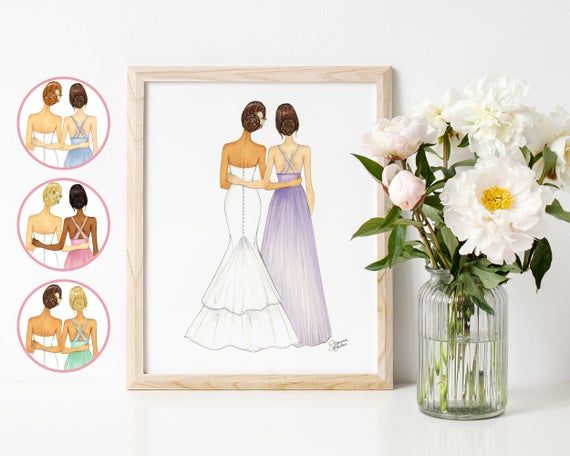 Give her a personalized print that will not only remind her of the day she stood by you at the altar, but of all the ways in which she has been by your side through the years. Choose from various skin tones, hair colors, and dress styles to give it your own unique spin.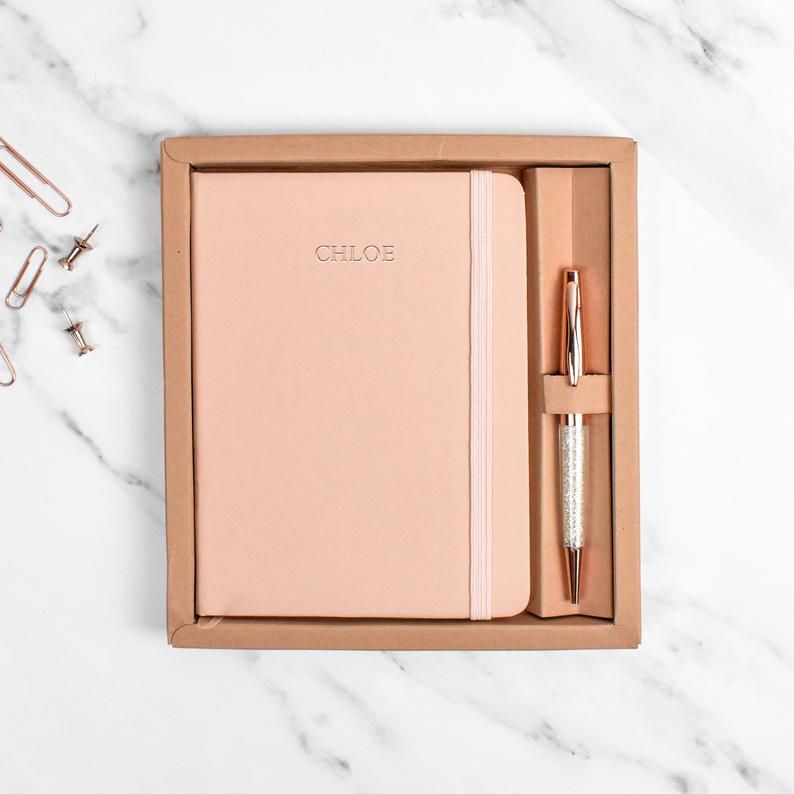 Is your BFF a fan of bullet journaling? Or maybe she just likes to make lists and crush 'em? Either way, this personalized notebook set is *probably* the gift for her.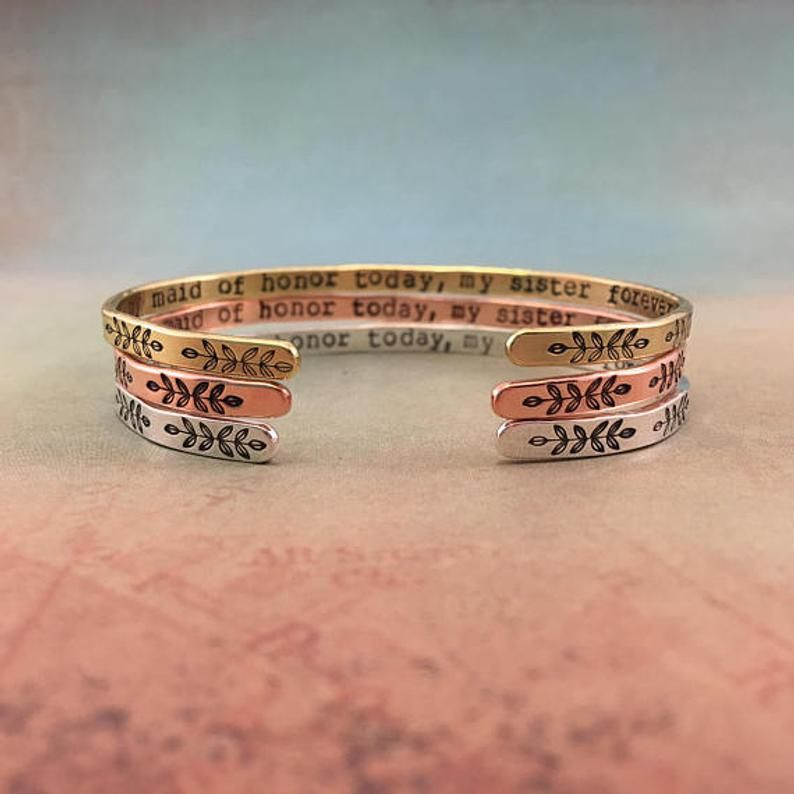 These thin metal bracelets come in sterling silver, golden brass, or rose copper, and are hand stamped with the sentiment "my maid of honor today, my sister forever."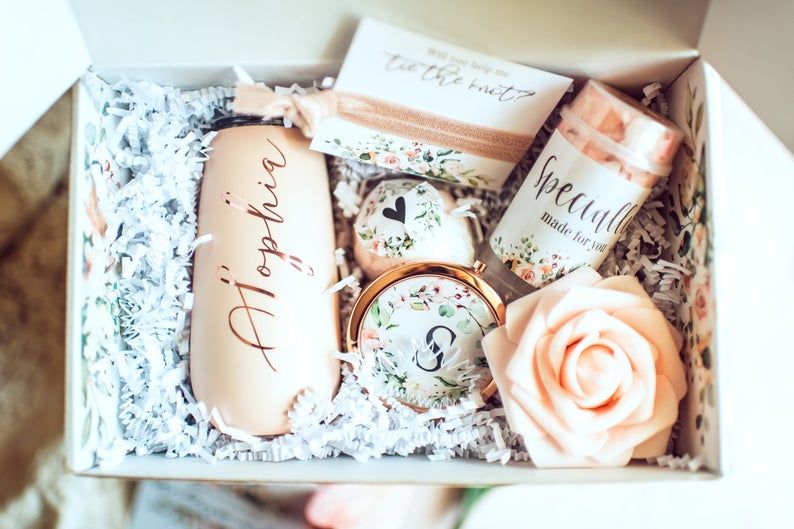 This blush-toned box is your chance to say "Will you be my maid of honor?" in a thoughtful way. Complete with spa items, like a bath bomb and a foam flower, a pocket mirror, and a personalized metal cup, this set will be met with a resounding, "Yes!"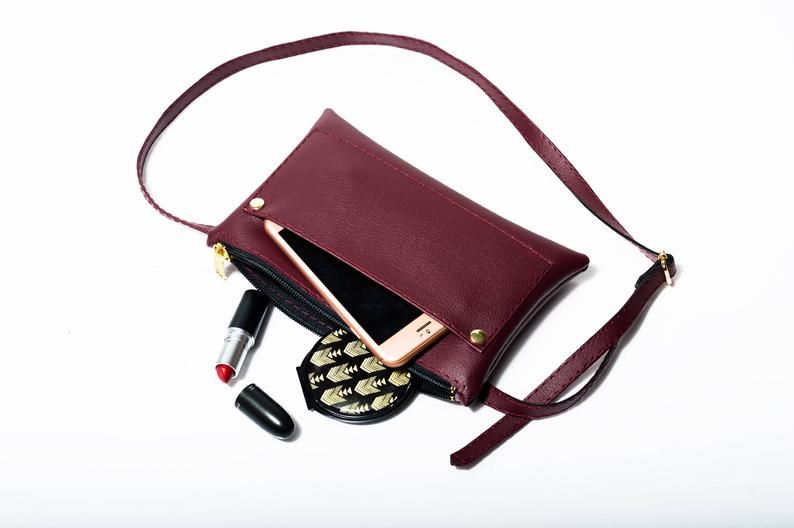 Why not give her a gift she can use while checking off all of those MOH errands (and beyond)? This handmade vinyl waist bag (a.k.a. fanny pack) is the perfect size for lip gloss, a wallet, and a phone—ideal for crushing a to-do list.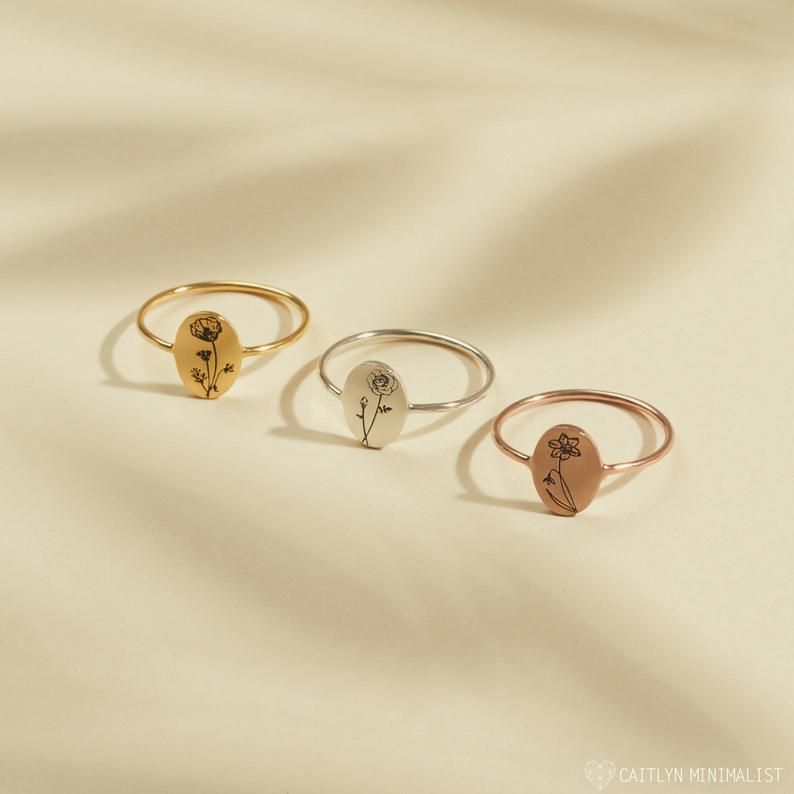 Customize this signet ring with your MOH's birth flower (e.g. April birthdays are a daisy) for a meaningful jewelry piece she'll wear long after the last song is played.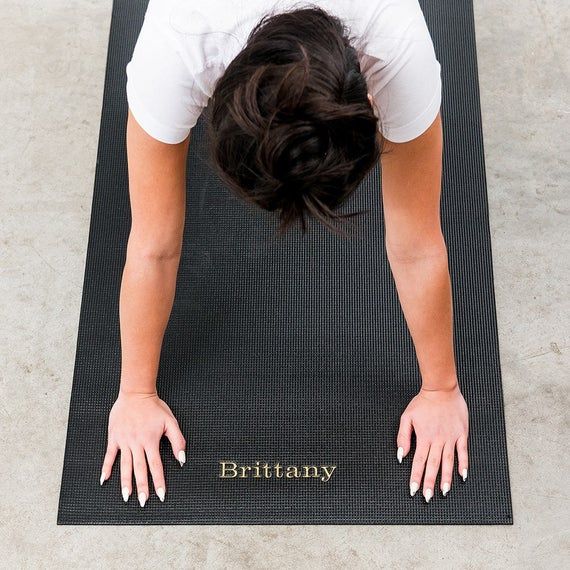 Does your maid of honor love her Zen time? Consider gifting this no-slip, extra-thick yoga mat, custom made with her name. Oh, and while you're at it, you might want to get 'em for the whole wedding party because they're just too cute to pass up.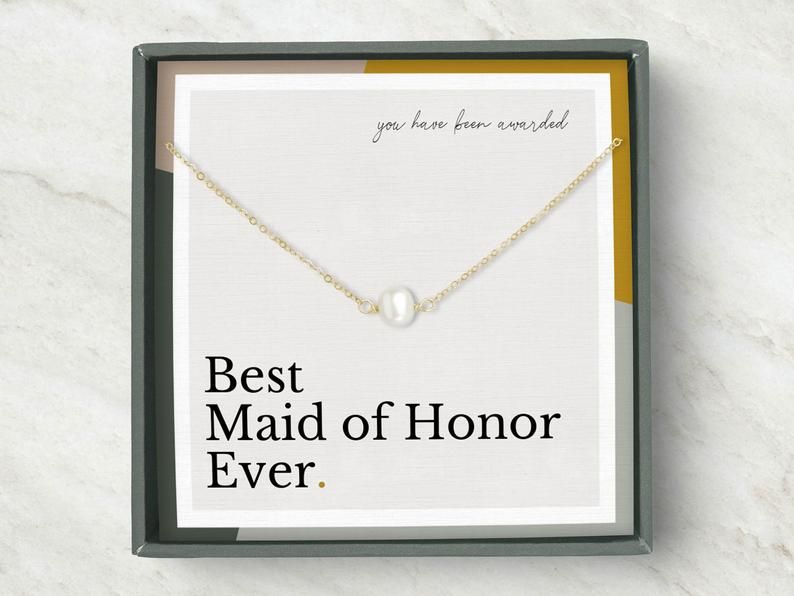 Want to say thank you to your MOH, but not quite sure how to do it? This delicate pearl necklace was designed to do exactly that.
This 14K gold-filled sterling silver chain features a pearl at its center and is attached to a card that says it all: "Best Maid of Honor Ever."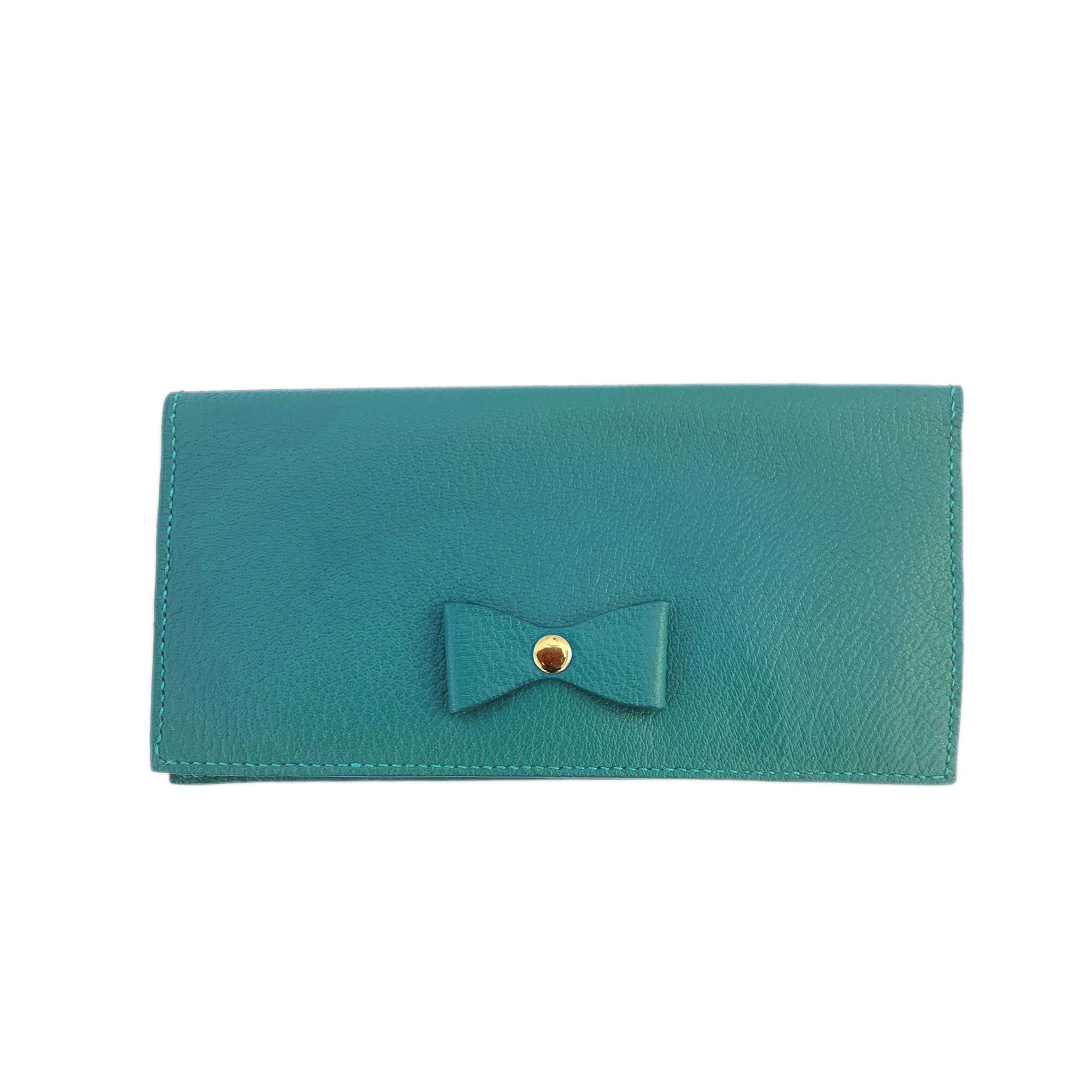 How sweet is this slim wallet? Handcrafted from French chevre goatskin and accentuated with a small bow, this clutch comes with 12 card slots and enough room for small essentials.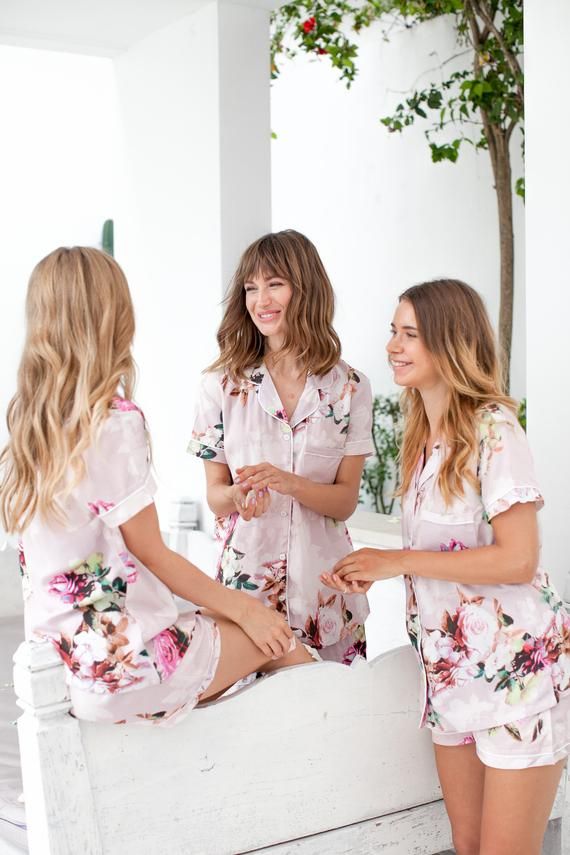 Soft and breathable, these floral pajamas are a fresh take on matching bridal party sweatsuits. Bonus? You can have the set monogrammed for an extra personal touch.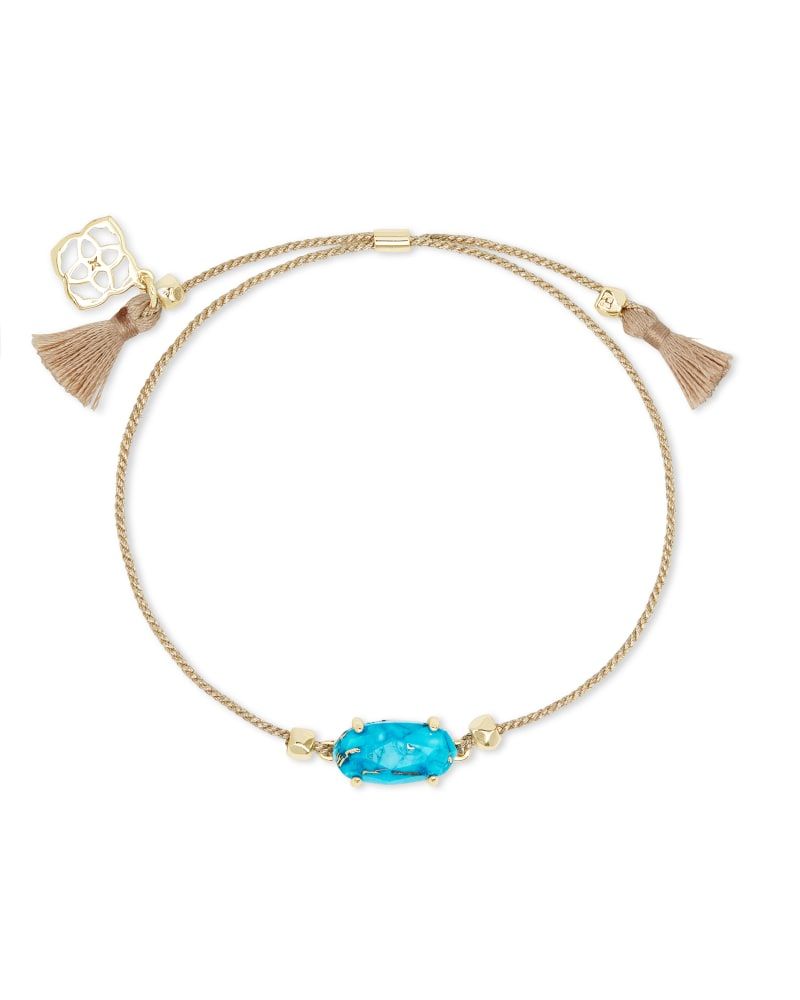 Stunning but not overdone, this bracelet pairs a braided cord with a bold medallion accent at its center for a beautiful addition to your BFF's jewelry box.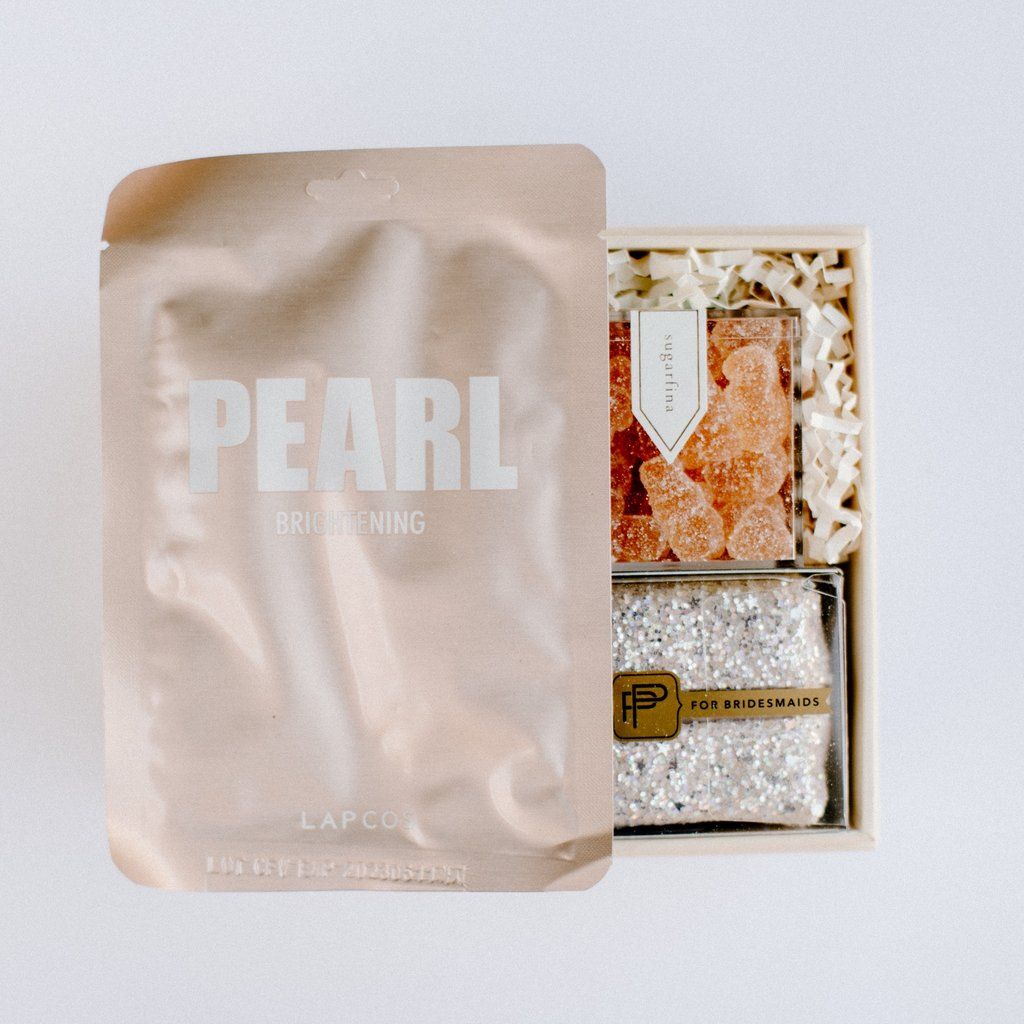 Ask her to be your MOH with this curated, hand-wrapped box from BOXFOX. Complete with Sugarfina sparkling rosé bears, a PEARL face mask, and other goodies, it's the sweetest way to tell her that she's your top gal.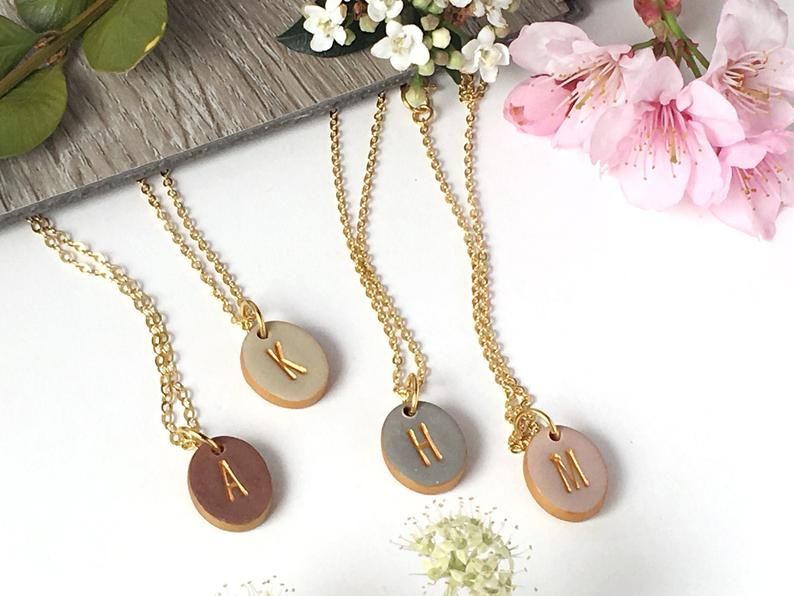 Planning a backyard or forest wedding and want a gift that stays on theme? These personalized necklaces feature earthy hues, like cocoa, mist, smoke, and concrete, and are made using an 18-inch gold-plated chain and porcelain medallion.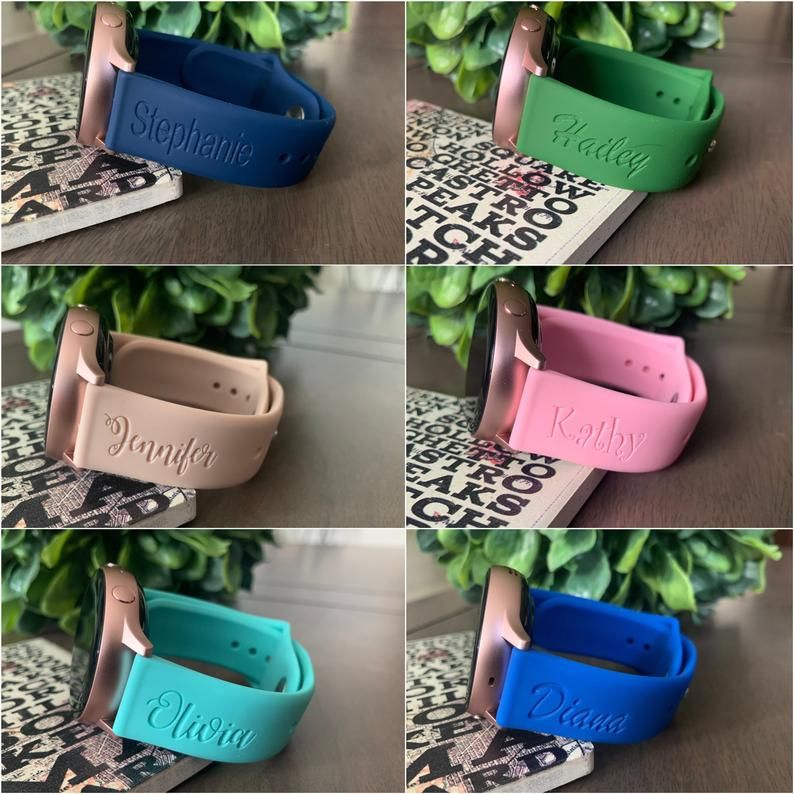 Want to splurge on your fitness-loving maid of honor? Consider pairing the Samsung Galaxy Active Watch Active2 with a personalized silicone watch band. Options for the Fitbit and Apple watch are also available.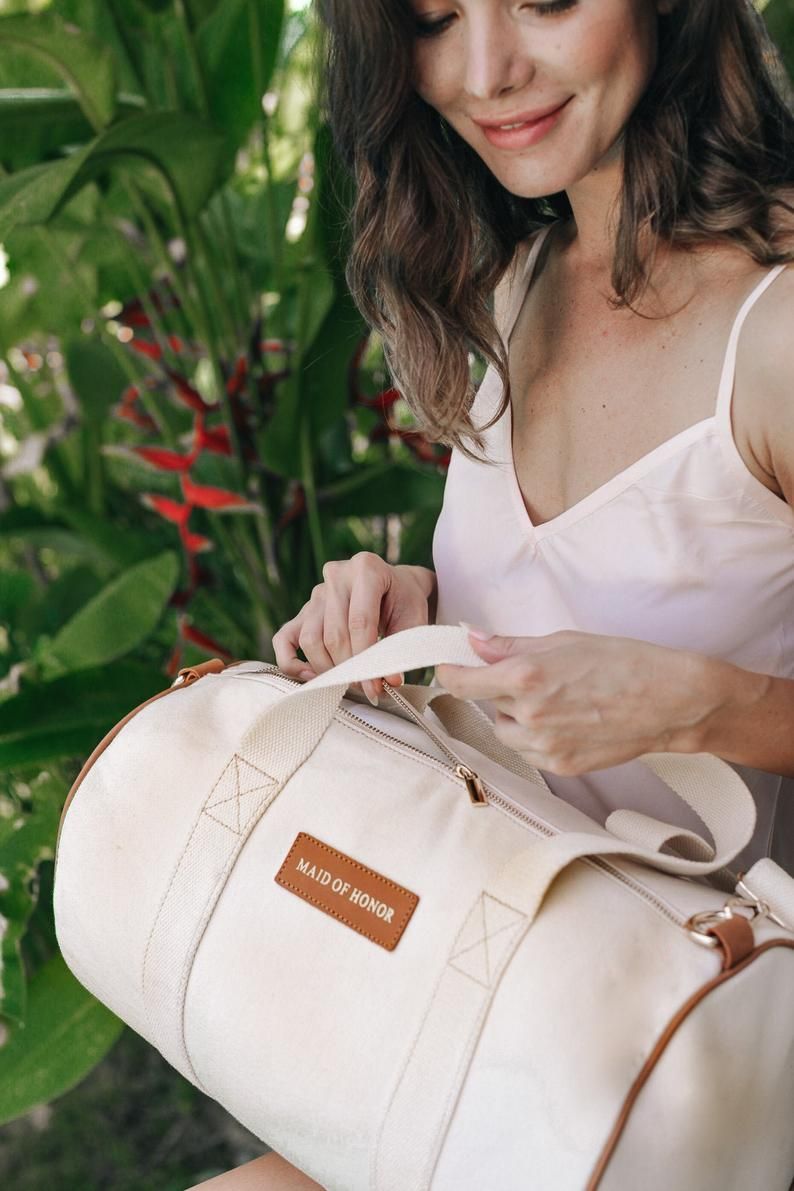 Scoop up one of these canvas duffel bags for the maid of honor who loves herself a weekend getaway. Available in a variety of colors, including baby pink, champagne, and tiffany, each bag comes with a personalized leather label.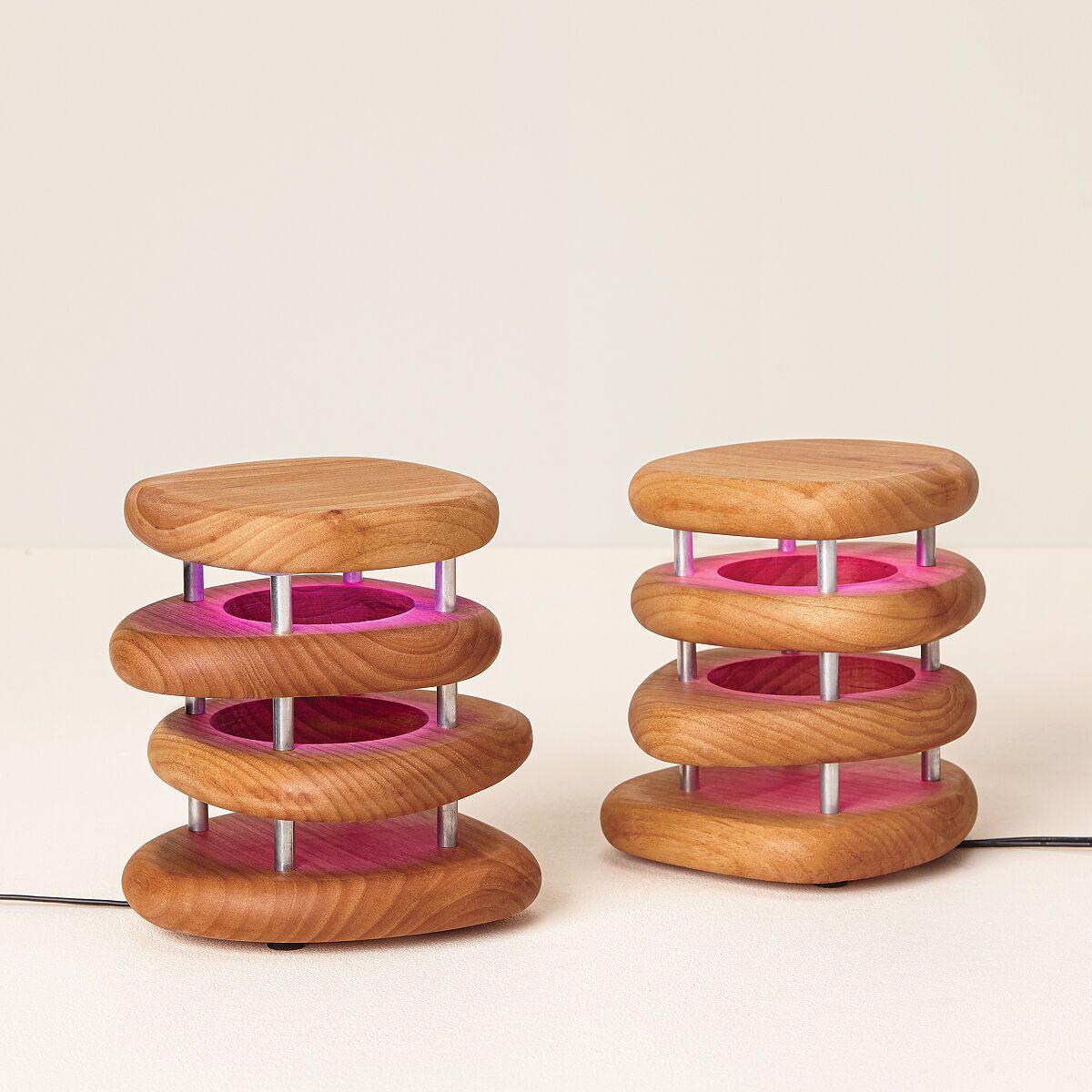 Doing the long-distance thing with your MOH? These wooden friendship lamps are synced to let her know she's on your mind. All you have to do is touch the lamp and its counterpoint will emit a glow to send a little "thinking of you" message.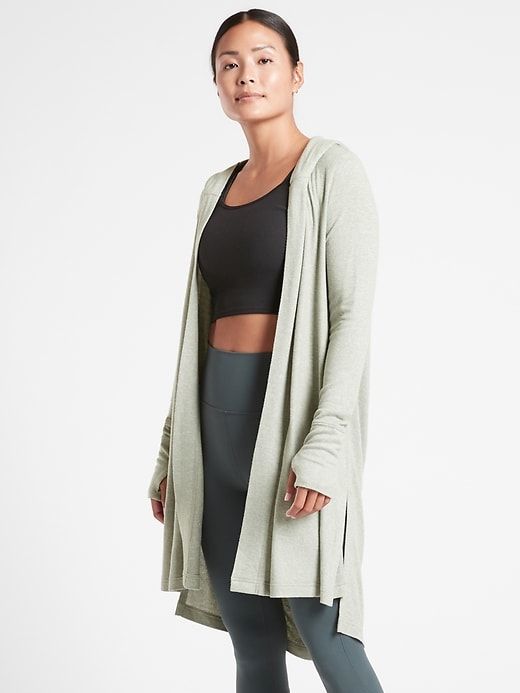 Give her something luxurious she can wear out and about or while cozying up at home with this wrap from Athleta. Choose from burgundy, heather gray, blue, and sage heather (featured here).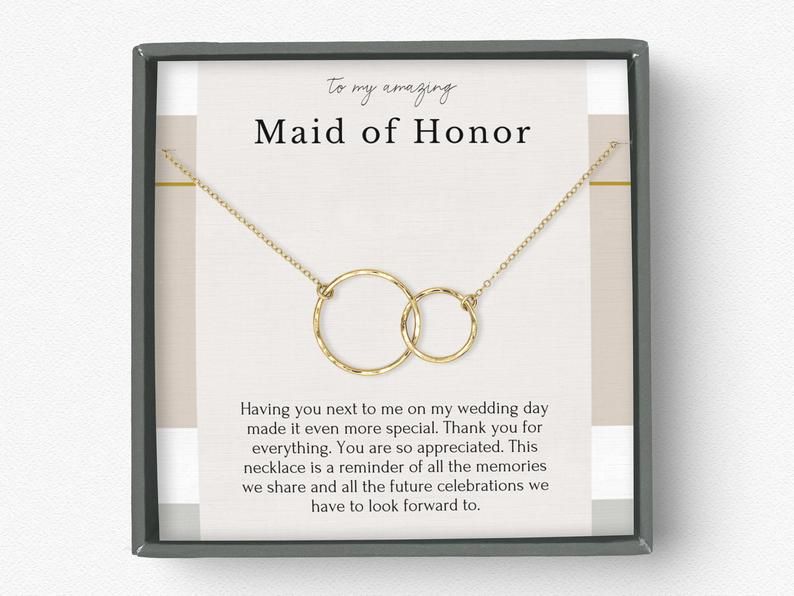 A necklace with two linked circles? Could there *be* a better MOH gift (said in a Chandler Bing voice)? Made with 14K gold-filled and sterling silver rings, the necklace is 18 inches long with an adjustable loop.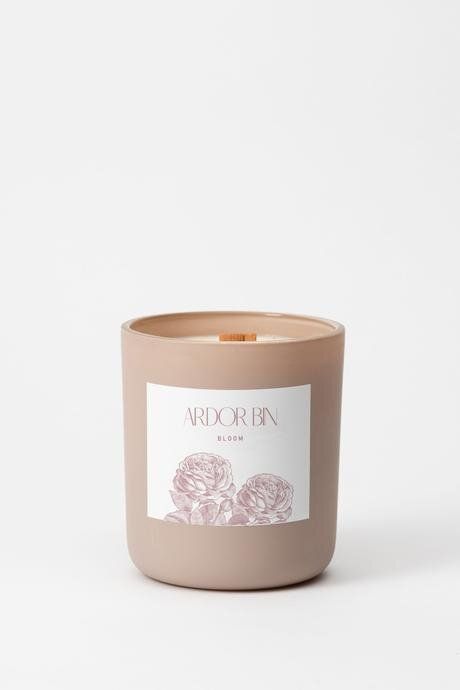 This exquisite (in design and scent) Bloom candle is Ardor Bin's premiere floral scent and it's easy to see—err, smell—why. Made from a soy/coconut blend wax and FSC-certified wood, the vegan candle features notes of fresh roses, lily, lilac, and jasmine.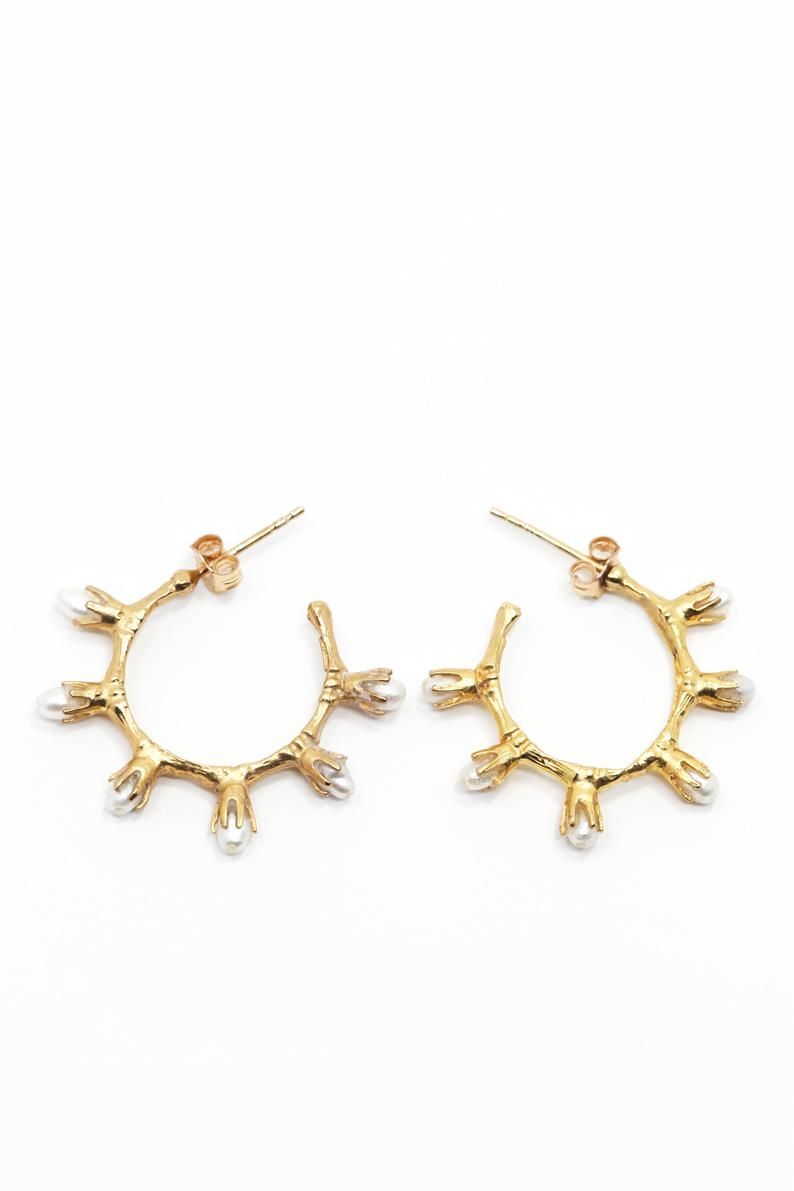 Let's be honest: You're putting a pair of these beauties in your cart for you, too. Made with fair trade African gold, conflict-free fine metals, and a ring of natural freshwater pearls, these stunning hoops are available in sterling silver, 18K gold vermeil (18K gold over sterling silver), solid 10K gold, and solid 14K gold.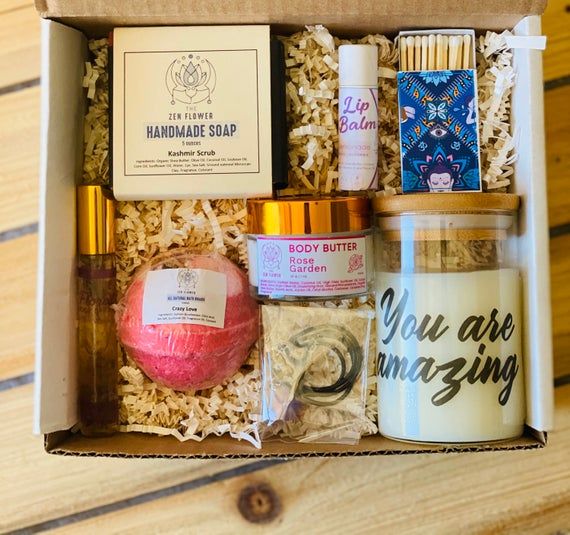 Treat your MOH to a bit of luxury with this spa gift box sent directly to her doorstep. Inside, she'll find a natural, hand-poured soy candle, a bar of cold-processed soap, floral body oil, vegan lip balm, an amethyst crystal necklace, and more.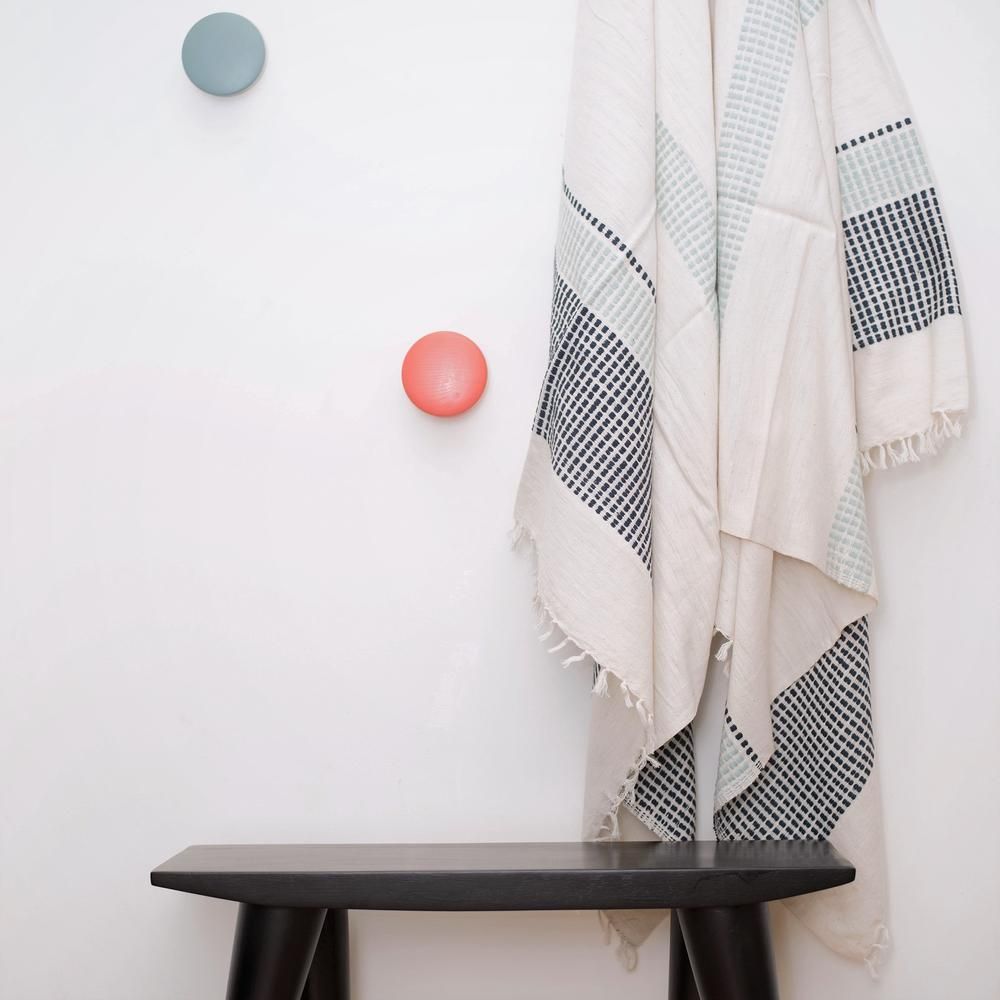 Handmade in Ethiopia, this throw relies on simple geometric textile designs to give it a modern, but minimalistic look, making it the perfect addition to almost any living space. Made from pure locally sourced cotton, each throw blanket is embellished with short natural fringes and environmentally friendly, AZO-free dye.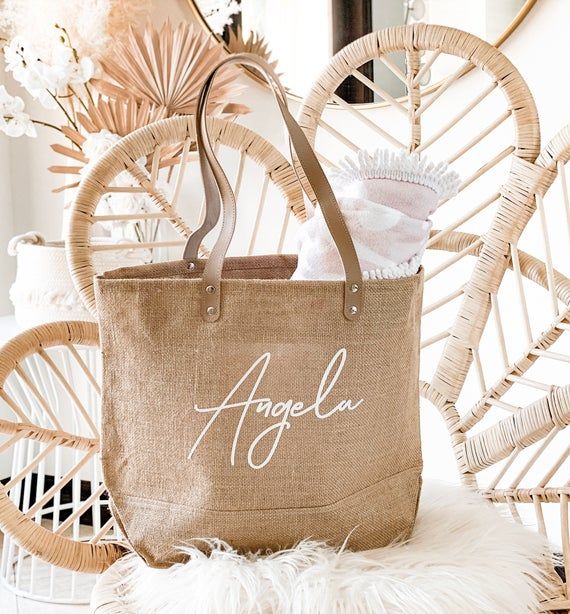 Planning a destination wedding somewhere warm? Say thank you to your MOH with this burlap beach bag, personalized with her name in script. Throw in a cushy towel to complete the theme and you're set!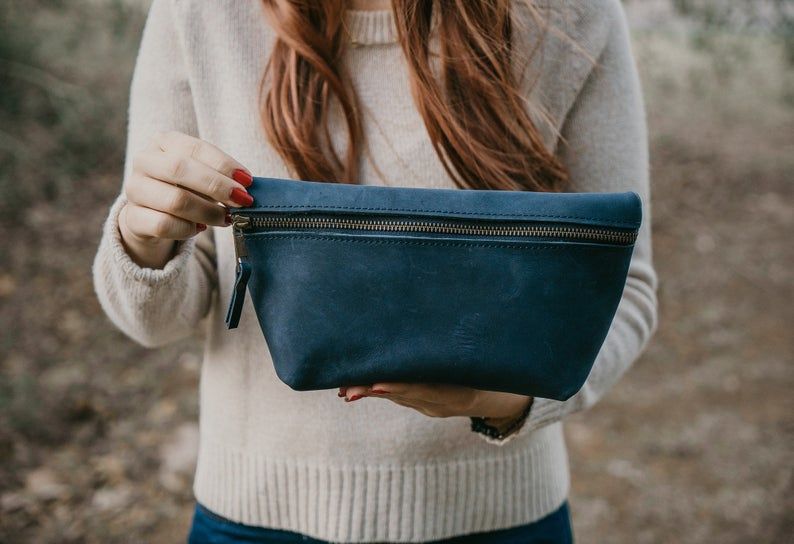 Made from 100-percent leather and available in blue, brown, burgundy, and black, these handmade makeup bags are just the right size to squeeze in makeup and skincare essentials.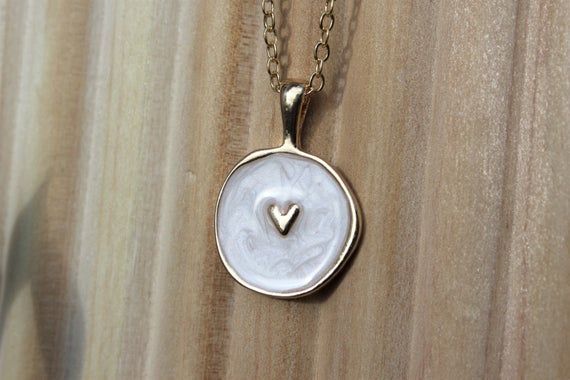 This simple circle pendant with a tiny gold heart in the center may seem simple enough, but it packs just the right amount of meaning. Handmade and adjustable in length between 16 and 19 inches, the necklace is a touching way to let your MOH know how much she means to you.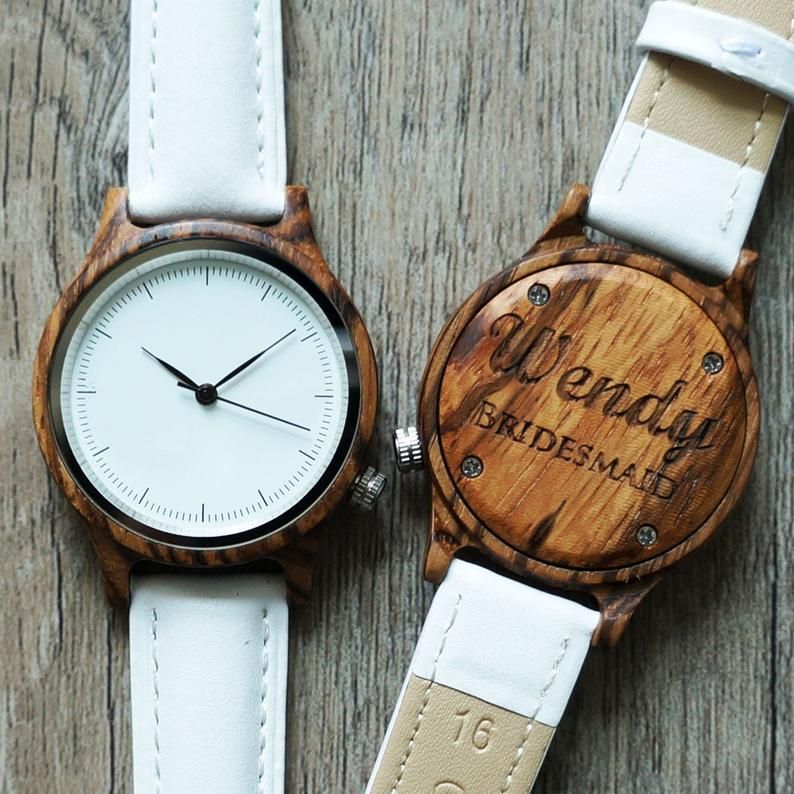 Treat your MOH to a stylish watch with an engraved reminder of the important role she fulfilled on your big day. This personalized wooden watch is made of natural zebrawood and a fresh white watch face that features Japanese quartz movement.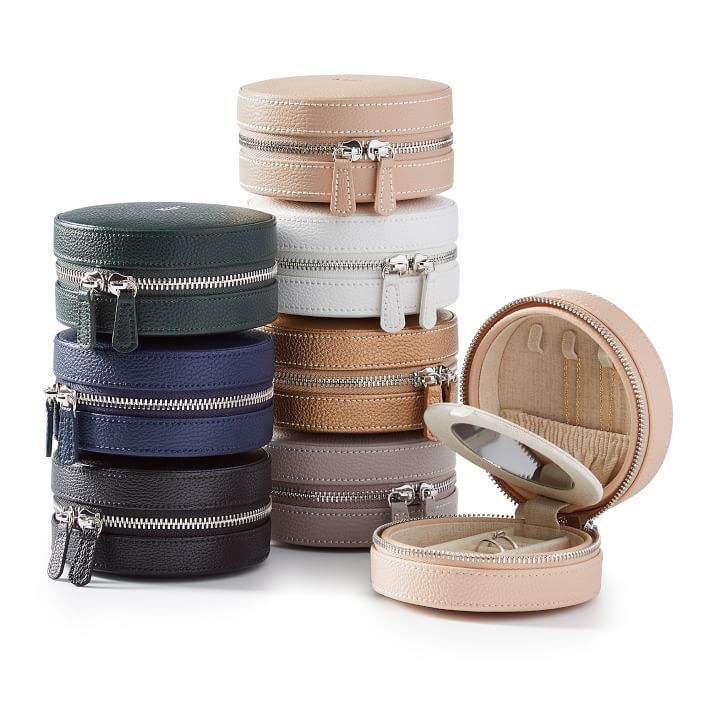 How cute (and nifty) are these vegan leather travel jewelry cases? Designed with a linen lining to keep rings and earrings safe, the case even comes with three hooks to keep necklaces from getting tangled. (Life. Saver.) Add a foil debossed monogram to give the gift a personal touch.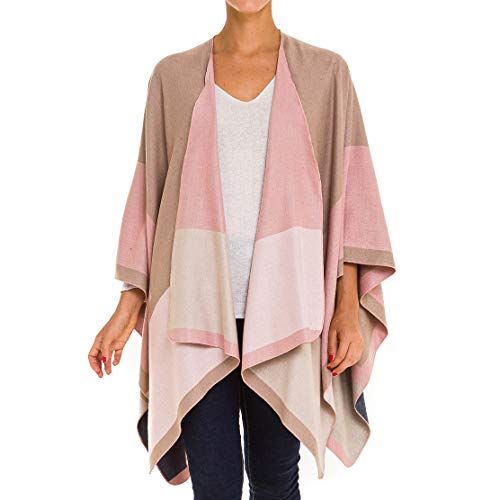 Keep your MOH comfy on the wedding day, while also giving her a cozy layer to keep in her closet year-round with a soft shawl. Available in several colors ranging from deep red to black and white to gray, you can really get one of these for everyone in your wedding party.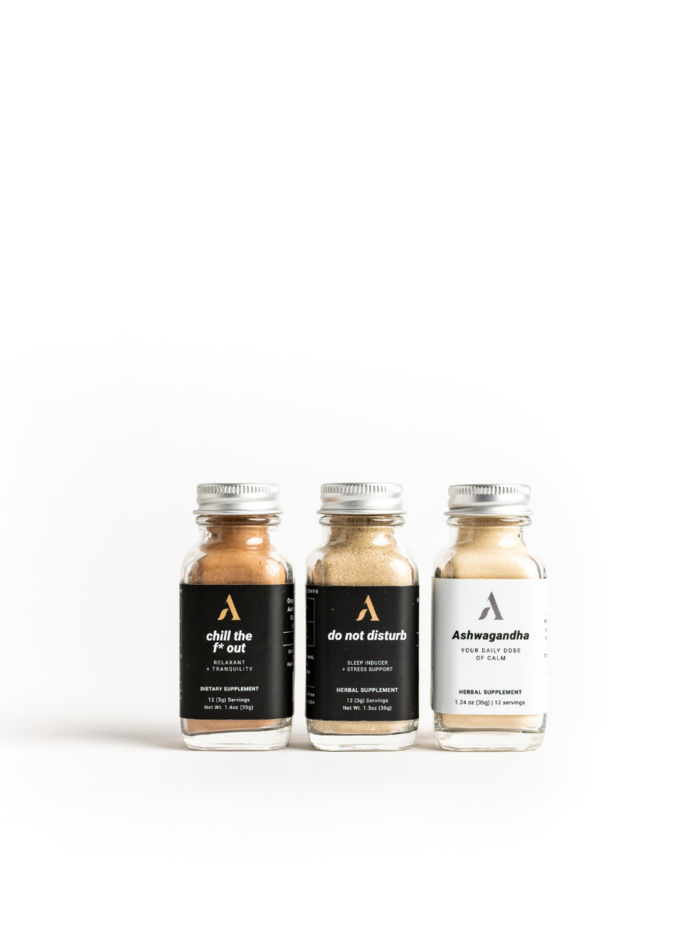 Let her know you aren't one of those brides with this set from Apothekary, designed to help users reduce stress and get better sleep.
With names like 'Chill the F*ck Out' and 'Do Not Disturb,' each product is perfect for zen-ing out. They're made with various adaptogens—think ashwagandha and reishi mushrooms—as well other ingredients to create an all-over state of calm. Sprinkle on hot tea or stir into a smoothie and sip.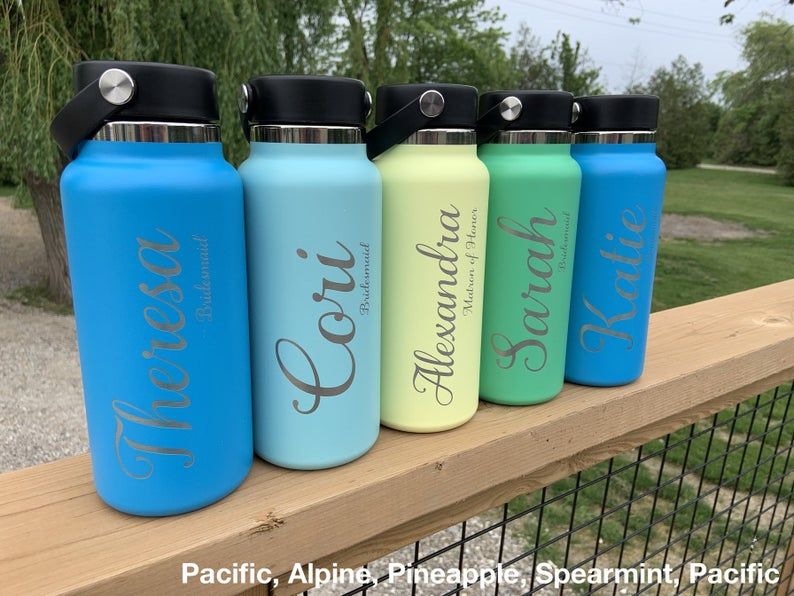 A solid, eco-friendly water bottle with her name on it? Score! These 32-ounce Hydro Flask bottles come in a variety of colors—including watermelon, cobalt, and hibiscus—and can be laser engraved with a variety of fonts and images.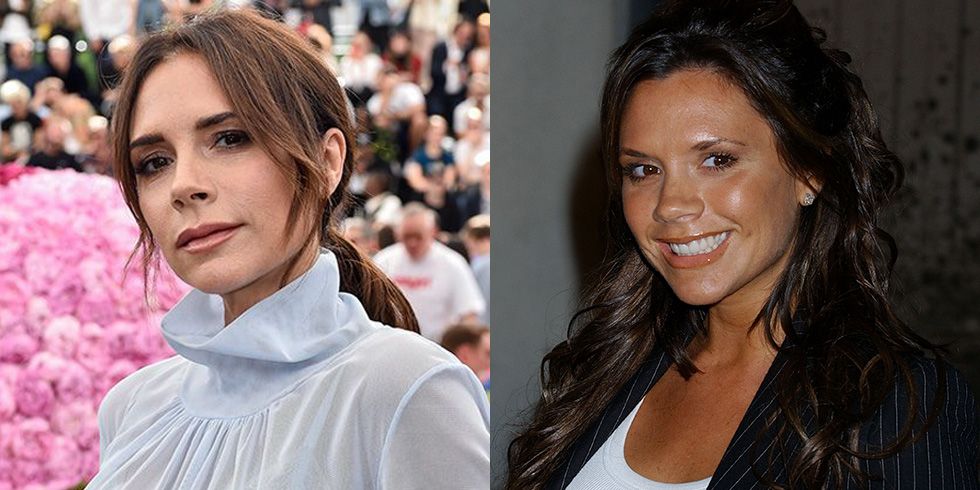 Source: Read Full Article