These Simple Diet Tweaks Helped This Guy Lose More Than 200 Pounds
07/23/2019
Few things in life will leave the average person more shaken than learning a close family member has cancer. David Hudson knows this reality all too well: In 2005, Hudson's mother received a terminal cancer diagnosis. Not long after hearing the news, he sank into a deep depression, which only worsened after her death. As a result, Hudson turned to food as a crutch—a way to find a little bit of happiness in an otherwise dark time. Combined with only a meager amount of physical activity, Hudson's weight steadily began to climb—and climb—until he eventually topped out at an alarming 484 pounds.
"I piled on the weight and struggled to do my job," says Hudson, 48, who works as a CCTV installer in England. "You have to be quite fit to meet the demands of the physical side of my job." It wasn't until Hudson attempted to go on vacation, however, that he realized just how bad things had become. "I was on a flight to Turkey when I couldn't get the seatbelt fastened," he says. "The flight attendant had to give me a seat belt extender for pregnant women. On top of that, I couldn't fit between the armrests. I was so uncomfortable and could hardly breathe the entire flight."
Following the trip, Hudson got more bad news from his doctor: His health was failing due in large part to his poor diet and lifestyle choices. "He said I'd be dead before 50 if I didn't do something now." Around the time Hudson was still processing that news, however, he also became a grandfather—and it was exactly the motivation he needed to finally make a change. He felt a deep desire to be there for his grandchildren.
Hudson started with a trip to Slimming World—a UK-based weight loss organization that helps people learn the fundamentals of healthier eating. There, a dietician helped set him up with the app MyFitnessPal to start planning his meals so he could stay within a healthy calorie range and track his macros, including fat, protein, and carbohydrates. Hudson also cut out all alcohol, takeout food, and pre-packaged meals, and continued to do weekly weigh-ins with a Slimming World consultant.
Next, Hudson joined his local gym—he knew nutrition and exercise should go hand-in-hand, and he started with a simple training routine. Within just a matter of weeks, Hudson began to see dramatic improvements, both to his physical and mental health. "I felt really good about myself and found I had a lot more energy," he says.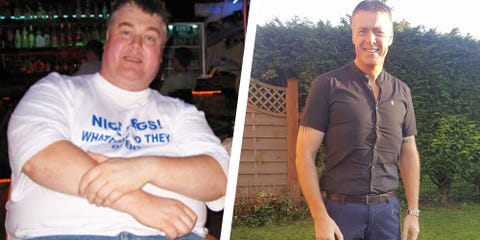 David Hudson
Of course, his weight loss wasn't without its inevitable plateaus, and Hudson concedes that things didn't always go smoothly when his momentum stalled. "It's easy to get disheartened, especially if you have consistently lost weight for weeks," he says. "[But] I would use that disappointment as drive and determination to get [the weight] off the following week." By generally staying consistent with his diet and workout routines, Hudson was able to drop 246 pounds to his new weight of 238—a much healthier fit for his 6'7″ frame.
"Mentally, I feel very balanced. I keep getting promotion after promotion at my job. I now have an attitude that anything can be achieved," he says. That's a sentiment he now hopes to share with others: "It has a huge impact on your life, getting to your target weight," he says. "The confidence goes from rock bottom to sky high, and the anxiety because of the shame you once felt disappears overnight."
Source: Read Full Article