The 9 Best Women's Parka
11/15/2020
Whether it's made with down or synthetic filling, a parka will keep you plenty warm when foul weather strikes. And the best women's parkas deliver style and utility in a sleek water-resistant package. To find the right one for you, here are a few things to consider.
Down makes the warmest winter coat, full stop. It's light, packable, breathable, and feels like you're wearing a duvet with sleeves. The amount of warmth in a down parka is measured by something called fill power on a scale from 300 to 900. The higher the number, the warmer the down is likely to be. Most down parkas fall between 400-500, but it's possible to find higher numbers.
However, down loses its superpowers when it gets wet and becomes clumpy. For that reason, look for coats that have durable water-repellant (DWR) finish to prevent any water from seeping in. Down can trigger allergies in some, and there have been concerns about animal welfare, although now it's common for down to be ethically sourced. Look for the Responsible Down Standard (RDS) certificate when you're shopping for a humane parka. For a less expensive, cruelty-free option, you can also get a good synthetic down alternative.
Synthetic insulation and down alternative is commonly made with polyester. The hypoallergenic fill is cruelty-free, of course — but it's also budget-friendly and still keeps you warm when it gets wet (unlike down) and is quick to dry, on top of it all. You'll sometimes find its insulation noted in grams. Most mid-weight jackets weigh between 50 to 100 grams, but heavier options can hit 200 grams and above. For jackets that are primarily designed with fashion in mind, however, you might not find this number listed.
Additional details to look for on a warm coat include extra fleece lining and drawstrings or Velcro at the hood, cuffs, or waist to keep drafts out.
Whether you're after a cute coat for winter or an expedition-worthy layer that puts substance over style, these nine parkas are the warmest things ever. You'll find them organized into two categories (down and synthetic) so you can quickly shop the ones you're interested in.
The Best Down Parkas
1. A Long Down Parka That Comes In Tall And Petite Sizes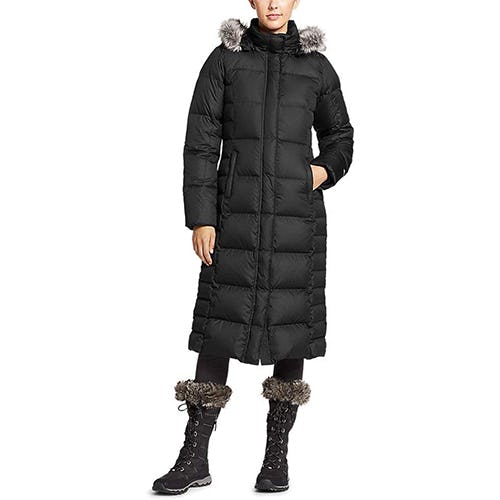 The Eddie Bauer Lodge coat is ultra-warm with 650 fill down. It's cut, which falls to the mid-calf, has room for midweight layers underneath. There's an insulated flap over the zipper, plus an additional fleece lining through the body, stand collar, and storm cuffs to add even more warmth. You can remove the hood entirely (or just its faux fur trim) for the days you don't need so much padding. The shell is made from polyester that's treated with a DWR finish, and the whole thing is machine washable. "This is the fourth Eddie Bauer coat I've bought, and I love them all," one customer raved. "I wear this long down duffle coat when I do recess supervision outside at an elementary school in the frozen tundra of Wisconsin. It keeps the wind, snow and cold at bay."
Choose from three dark colors and an extended range of sizes, including petite and tall options.
Available colors: 3
Available sizes: X-Small — 3X
2. A Short Packable Parka That's Ultra-Tough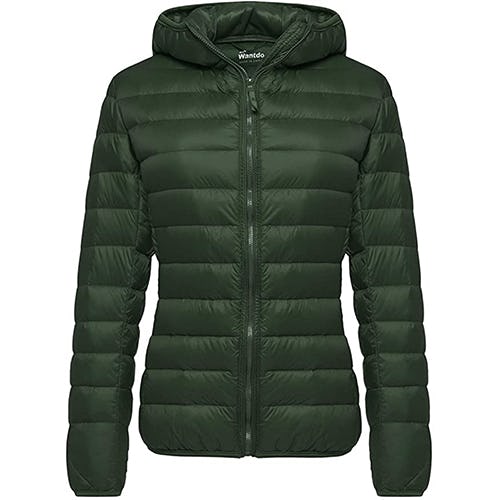 On days you need a less heavy-duty option, a short down parka that falls to the hip will keep you plenty comfortable in cold weather but without the bulk. This one is made from durable ripstop nylon with 80% down (the other 20% is feather) in a 220 gram to 320 gram weight. The nylon is windproof and treated with a DWR coating so you stay dry, and there's an extra interior pocket for your phone with a headphone port so you can listen on the go. "My God, what a lifesaver," one reviewer gushed. "I wore this jacket during my trip to Iceland, and it worked amazingly. I layered up of course, but this was by far the best clothing item I packed. Kept me warm and dry to a certain extent near the waterfalls. It also dries super quick and folds comfortably into the small bag that it comes with."
Available colors: 13
Available sizes: X-Small — 3X-Large
3. An Arctic Parka That's Ethically Sourced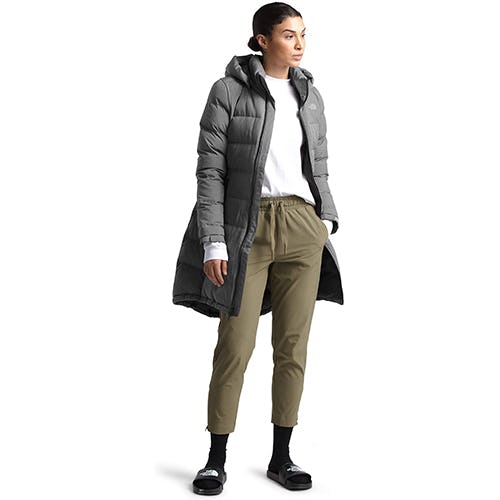 The North Face Metropolis Parka offers expedition-worthy details, from its impressive 550 down fill to its cocoon brim on the detachable snap hood and velcro cuffs that block out wind. The curved hem gives your legs extra coverage, and a padded stand collar protects your neck. The North Face down fill is certified by the Responsible Down Standard for animal welfare for this parka, so you can shop with confidence that it's ethically sourced. As for the shell, it's woven from ultra-tough nylon with a matte finish and an industrial strength DWR coating, while the coat's satin lining is derived from 100% recycled polyester. "It's so warm and comfortable and looks great too. Fits really well for a thick jacket. Perfect winter coat," one fan praised.
Available colors: 12
Available sizes: X-Small — 2X
4. The Internet-Famous Coat With 12,000+ Amazon Reviews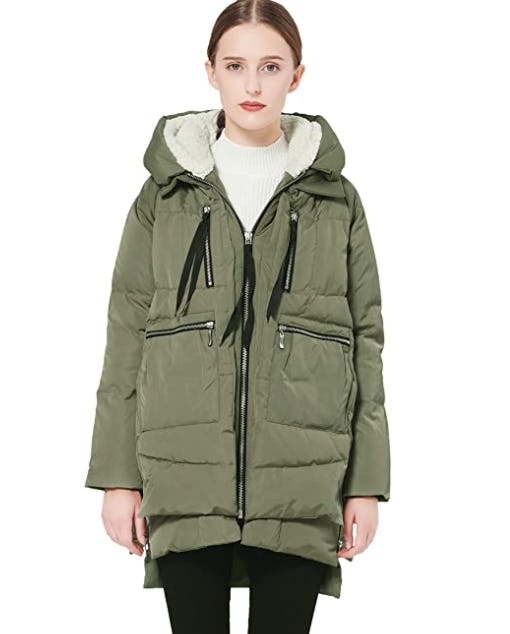 The legendary Amazon parka with a cult following is still going strong. The fill, which is 90% down and the rest duck feather, is stitched into 100 squares to prevent it from shifting or clumping, and the high-density shell means the feathers stay in your coat. As for pockets? You'll find six! While there's no DWR finish, the coat is windproof and water-resistant, and the polyester shell is significantly thicker than many coats on the market, according to the brand. The fleece-lined hood is a comforting touch, and ribbed cuffs block drafts. Although no fill power is listed, it has an impressive Amazon rating after more than 12,000 reviews. "I've worn this in North Dakota and Washington state, in temperatures down to 15 degrees. I've been wearing normal shirts underneath and have been toasty. When we get to sub-zero temps I'll switch to sweaters underneath and expect the coat to be fine," one reviewer noted, adding, "I've gotten three compliments from strangers on the coat already."
Available colors: 13
Available sizes: XX-Small — 5X
5. A Chalet-Chic Parka That Looks So Luxe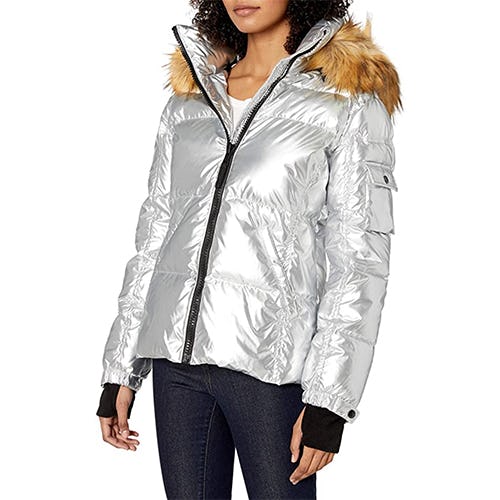 The water-resistant nylon shell on this fashion-inspired short down parka has a wet-look finish that makes it look so expensive. The zip-off hood features removable faux raccoon trim that shoppers report looks utterly believable, while the plush down fill has extra loft (although the fill power isn't listed). The sleeves feature soft fleece cuffs with thumb holes so it's nearly impossible for snow to get down your sleeve, with a patch pocket on one arm and two side seam pockets for your hands. "[…] seems like it's a very expensive jacket. I absolutely loved it and it was definitely better than what I expected if you're thinking about buying…don't hesitate," one reviewer promised.
Available colors: 15
Available sizes: X-Small – XX-Large
The Best Down-Alternative Parkas
6. A Short Parka With Apres-Ski Vibes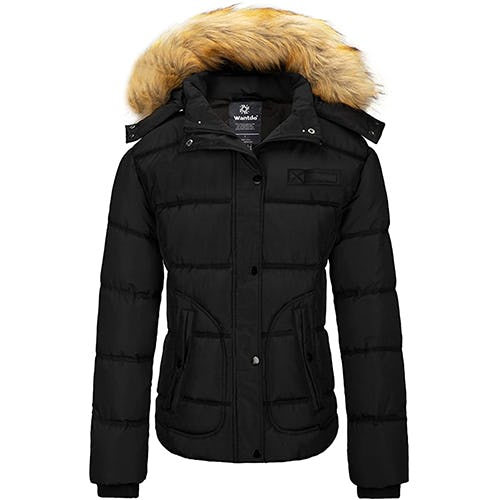 This stylish short parka has a waterproof, windproof DWR shell and a cotton-based insulated filling. There are thick knit cuffs and a padded hem, with a detachable faux fur-trimmed hood that secures to a tall stand collar. Two exterior pockets for your hands snap shut for security, and two generous pockets inside will secure valuables against rain or snow. In addition to classic black and navy, it also comes in a two-tone option inspired by the slopes. "Wow. Really pleased with how this looks and feels. The material seems durable and doesn't look or feel cheap," one reviewer noted of its quality, and another shopper spoke to its warmth: "I was actually sweating in the city."
Available colors: 15
Available sizes: X-Small — XX-Large
7. This Fitted Parka With The Most Gorgeous Quilting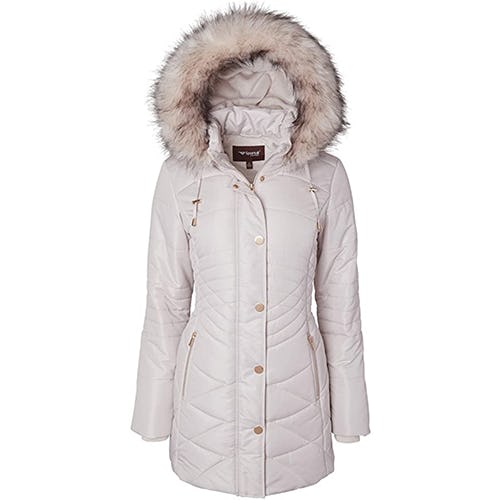 Soft shades and intricate quilted patterns make for a warm and fashionable parka that stands out in a lineup. The Sportoli winter coat is made with 100% polyester for both its fill and its silky yet durable shell. Its detachable hood features a drawstring that comes in handy on bitter days, as will the thick ribbed-knit cuffs and button placket over its zipper. The entire coat is lined in ultra-fine fleece, and the materials can handle a trip through the wash. "It's fun and a bit decadent," one shopper wrote of the style. "It's very warm. Field tested this coat a few weeks ago by spending several hours outside on a sunny but very windy day with temps in the mid 30s Fahrenheit and my core remained toasty warm."
Available colors: 8
Available sizes: Small — 3X
8. A Heavy-Duty Ski Jacket With Vegan Filling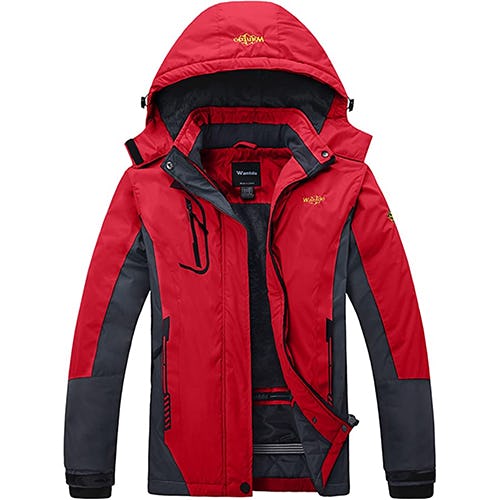 This short ski jacket has racked up more than 7,000 reviews for its supremely warm, extreme-weather build. The shell is made from high-density windproof polyester with a waterproof polyurethane membrane underneath. In addition to the 240 grams of polyester fill, there's a thick polar fleece lining throughout to keep you ultra-toasty. To keep out high winds, the optional hood has an adjustable closure and a drawstring cord at the bottom creates a snug fit, and the ribbed cuffs with thumbholes can be tightened via a hook-and-loop closure as well. "I recently took a trip to Iceland, where the average daytime temperature was in the low 30s to low 40s," one shopper began. "It was totally waterproof and very warm," they raved. "Roomy enough to wear multiple layers underneath without becoming stifling or constrictive. The pockets were easily accessible and held my phone, keys, and sunglasses with room to spare."
Available colors: 14
Available sizes: Small – 3X-Large
9. A Long Down Alternative Parka With Stylish Details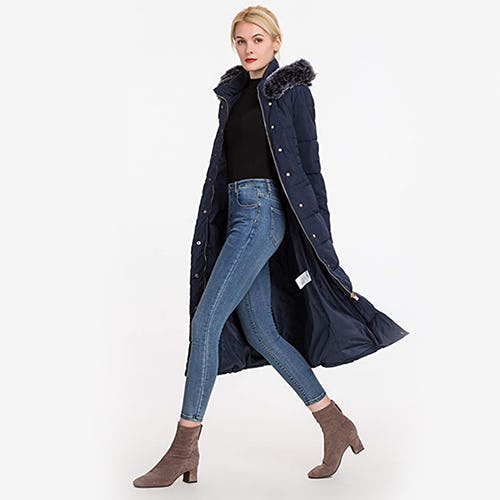 You don't often find a parka with city-worthy style details, but this vegan coat looks perfectly proper with faux double-breasted buttons on the front and a quilted bodice. "There's simple details all over that make the coat so perfect," as one shopper noted. There's a drawstring on the hood, zipper flap, and knit cuffs for when the wind picks up, and the extra length kept reviewers warm in even the bitterest cold. "It's like snuggling into a warm sleeping bag, I feel so cozy," another fan praised of the poly down alternative, which rivals 700 fill down.
Available colors: 5
Available sizes: X-Small – XX-Large
Source: Read Full Article