Carrie Bradshaw's Funeral Dress Was a No Brainer For the Wardrobe Team — and Yes, It's Vintage
12/10/2021
Watch out! This post contains spoilers.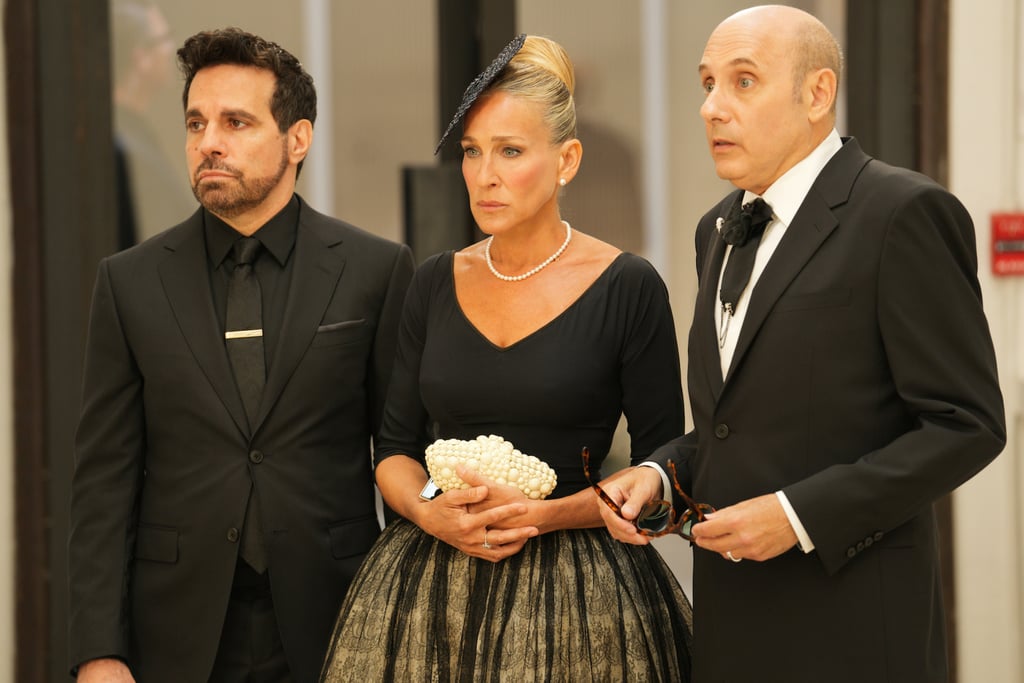 Carrie Bradshaw's Funeral Dress Was a No Brainer For the Wardrobe Team — and Yes, It's Vintage

"I just want to get there before other people and make sure everything is the way I want it," Carrie says on the phone before Big's funeral as she sits down in her closet alongside a pearl clutch and a pair of white, caged leather pumps she had already laid out. It wasn't a question what she would wear to say goodbye to the love of her life publicly in front of family and friends. Of course, as she, Stanford, and Anthony make their way through the doors and enter a stark white room with rows of chairs perfectly aligned, it becomes clear Carrie picked the only chic place for a funeral in Manhattan.
It's here that we take in her own version of a little black dress, hence the episode name — a teacup silhouette with an elegant V-neckline and full lace skirt built up by layers of tulle. She finishes the outfit with a strand of pearls and a black headpiece, altogether making for a very Carrie moment, which Stanford acknowledges to Anthony. "I'm so proud of her. With all she's going through, pulling it together and giving us a look today, because people will be expecting it. She's kind of our Jackie Kennedy," he says. It's true that Carrie references the early '60s with this fashion choice, and you wouldn't expect her in anything more simple or somber.
Sure enough, the history behind the number is telling. "That wonderful dress was from Danny's vintage collection," costume designer Molly Rogers told POPSUGAR, referring to wardrobe partner Danny Santiago. "It beat out every black dress that came through the door." Unsurprisingly, Sarah Jessica Parker uses the piece to slip into character as a bold and confident Carrie, leaving us no other option than to think deeply about a funeral dress and the signficance it bears long after the credits roll.
Source: Read Full Article