Will Smith Got a Standing Ovation at the Oscars Party He Attended After Slapping Chris Rock
03/28/2022
Hours after an altercation with Chris Rock on stage at the 94th Academy Awards, Will Smith kiiiiind of went MIA. In fact, he didn't even follow the age-old tradition of going backstage to make a statement and answer questions after winning Best Actor, one of the most prestigious awards of the night. But around midnight, he pulled a reverse Cinderella and was seen entering the Vanity Fair after-party at the Wallis Annenberg Center in Beverly Hills along with, like, half of Hollywood.
Will, Jada Pinkett Smith and Willow, Jaden, and Trey Smith were all in attendance. Doing what, you might ask? Having a good time, it seems. As a DJ played some of Will's hits like "Gettin' Jiggy Wit It" and "Miami," the Oscar winner sang along and danced among his peers, all the while holding his gold statue in the air.
The vibe in the room was less stunned and more giddy when Will walked in, according to The Washington Post: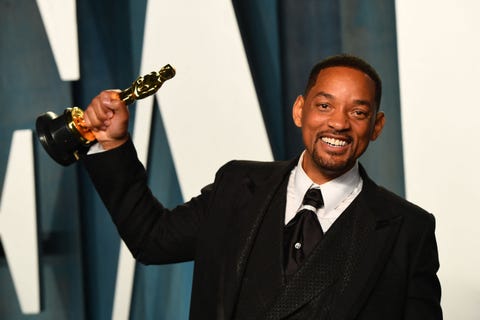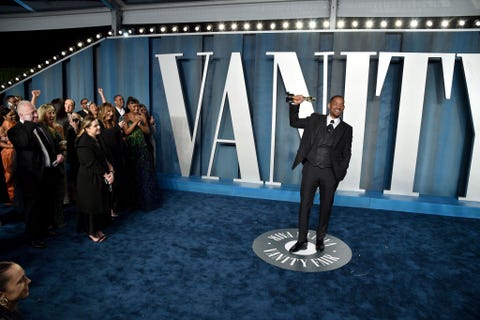 The New Yorker's Michael Schulman also commented on the sight and retweeted Variety executive editor Ramin Setoodeh's video of Will dancing, while Vanity Fair correspondent Rebecca Ford posted a photo of the actor with people on the dance floor.
I'm at the Vanity Fair party watching Will Smith boogy to "Gettin' Jiggy Wit It." Oscar in one hand, huge smile on his face. What is happening.
Will Smith is at the #VanityFairOscarParty dancing with his Oscar to 'Gettin Jiggy With It.' pic.twitter.com/PvKrRICQEN
Will Smith is at the @vanityfair party in the middle of the dance floor. Posing for pics. pic.twitter.com/T9FIxO5qYD
Maybe Denzel Washington and Sean Combs's comforting words had to do with the Smiths' decision to ultimately attend the after-party? It's anyone's guess, but shortly after Will and Chris left the Oscars stage, presenter Diddy attempted to calm the situation, saying, "Will, Chris, we are gonna solve that like a family at the Gold Party. For now, we will move on with love." Later on during the ceremony when Will accepted the award for Best Actor, he mused on the interaction with Chris: "Denzel [Washington] said to me a few minutes ago, 'At your highest moment, be careful. That's when the devil comes for you'…I want to be a vessel for love."
The actor also got major support from his family. Will's son Jaden wrote, "And That's How We Do It," on Twitter shortly after the broadcast ended. In another since-deleted tweet, Jaden shared a photo of himself in the backseat of a car, writing, "My Dads Speech Made Me Cry."
And That's How We Do It
Whether it was because of his peers' take on the situation, the support of his family, or simply his historic win at the Oscars, Will Smith only had this to say when asked how he was doing at the end of the night: "It's all about love."
Source: Read Full Article