What Kayleigh McEnany Just Admitted About Her Time In The White House
06/14/2021
It looks like there is one question former White House Press Secretary Kayleigh McEnany will never forget being asked from her time representing former President Donald Trump.
While speaking in front of conservative group Turning Point USA at their Young Women's Leadership Summit on June 13, she recalled an inquiry she received during a May 2020 press conference in which a journalist asked, "Will you pledge to never lie to us from the podium?" She promptly replied, "I will never lie to you," and although critics were quick to slam her remark at the time, it seems like she still stands by her word.
"And I said without hesitation, 'No,'" McEnany retold, reiterating her previous assertion for Sunday's conservative audience, per Newsweek. "And I never did. As a woman of faith, as a mother of baby Blake, as a person who meticulously prepared at some of the world's hardest institutions, I never lied. I sourced my information." 
Keep scrolling for more about what McEnany said about her allegiance to the truth during her time as the White House Press Secretary.
McEnany claims she was unfairly labeled a 'liar'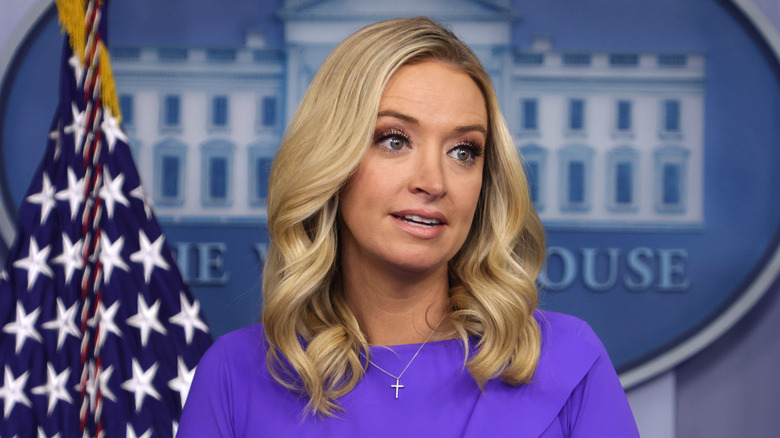 While speaking about her time behind the podium representing former President Donald Trump, Kayleigh McEnany said she was unjustly classified as a "liar" by the news media despite her qualifications for the role and her commitment to her faith.
"Our motto was this: 'Offense only,'" she said to the crowd at Turning Point USA's Young Women's Leadership Summit, per Newsweek. "Because I knew what we were up against."
She continued to claim, "Republicans always get the bad headlines, always get the false stories, always get the lies — if I can use that word — told by the press." Adding, "There is one standard for Democrats and another for Republicans. And we must be on offense. Confident, bold, and willing to call it out. We cannot be silent."
But although McEnany professed her respect for the truth, many people took to Twitter to state otherwise. "#KayleighMcEnany never told a lie? She is consistent. When up is down and right is wrong and real is fake. In this Wonderland she is truth personified," one person tweeted. "Wow…she lies about lying by saying she could never lie because of her faith. Unbelievable," another added. 
However, it looks like the former Press Secretary expected the criticism, and later tweeted, "Haters will hate!" Prompting a slew of tweets reading, "And liars will lie." It looks like this game of She Said, They Said will never end.
Source: Read Full Article