These 13 Celebrity Breakup Tattoos Are Actually Iconic
08/31/2020
Post-breakup makeovers aren't for everyone, but IMO, changing up your look can help you heal from heartbreak. That could mean getting bangs, or piercing your belly button, or even doing something as simple as painting your toenails neon green when you usually stick to pink polish. But for some people, ending a relationship calls for a more dramatic change, and if you're looking to bring the drama, then you should check out some celebrity breakup tattoos for inspo.
The problem with getting a couples' tattoo: potentially breaking up. For people with ink dedicated to an ex, a breakup can mean having to get that tat covered or removed… or just having a reminder of their ex etched on them forever. But rather than cover something up, breakup tattoos allow you to celebrate yourself and the next chapter of your life. Celebrities who've gotten new ink pieces following a split often choose uplifting images and phrases, and the result can be so meaningful.
Some A-listers have waited months after a breakup to get inked. Others dropped by the tattoo parlor less than a week after a split. But no matter the process or reasoning, there's no denying these celeb breakup tattoos are legendary.
Miley Cyrus
On Aug. 21, 2019, the same day Miley Cyrus and Liam Hemsworth's divorce news went public, Hollywood tattoo artist Dr. Woo shared a pic of Cyrus' new ink: a depiction of the Visconti coat of arms, which is best known as the symbol of the city of Milan. Considering Cyrus had just returned from a romantic Italian vaca with her then-GF Kaitlynn Carter, fans suspected the tat was a nod to the trip.
Less than a week later on Aug. 26, Cyrus debuted another new tattoo at the 2019 MTV Video Music Awards: a lyric from the Pixies song "The Thing." The next day, LA-based tattoo artist Winter Stone posted a close-up view of the ink on Instagram. The lyric — which reads, "My head was feeling scared, but my heart was feeling free" in a delicate black script — seemed to reflect Cyrus' state of mind at the time.
Cyrus' third post-divorce tattoo (which was also given to her by Winter Stone) is just a single word written across the knuckles on her right hand: "freedom." The tattoo made its debut on Stone's IG on Dec. 7, and while it didn't follow Cyrus' breakup from Hemsworth as quickly as the other two, fans couldn't help but suspect the tat was meant to throw some subtle shade at her ex.
Zayn Malik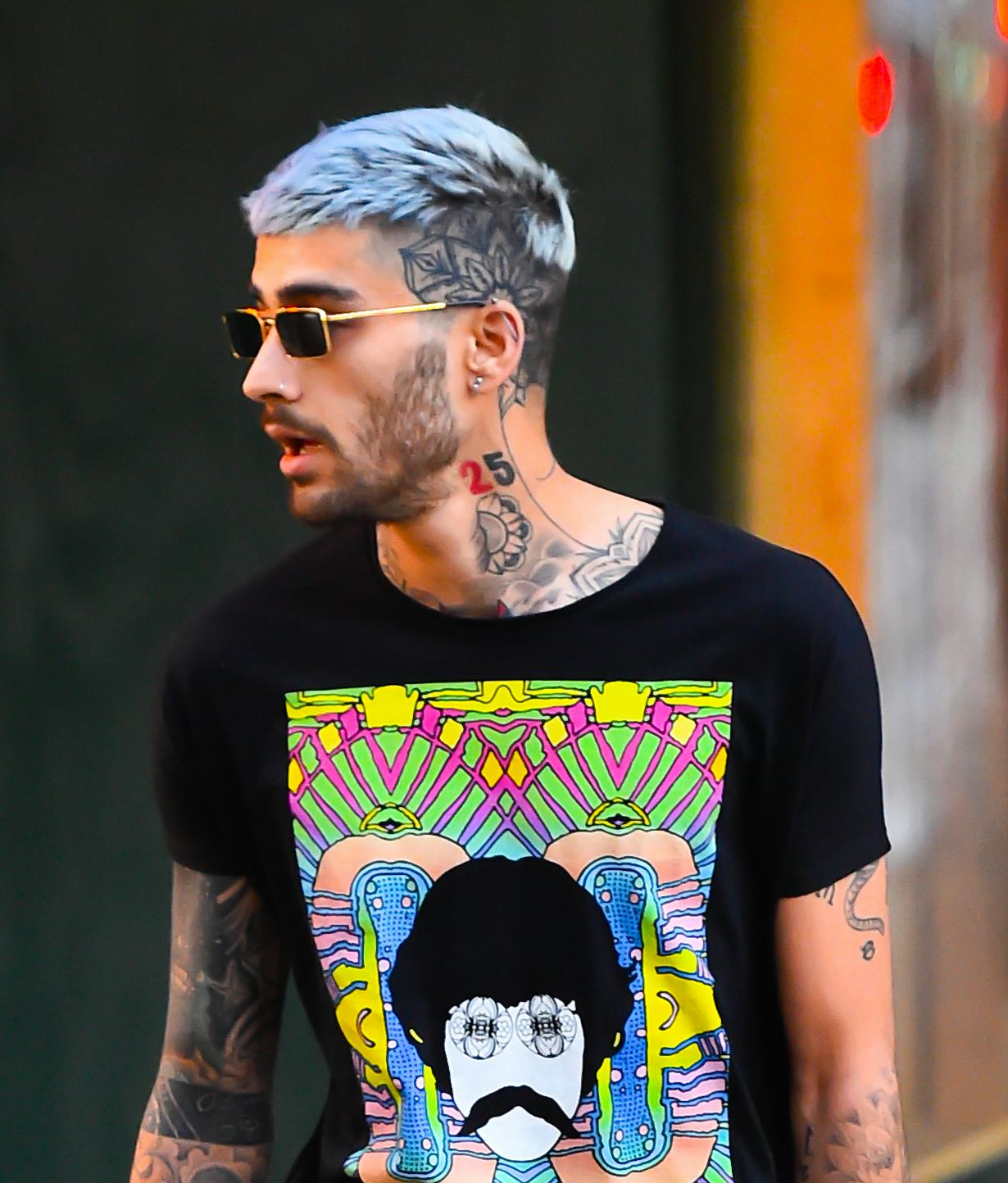 Less than a week after his March 2018 breakup with Gigi Hadid was announced, Zayn Malik headed to the tattoo parlor to add two new ink pieces to his ever-growing collection. He chose to get the number 25 inked on the left side of his neck (symbolizing his age at the time, perhaps?) and a flower split down the middle, with one half on each side of his neck.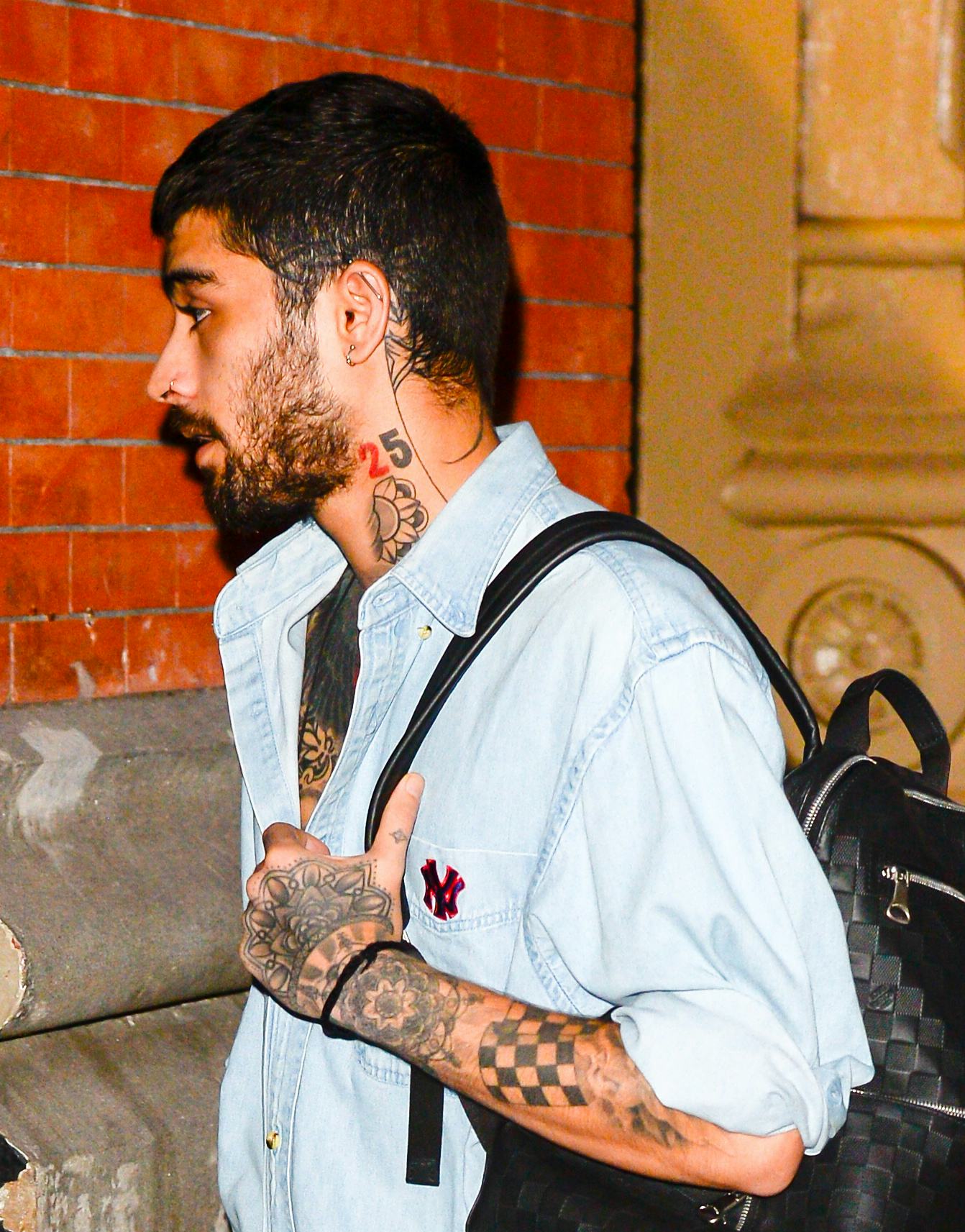 But that's not all — the singer also got a huge rose in black ink, stretching from the back of his head all the way down his neck, and fans theorized the tats were Malik's way of coping with the breakup. (But now he and Hadid have a baby on the way, so things seem to have worked out in the end.)
Kristin Cavallari
On Aug. 26, 2020, just about four months after announcing her divorce from Jay Cutler, Kristin Cavallari posted a Instagram of herself getting inked by famed tattoo artist JonBoy with the caption, "Tattoo time." She later took to her IG Stories to share her two new post-divorce tattoos. One of them is a delicate black-ink butterfly outline on her wrist. "Butterflies have been such a sign for me when going through difficult times," she explained in a caption, seemingly alluding to her recent split. JonBoy later shared a pic of the finished product on his own Instagram.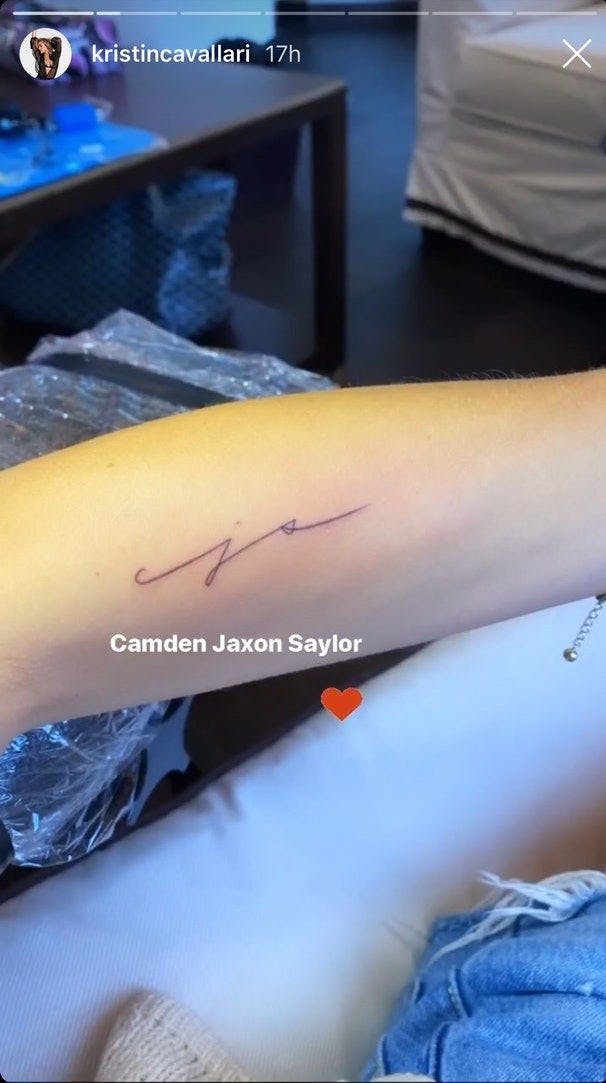 The other tattoo features the letters "c," "j," and, "s" in swirling script on her forearm. The initials are in honor of Camden, Jaxon, and Saylor, the three children she shares with Cutler.
Jessica Alba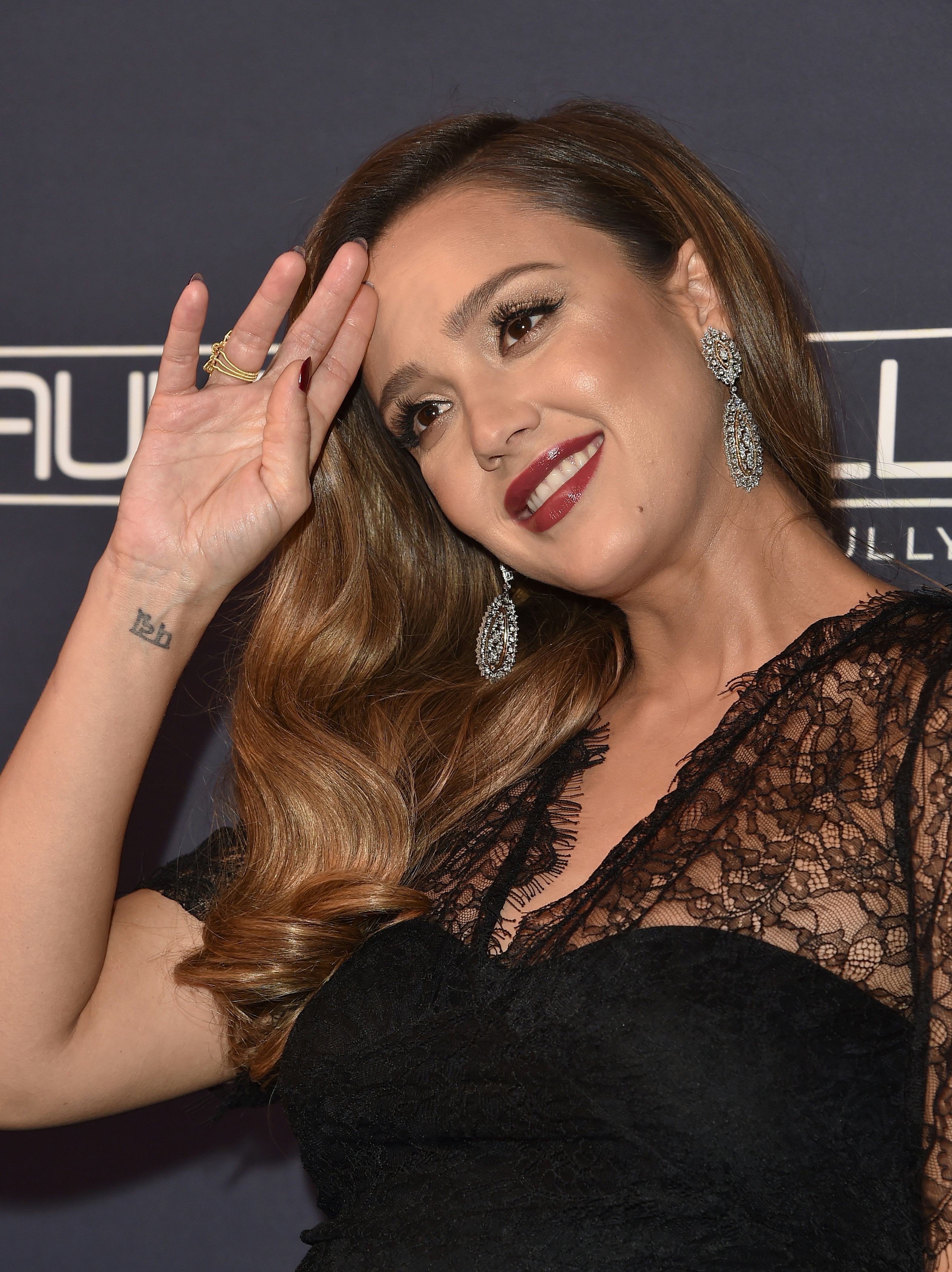 During a September 2016 interview on The Late Show with Stephen Colbert, Jessica Alba revealed why she'd gotten a delicate Sanskit tattoo on a wrist: her first breakup. Though Alba wouldn't say who the ex is — only that he is "a famous actor" — she did explain the meaning behind the tattoo. "It's lotus in Sanskrit. It means the manifestation of spiritual beauty," she told Colbert. Later, she added, "He was really anti-tattoos, and I felt like after I broke up with him, I found myself again."
Colton Underwood & Cassie Randolph
Just weeks after announcing their breakup, Bachelor alums Colton Underwood and Cassie Randolph reportedly got post-breakup tattoos together. On June 18, 2020, Underwood posted a picture of himself on Instagram getting inked by tattoo artist Jack Townsend, tagging the picture, "A glass of red, some art and good friends!" That same night, Randolph's sister, Michelle, shared a few pictures in her IG Story of her and Randolph getting tats of their own. In one pic, the sisters showed off matching cross tattoos on their pinky fingers, and Michelle tagged Townsend in the photo. Either Townsend was in two places at once, or Underwood and Randolph got inked up together.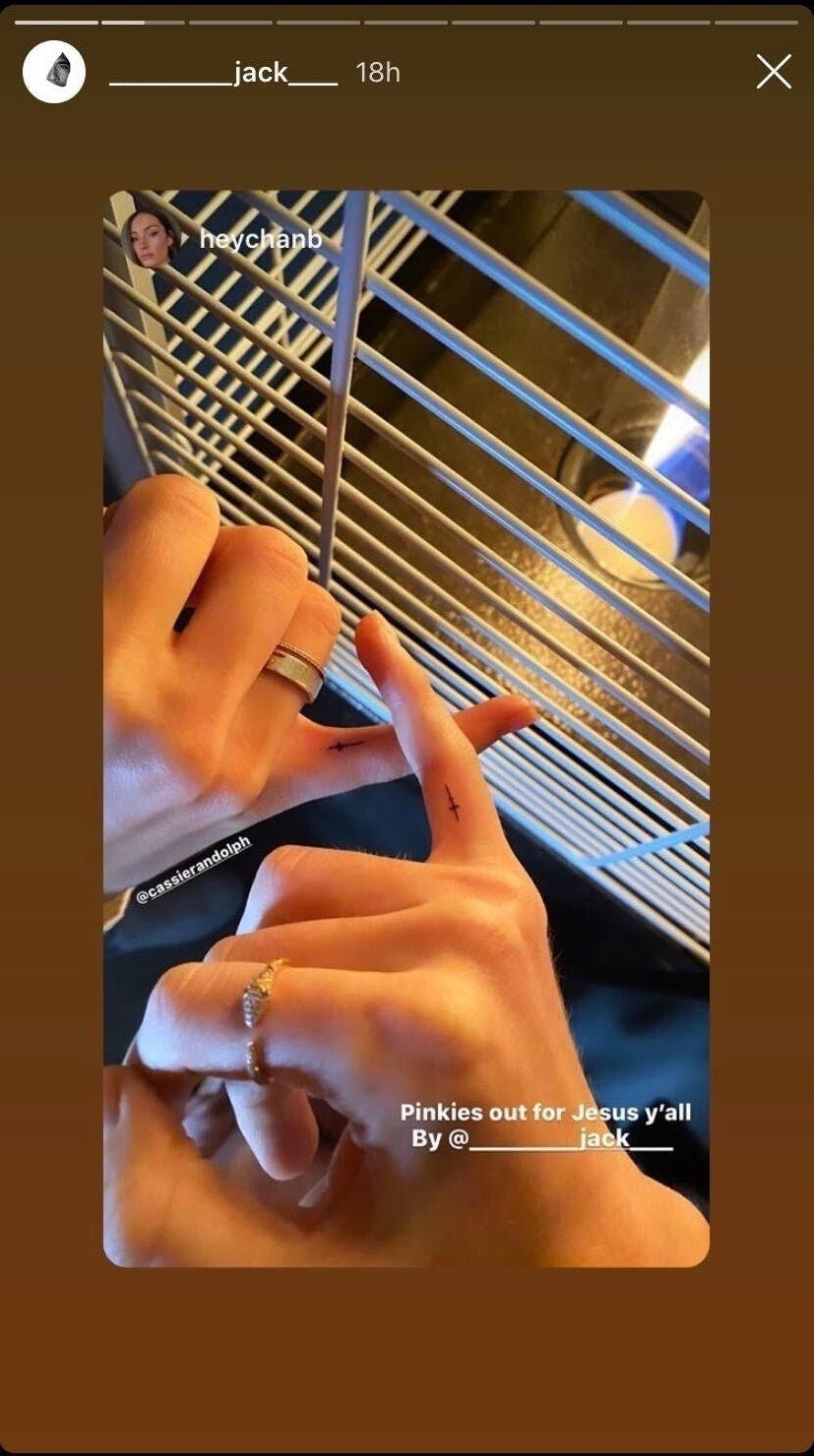 Neither Underwood nor Townsend has shared what design Underwood chose for his own tattoo.
Vanessa Hudgens
On Jan. 23, 2020, just over a week after her split from Austin Butler went public, Vanessa Hudgens revealed her new breakup tattoo: a tiny sunflower on her left breast, which she shared on Instagram and jokingly said was in honor of "Thirsty Thursday." The New York City-based tattoo artist who gave her the ink, Dragon, shared the same pic, writing, "Of course, you're even more beautiful than the flowers @vanessahudgens."
A little over a month later, Hudgens got another tattoo that Dragon shared on Insta on March 5. Hudgens posted the same pic on her own IG, explaining that the tattoo is a nude depiction of the Divine Feminine, which is the "part of your consciousness responsible for nurture, intuition, and empathy," as Suzanne Kingsbury previously explained to Bustle. It's unclear whether both tattoos were in response to Hudgens' January breakup, but it's def a possibility (especially since she didn't get a single tat in the nine years she was dating Butler).
Demi Lovato
Less than a week after Demi Lovato announced her split from model Austin Wilson, her new tattoo — which is just below the back of her neck — made its debut on Instagram. Celebrity tattoo artist Alessando Capozzi shared a picture of the tat on Dec. 24, 2019 along with the piece's title: "Divine Feminine Destruction Effect XVIII."
In the caption, Capozzi explained, "We created this piece together to represent a rebirth of the spirit. The dark wings represent the bad times, their fading away is how she moved forward. The light from within represents the inner strength necessary for the change and the doves, pulling her up symbolize the reach of an higher state of consciousness. Congratulations on your inspiring journey Demi, honored to have represented this for you." While Lovato's "bad times" certainly include more than just her December 2019 breakup, it's possible the split partially inspired the piece.
If you think getting a post-split tattoo will help you heal, then by all means go for it.
Source: Read Full Article