The Stunning Transformation Of Snooki
06/02/2021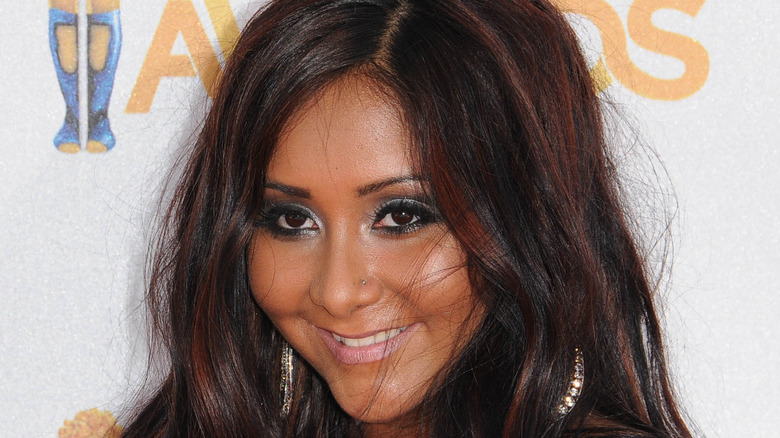 Nicole "Snooki" Polizzi rose to fame on the MTV reality TV show "Jersey Shore," which started in 2009. From there, she went on to appear in "Snooki & JWoww," "Dancing with the Stars," and "Snooki & Jwoww: Moms With Attitude," she wrote three novels, and she started MAWMA, a line of baby gear.
She and her husband Jionni LaValle, whom she married in 2014, share three children: Lorenzo Dominic LaValle was born on August 26, 2012, Giovanna Marie LaValle was born on September 26, 2014, and Angelo James LaValle was born on May 30, 2019, as reported by Celebrity Net Worth.
Yes, over the years, Snooki's career has expanded, her family has grown, and she has experienced a stunning transformation. Back in the day, it was normal to see her in frog slippers, trucker hats, animal prints, short shorts, fuzzy boots, and minidresses (via Showbiz Cheat Sheet), but that has all changed for Snooki.
Snooki was all parties, outrageous outfits, and spray tans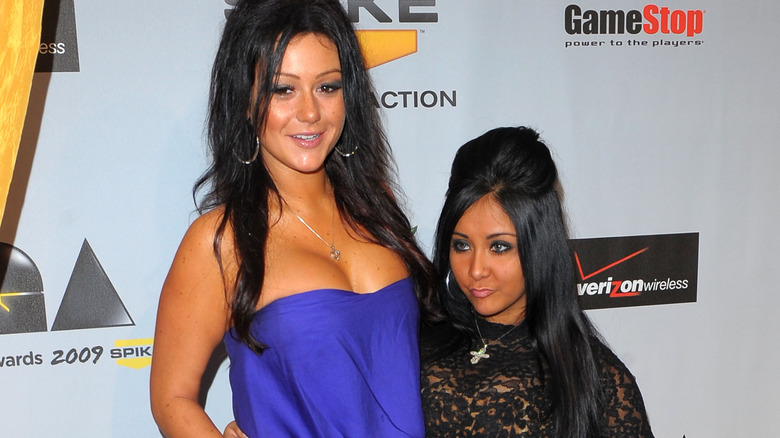 The television show "Jersey Shore" was full of iconic lines, including "G.T.L." aka "gym, tan, and laundry." And while not all of the cast members may have frequented the gym, it was clear that they took regular trips to tanning salons.
For Snooki, in particular, her tan could be accompanied by fashion choices like tall colored socks, graphic tees, blinged-out accessories, and furry boots, as seen in throwback photos by MTV. Ah, what a time to be alive (you had to be there). 
When she needed to get dressed up, she may have gone for an even darker tanning shade, she may have piled her hair up even taller, and she was probably going to show up in something covered in sparkling sequins. Oh, and don't forget about all the clunky bangles, big rings, statement necklaces, and hair accessories to match. 
Snooki gives fans a bit of clarity for her more out-there styles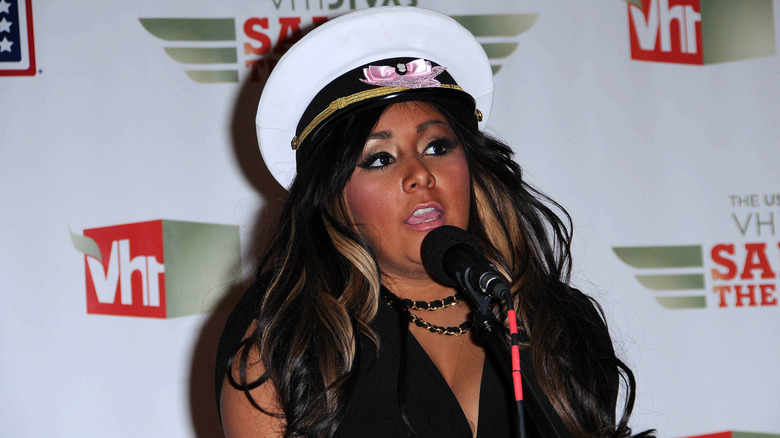 Fast forward a couple of years into the future: "Jersey Shore" has been airing for a few years, and a spin-off series has even been introduced to the world. Fans just could not get enough of watching the cast, especially Snooki, who does make for wildly entertaining television.
In 2017, she shared her own throwback picture on Instagram, showing off an outfit that featured denim cutoff shorts, hoop earrings, and another pair of memorable boots. The pic also shows that the reality star has played around with hair cuts, styles, and colors throughout her career, as well, which is part of her grown-up transformation.
Anyone who finds any fashion choices from the early 2000s questionable can get answers from Snooki herself. On Twitter, not too long ago, she broke down several of her ensembles, such as one made up of denim, leopard, stockings, and a hot pink bag. 
Snooki started focusing on her physical health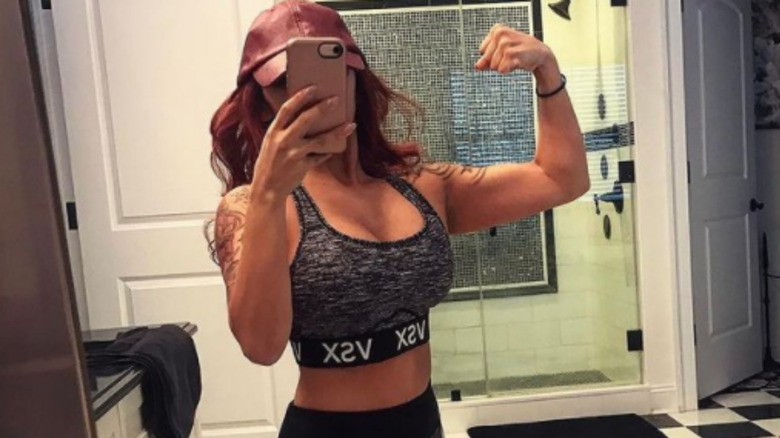 Fans who keep up with Snooki know that she has slowed down on the fist pumping and club hopping over the past few years and replaced those partygoer activities with hardcore workouts.
"Getting my strong body back!" she wrote on social media in 2017, alongside a photo of her flexing in a mirror in athletic apparel. "It's all about feeling strong and gaining muscle for me."
So what kind of moves and routines have contributed to this star's evolution? In 2016, the mom of three told The Cut that she loves work out classes, "when you carry heavy balls and run with them or do tug of war. All that fun stuff." In 2020, the COVID-19 pandemic led to stay-at-home orders and gym closures, meaning many were getting in their exercise at home. Specifically, Snooki shared her at-home routine with Hollywood Life, noting, "I love doing plyometrics to get my heart pumping and build a sweat!"
Snooki gets real about her plastic surgery journey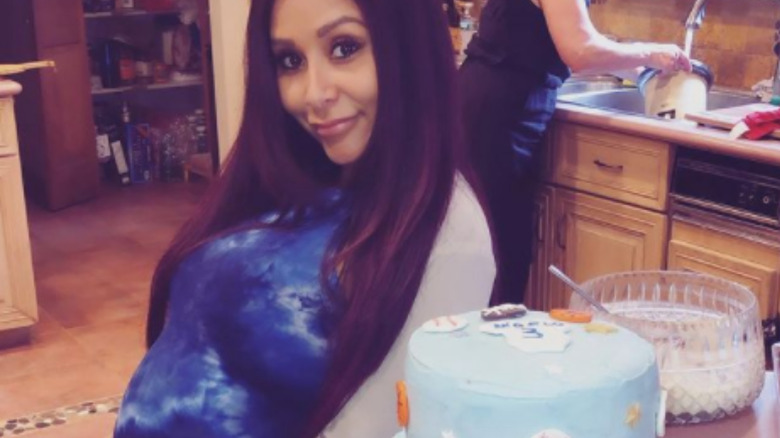 Snooki's transformation goes beyond just clothing items. In 2018, she tried out bangs, as seen on Instagram, and she shared some beauty secrets with Life & Style Magazine: She is not all about a spray tan and big hair these days, but she has had some enhancements done, including getting lip injections and botox.
"First session of lip plumps, and it's just fabulous. I've always hated my thin lips and never thought I had the balls to get needles in my lip to perfect them, but I did! Trust me girls, I was terrified to get my first 'procedure' ever done, but it wasn't terrible at all! And I hate needles! I love my 'natural beauty,' but being able to enhance my lips to make me feel better about myself is life," she wrote on Instagram in 2015.
Additionally, plastic surgeon Dr. John Tutela said the star had a breast lift and received implants after breastfeeding (via E! News).
Now, Snooki's outfits say 'mom,' in the best way possible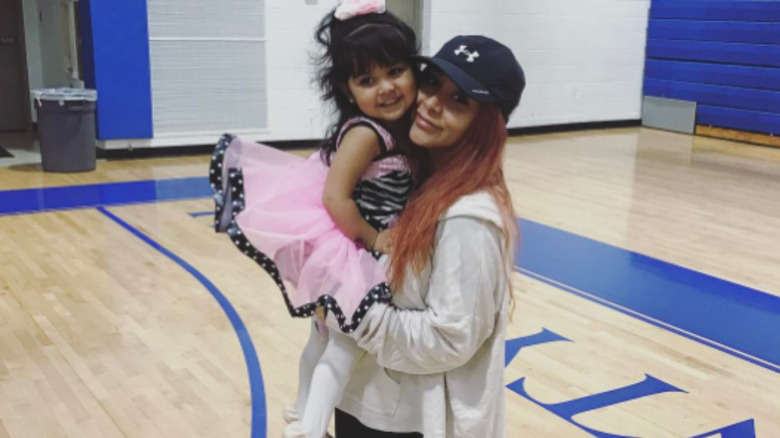 Being a mother is a busy job, requiring dealing with carpools, spills, activities, playdates, and beyond. With that in mind, moms might opt to wear comfy and stretchy clothing items. Since Snooki is a mom, many of her Instagram photos from the past couple of years have featured such garments, especially last year, as everyone stayed at home and social distanced in athleisure wear.
As someone who is still very much always working and in the spotlight, she has shown off some very glamorous looks recently. But she has also uploaded Instagram pics of her with her kids, wearing things like leggings, sneakers, tees, caps, and tye dye loungewear, including this adorable Instagram pic with the Easter bunny.
She even recently said, "Everyone posted their perfect Mother's Day pictures in cute outfits & glam … and then there's me. Always a hot mess express, and tbh I wouldn't have it any other way." We wouldn't either, as this helps make Snooki, well, Snooki!
Source: Read Full Article