The OG 'Supermodels' cover Vogue's September issue: love it or hate it?
08/18/2023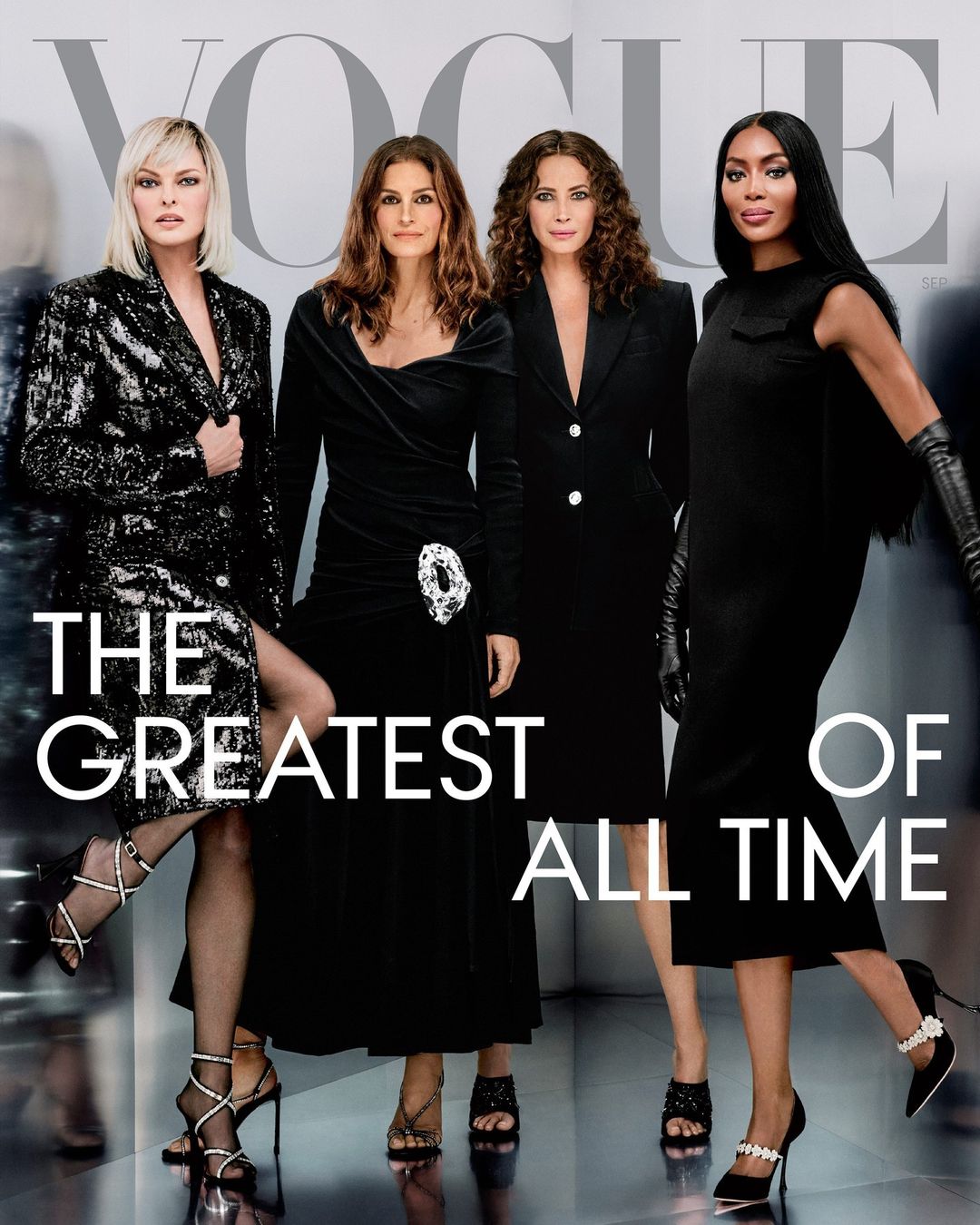 Ah, The Supers. The original supermodels of the 1980s: Christy Turlington, Naomi Campbell, Cindy Crawford and Linda Evangelista. Kate Moss was a teenager on the runway when her "look" changed all of this, this beauty ideal of tall "Amazon" beauties strutting down the runway with personality. The Supers cover the September issue of Vogue, and at first glance, I honestly didn't recognize Cindy. Naomi has also had a lot of work done, and Linda… well, she's been through the ringer with her CoolSculpting mess. You can read the full Vogue piece here. They're promoting the AppleTV docu-series The Super Models, which comes out on September 20. Some highlights from this very glamorous and dishy piece:
Naomi on the sisterhood: "There was a sisterhood there, defined by caring and loyalty: When one is down you pick the other one up." It was Christy who persuaded Cindy to walk twice for Marc Jacobs. Naomi got the nod for her first Michael Kors show after her friends persuaded him to let her fill in for a late cancellation. And their generosity has extended to include their larger fashion family. Naomi talked Marc into going to rehab after she had done so herself. ("I am very much a believer in recovery," she says. "Recovery saved me.")

They survived grunge: "We survived grunge!" says Linda, who quickly morphed into a broken androgyne for Sims. (Recalls Marc Jacobs, "Linda was one of the girls who had a glamorous era and then became kind of boyish in a men's suit, carving initials on a bench.") Cindy understood this new look as an inevitable swing of the fashion pendulum—"The hair couldn't have gotten any higher, the shoulders any wider," she says—but failed to find anything empowering in appearing in print like a walk-of-shame zombie.

Christy and Cindy don't have Me Too stories. "It's just luck and grace, honestly," says Christy. "I felt like my career took off pretty quickly, so maybe there were more eyes on me and they couldn't get away with stuff. But," she adds, "I don't even think it was that: Predatory people are predatory people." Cindy has two theories why she was unscathed. The first is that she arrived in New York from Chicago at the relatively old age of 20—so she was already a successful veteran of sorts. The second is a counter example: that her own provincial insecurities worked to her advantage when she landed in Europe. "You'd get invited to a party on someone's yacht and I'd think, What do you even wear on a yacht? What fork do you use? So I would just not go and, yes, I probably missed out on some fabulous opportunities but probably avoided some less than fabulous opportunities as well."

Naomi & Alaia: Naomi lived in Paris from age 16 with Azzedine Alaïa, who was a father figure to her until he passed away in 2017. She says, "That man protected me from so much." On the one occasion when someone crossed a line, Naomi came home, told Azzedine, he made a call, and it never happened again. She also always knew to tell: "I come from a strong line of Black women, Jamaican women. If something felt wrong, I told it. I spoke up."

Linda's first marriage: "My mother's like, She's getting a divorce," Linda remembers. "And he said, 'I never liked that son of a bitch.' And he left. I heard the garage door slam." Of the chapter with Marie she has only regret. "I thought: I'm Linda. I'm bringing in so much money. I think I am pretty. I can cook. And I am great with his child. And I am devoted to him. There's no way he would cheat on me. I was a fool."
[From Vogue]
What's really nice about this piece – so nice I actually got a bit choked up – is how much they still love each other. They're not in each other's daily lives anymore, but there's so much warmth and sisterhood there, and they fell into old patterns of banter and support. They're all moms now as well and they all have completely different mom energies. Anyway, it's a great piece and I will watch The Super Models.
https://www.instagram.com/p/Cv0LDZ2tp_k/
Cover & IG courtesy of Vogue.
Source: Read Full Article