Social Media Stars Who Died Trying To Go Viral
08/13/2021
Swallowing a spoonful of cinnamon isn't going to make someone go viral nowadays. Over the years, all kinds of videos have amassed millions of views, from a man yodeling with his chickens to a young Justin Bieber singing his heart out. To be the next social media superstar of today, performing a cover song just won't do it. In fact, people are taking it a step further by risking their lives for the Internet. These social media sensations crave the highest level of fame society has ever known. Rather than dancing through the decades or making people laugh, they'll perform life-threatening acts just to get their videos to go viral.
Social media stars have come up with extremely risky ideas for content on their profiles and will go to shocking lengths for their posts. Sadly, these same people have died doing incredibly dangerous stunts, and their deaths have gotten more recognition than their outrageous acts. These people went too far and lost their lives trying to go viral. 
Rapper Jon James McMurray's wing-walking stunt cost him his life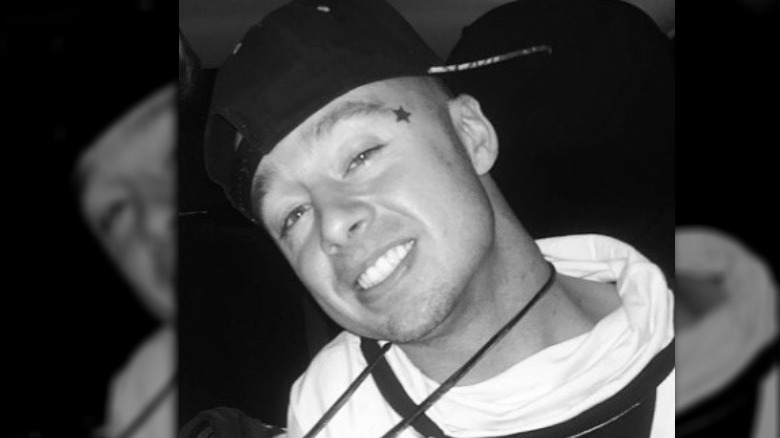 Canadian rapper Jon James McMurray took his music videos to hazardous heights by jumping out of planes and off of cliffs. His management team once shared (via CTV News), "His passion for making music videos and performing stunts were combined, and Jon pushed music in a new direction that was uncharted territory." However, McMurray tragically died in 2018 after trying to perform yet another stunt where he planned to walk on the wing of a plane as he rapped, but he walked out too far and fell to his death. 
McMurray's management team stated that as the rapper walked "further out onto the wing of the plane, it caused the small Cessna to go into a downward spiral that the pilot couldn't correct." Although McMurray tried holding "onto the wing," he ultimately let it go. "He didn't have time to pull his chute," his team explained to CTV News, adding, "he impacted and died instantly." The pilot was able to safely land the plane following the tragic turn.
According to Billboard, McMurray was known as an "accomplished freeskier and stuntman," skiing professionally before he found fame in the rap world. He also had several firsts as a skier, including "landing the first backflip on and off a rail." However, after suffering a few injuries, including an incident where he broke his back, McMurray found music to be his next passion. 
'China's first rooftopper' plunged to his death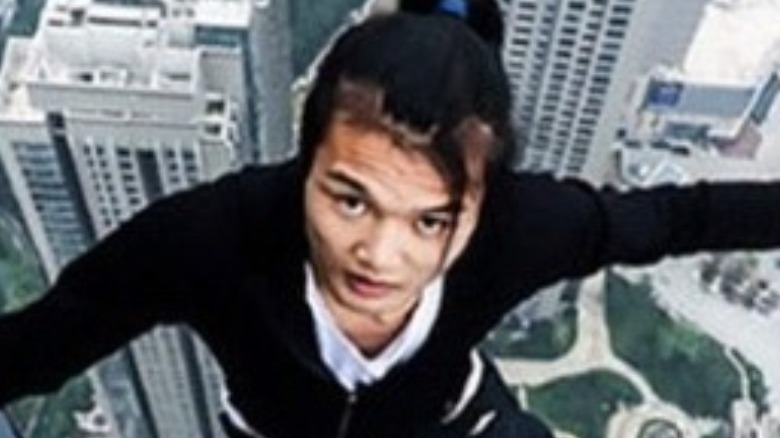 Wu Yongning dubbed himself "China's first rooftopper" and would perform highly dangerous stunts that included standing on the rooftops of tall skyscrapers without any form of safety equipment. Yongning would regularly upload videos of his daredevil stunts, with Sznews (via China Daily) reporting that he had reached over 54,000 followers on his blog. His Instagram page showed Yongning using a selfie stick to reveal just how high up he was while standing on the roofs of the buildings. Other images portrayed him holding on to a building with just one hand or dangling in the air holding on to the edge of a building with his fingertips. 
Sadly, in 2019, The Chronicle reported that Yongning died the previous year after he lost his grip while atop the Huayuan International Center in China. He was live-streaming the stunt and was seen struggling to hold on to the building's edge, and in the final seconds of the video, Wu fell from the building. 
South China Morning Post reported that Wu Yongning's family sued the live-streaming app that filmed the daredevil and his fatal fall. His family was to receive 30,000 yuan ($4,300) in compensation from the live-streaming platform. Yongning had initially attempted the feat "to win a 100,000 yuan prize."  
Travel bloggers fell 800 feet in Yosemite for Instagram picture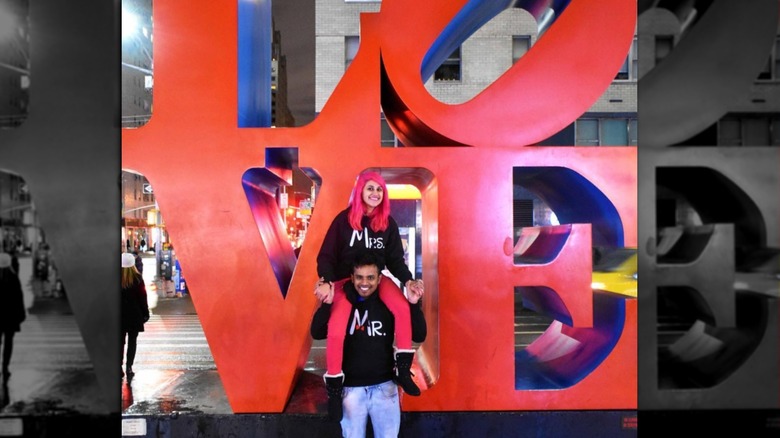 Married travel bloggers Meenakshi Moorthy and Vishnu Viswanath posted their epic travels across the country on their shared Instagram page, with Moorthy's brightly colored pink hair popping in the middle of each photo as she stood in front of breathtaking views. Their page has more than 22,000 followers who were intrigued by the couple's selfie skills and the risks they were willing to take to get the ultimate photo.
In 2018, The Fresno Bee reported that the couple's bodies were found after they fell from the Taft Point overlook, 3,500 feet above Yosemite Valley in California. The National Park Service stated that the couple fell about 800 feet and a recovery team had to use "technical climbing and rappelling techniques" and a helicopter to recover their bodies. 
Ironically, before her death, Moorthy shared a photo on Instagram where she is sitting on the edge of the Grand Canyon, captioning it in part, "CHASING SUNSETS OR CHASING LIKES??? … A lot of us including yours truly is a fan of daredevilry attempts of standing at the edge of cliffs and skyscrapers, but did you know that wind gusts can be FATAL???  Is our life just worth one photo?" The Washington Post stated that friends of the couple believed they were "trying to take a photo." Viswanath's brother reportedly told the AP that the "Holidays and Happily Ever Afters" bloggers were, indeed, taking a selfie.
Adventurer Johnny Strange died in a wingsuit crash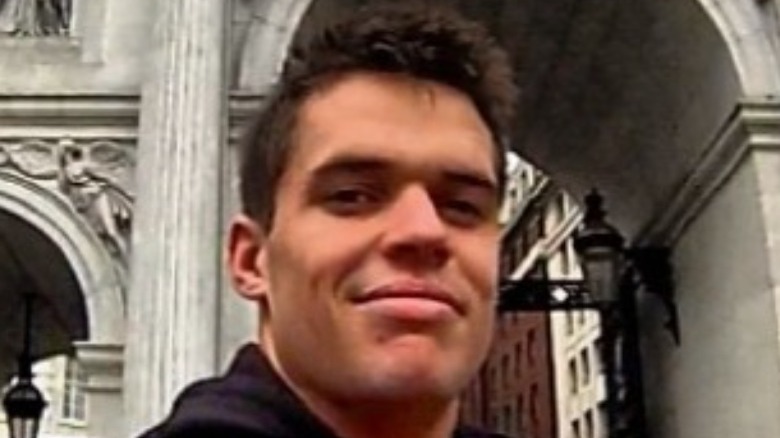 Johnny Strange made history at the age of 17 when he became the youngest person to climb the Seven Summits — the highest mountains on each of the seven continents. Strange was only 12 years old when he completed the climb to Mt. Vinson in Antarctica and would later make his way to the tops of Mt. Kilimanjaro, Mt. Elbrus, and Mount Everest. At the age of 20, Strange became the youngest person to reach both the North and South Poles. It was clear that he was a thrill seeker and besides his successful climbs, Strange was also a passionate skydiver and base jumper and would shoot his own videos flying high in the sky.
According to The Telegraph, Strange was 23 years old when he attempted a wingsuit jump off Mt. Gitschen in the Swiss Alps, likely lost control, and died on impact, hitting the ground. Sky Above Us explained that wingsuit jumping entails a person wearing a suit that has flaps of fabric between its arms and legs, allowing the flyer to glide through the air while maneuvering around trees, mountains, rocks, etc. 
Strange's sister, Mackenna, told ABC7 that her brother "died doing what he loved." "Johnny himself said all the time, 'If I'm not allowed to do the things I love, I'm already dead,'" Mackenna shared, adding, "So even though it was 23 years, it was 23 years where he didn't live a day that wasn't full of adventure."
YouTube couple's stunt took a turn for the worse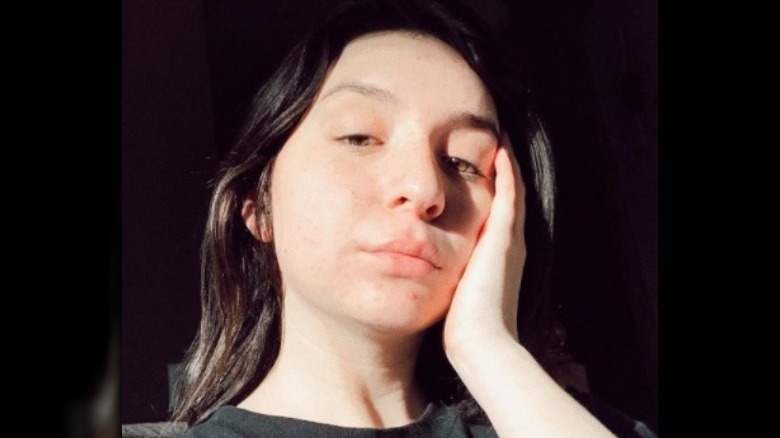 In 2017, teenage couple Monalisa Perez and Pedro Ruiz III believed fame and fortune would come knocking at their door when they devised a prank that ultimately left Ruiz dead. While Perez and Ruiz had uploaded harmless prank videos on their YouTube channel before, the couple took things a step further when Perez stated that Ruiz wanted her to shoot him while he was holding a 1.5-inch-thick book to his chest, per The New York Times. Perez shot and killed Ruiz while standing a foot away from him using a Desert Eagle gun in front of their three-year-old child and almost 30 other people, the BBC explained. 
According to the Star Tribune, Perez pled guilty to second-degree manslaughter and was sentenced to 180 days in jail. As part of her sentencing, Perez is banned for life from owning any firearms or collecting money for her story. During an interview with The New York Times, Sheriff Jeremy Thornton of Norman County, Minnesota, said after the shooting, "I really have no idea what they were thinking. I just don't understand the younger generation on trying to get their 15 minutes of fame."
Perez has since created a new Instagram account with her first post a selfie which she captioned in part, "I'm a woman that has gone through hell. It's interesting how everyone has a story, everyone thinks they know everything but no one has not even a clue."
Chinese TikTok star fell off a crane in a live-stream video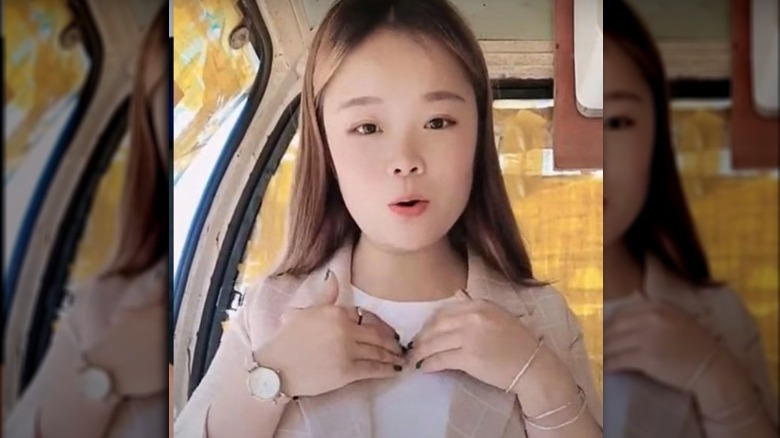 Several people have shared their daily lifestyles and routines on social media, from what they do for a living to how they work out. Xiao Qiumei was well known in the social media world with more than 100,000 followers on Douyin, the Chinese version of TikTok, and would often post about her life as a crane operator, per The Sun. However, things took a turn for the worse when Qiumei fell 160 feet, reportedly while making a video of herself as it happened. Quimei's phone was in her hand when she hit the ground, according to eyewitnesses. 
The video obtained by The Sun shows Qiumei speaking into her camera and later switches to blurry images from a phone bouncing down a crane. While the family confirmed that she had died while falling off a crane, they denied that she had used her phone while working, instead believing that she missed a step. Qiumei, a mother of two, was reportedly 23 years old when she died.
Malaysian magician steamed himself to death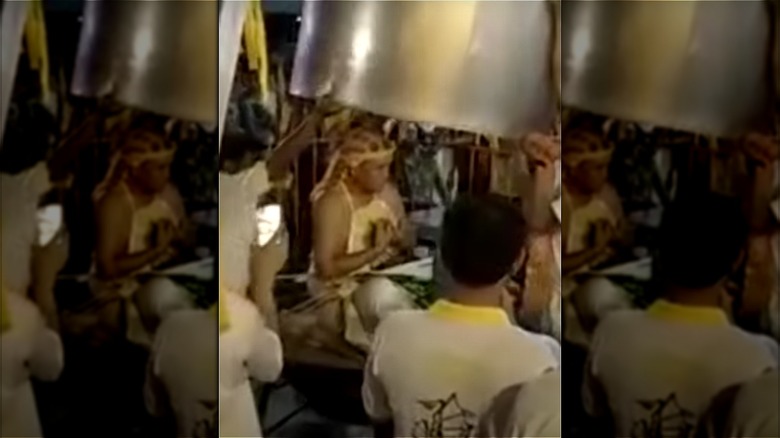 Lim Ba, a Malaysian man known for his steaming rituals, died in 2017 after sitting in a life-sized wok for 30 minutes. According to Daily Mail, Lim Ba had performed human steaming to "cleanse body and soul" for over 10 years. During his ritual, he would sit in a large metal pan in the lotus position while a lid was placed over him. He then "he clasped his hands in prayer before a fire was lit under the wok."
Tragically, those around him heard him knocking from the inside and later found him unresponsive. The Star reported that the 68-year-old had "major second-degree burns" as well as a heart attack. Kang Huai, Lim's youngest son, shared that his father "underwent a heart bypass" the previous year and "was also on medication for hypertension." Lim Ba's daughter, Wei Ling, also shared that her father had once been inside the burning hot wok for a record 75 minutes. 
President Tan Hoe Chioew of the Federation of Taoist Association of Malaysia told The Star that Lim Ba's steaming stunt was not part of the rites and rituals of Taoism, but Lim Ba's own unique magic performance.
Taiwan's famous bikini climber died while hiking alone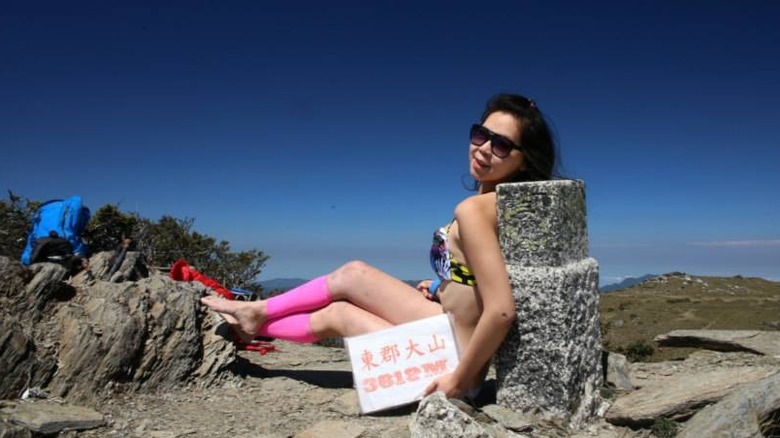 After losing a bet, Gigi Wu took a photo of herself in her bikini at the top of a mountain peak and continued the trend after noticing that she was gaining more attention. The Taiwanese woman was dubbed the "Bikini Hiker" and had amassed several fans in her country. According to The Washington Post, Wu's Facebook page was filled with photos of herself on the tops of several mountains in the country, and it was clear that she had a passion for hiking. In fact, she was even picking up any trash she saw on her way to the very top.
Daily Mail reported that Wu was "on a solo hike through Yushan National Park" in 2019 when she tragically fell into a ravine. While she was able to call for help, she was badly injured and trapped. Because of bad weather, it wasn't until 28 hours later that a rescue team was able to get to Wu's dead body, which had already frozen. Before her death, Wu had shared photos on her Facebook page from a previous fall in 2018 on Christmas Eve which showed her legs badly bruised and scraped. She shared on Facebook (via Daily Mail) that "she was lucky [she] survived."
Source: Read Full Article