Paul Rudd's Mini-Me Son Jack Steals the Show in Post-Super Bowl Interview
02/13/2023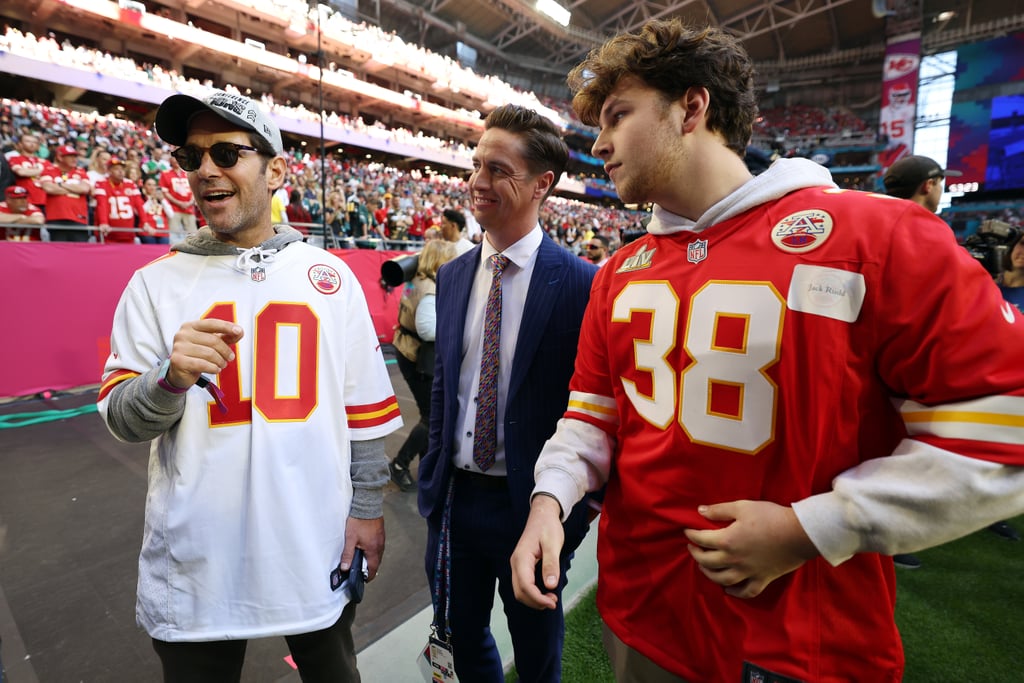 Paul Rudd's Mini-Me Son Jack Steals the Show in Post-Super Bowl Interview

Paul Rudd and his 16-year-old son, Jack, had the time of their lives at the 2023 Super Bowl. The father-son duo cheered the Kansas City Chiefs to victory over the Philadelphia Eagles on Feb. 12, marking their second time attending the Super Bowl together. After hanging out on the State Farm Stadium field before kickoff alongside other stars like JAY-Z and Blue Ivy Carter, they watched the game from the stands, matching in Chiefs jerseys layered over hoodies. Once the game concluded, Rudd and Jack hit the field to celebrate, sharing hugs with various Kansas City players, including tight end Travis Kelce and wide receiver JuJu Smith-Schuster.
Rudd and his son were also pulled aside for a postgame interview that proved just how similar the pair are. "I can't believe it," Rudd told a Fox Sports reporter. "It was such a great game, and wow, it all just feels so overwhelming and incredible." Jack swooped in to steal the show, sounding exactly like his dad as he said, "I just want to thank Patrick Mahomes for existing, for putting in all the work so we can just all enjoy his greatness every week. I'm so lucky that I'm alive to watch this. . . . I just can't believe he's a real person." Rudd then quickly gave a shoutout to Julie Yaeger, his wife of nearly 20 years, and their other child, tween daughter Darby, before running off to enjoy the big win with other fans.
Rudd and Jack seem to be good luck charms for the Chiefs; they were also present when the team beat the San Francisco 49ers at the 2020 Super Bowl in Miami. Read ahead to see all the footage of the superfans enjoying the big game together, including their hilarious joint interview, and then catch up on which other celebrities were in attendance at Super Bowl LVII.
Source: Read Full Article