Panera pizza is said to be really good, but skip the plain cheese: a follow up
11/11/2020
https://www.instagram.com/p/CGkjDaMhsZK/
A post shared by Panera Bread Riverside Plaza (@riverside_plaza_panera) on
This is not a sponcon, but if Panera wants to send me a $50 gift card I will write another story about them. It must be at least $50 so I can eat there twice. I'm running this because our last story on Panera was surprisingly popular. I eat at Panera when I can. I like their food because I am basic and I like bread, I like soup and I like sandwiches. Plus it occupies that unique space in between fast food and sit down chain restaurants, as we discussed before. As we also discussed, Panera recently premiered flatbread pizzas. They come in margherita, chipotle chicken & bacon and plain cheese varieties and retail under $9.30 (near me, I don't know if they're more expensive in other areas). While they seem to take longer than other items, they're said to be really tasty. Unfortunately I haven't tried them yet because Panera is far from me, but I trust these reviews. My friend Zakia (you may know her from the podcast) loved it too and gave me a review to use! Here's her review and some others from Twitter and Instagram.
I got the Chipotle Chicken and Bacon Flatbread and it was so good! It was actually better than I thought it was going to be. I love chipotle on anything, but was still skeptical. I am so glad I took the chance and got it. Also, you get a huge pizza for about $9. I couldn't finish it in one sitting. It's worth the money and it tastes great! I will definitely get it again. – Zakia.
— joe (@midlifetimmy) November 6, 2020
https://www.instagram.com/p/CG7_JuQjyjs/
@panerabread has 🍕 now and it's legit the BEST pizza I've ever had… OMG 🤤🤤🤤 Have you tried a #pizza from #panera yet??? If not, go… NOW! #lunch #panerabread #panerapizza #delicious #food #foodporn #yummy #yum #mom #momlife #michigan #puremichigan #autismmom #momblogger #momblog #michiganmom #novi #panerapizzaparty
— sydney (@LemonBrights) November 9, 2020
— chease (@neogeopcktcolor) November 9, 2020
— GamingFanactic911 (UltimatePokeFan)(PokeFan62) (@GFanactic911) November 1, 2020
In the interest of balance some people don't like it, particularly the plain cheese. That's how I came to the conclusion in the title, all the negative reviews I found were about the cheese.
— 𝓜🍈 (@MoFiyaMoMaiya) November 3, 2020
— Greg Gangemi (@gmgangemi) November 8, 2020
So it looks like the chicken and margherita varieties are the best and like the cheese isn't worth it. People are saying on Twitter that this is not Panera's first foray into pizza. They had a pizza called the Crispani. I did a little research and they only had that on the menu from 2006 to 2008 as it was hard for employees to make. Still, Panera Pizza is new to me as I was living overseas when the Crispani came out. I'm definitely going to try this. The nearest Panera is 40 minutes away and I don't travel much, but now that I talked about it I can write off the mileage to get there. It's not like I'm traveling to watch movies this year.
Why does this young woman not have her hair tied back?
https://www.instagram.com/p/CGgy8Zgh6mY/
It's coming!!! #panerarockstars #crustmeitsgood #panerapizza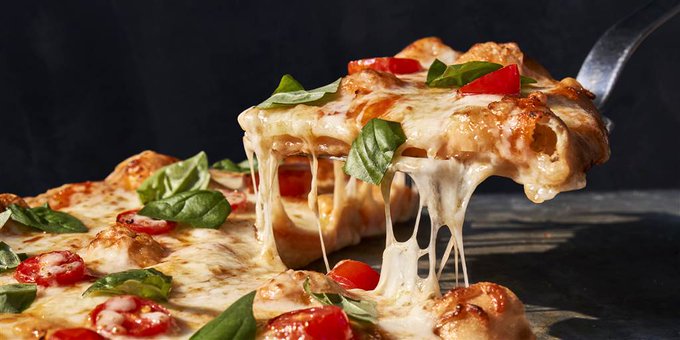 Source: Read Full Article