Meghan Markle Has Reportedly Requested a "One-on-One" Meeting with King Charles to "Clear the Air"
09/21/2022
It looks like Meghan Markle and Prince Harry are ready to mend fences with the royals as the family comes together in shared grief over the Queen's passing. According to royal reporter Neil Sean, Meghan specifically requested a meeting with her father-in-law King Charles to "clear the air" before she and Harry head back to California.
"She'd now like, before they return back to California, to have a one-to-one audience with King Charles III," Neil said, per Page Six, explaining that the Duchess made the request in a "formal letter" and that the meeting would be "an opportunity to clear the air, put the rights from wrongs and explain some of the rationale behind what they've been doing over the last two years."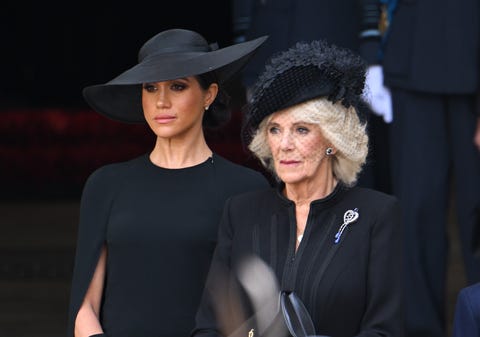 It's unclear when/if this meeting would take place, mostly because Meghan and Harry are returning home to California pretty much ASAP to reunite with their kids, Archie and Lilibet, who they haven't seen for weeks.
A source recently told Us Weekly that "Meghan and Harry are preparing to return to Montecito almost immediately after the funeral, where they'll be reunited with Archie and Lilibet after being separated for over two weeks." The source added that this is "the longest amount of time they've been apart from their children" and that "they've missed the kids like crazy and have been FaceTiming them every day but can't wait to see and hold them again after a poignant few weeks."
Source: Read Full Article