Lisa Rinna SLAMS Critic Who Suggested She Is Responsible For Daughter Amelia's Eating Disorder!
06/13/2019
Lisa Rinna isn't taking ANYONE's BS!
Earlier this week, the Real Housewives of Beverly Hills star shared a fun video on Instagram where she dances in a black leotard to celebrate Pride Month.
Unfortunately, one social media user wrote a comment that suggested the Bravolebrity is responsible for daughter Amelia Hamlin's eating disorder, which she publicly spoke out about in April 2018.
The commenter penned:
"This makes me wonder if this is how her daughter started her eating disorder with seeing mom this weight and thinking this is normal?"
Almost immediately, the actress clapped back by writing:
"You are body shaming me. You are the problem."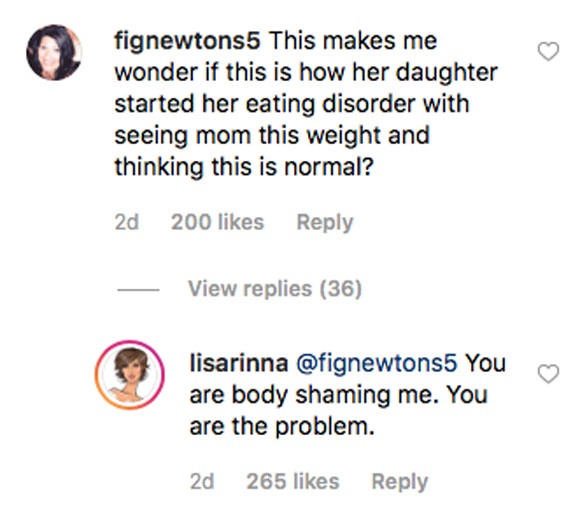 In a recent episode of RHOBH, the 17-year-old model lashed out at father Harry Hamlin after he encouraged her to eat during a family dinner.
Rinna said in a confessional:
"Amelia has issues with food. You watch Amelia take two steps forward, one step back. It is not an easy, clean, 'Okay great, you know, you did that, you had that, you got the help.' It's not like that. It's just, you know, one day at a time.'"
Additionally, the Melrose Place alum revealed she feels some responsibility for her daughter's struggles, admitting:
"You can't help but blame yourself. You know, it's like, 'What did we do to f**k her up?' Maybe we did something. I don't know. I just know that it's really, really hard to watch Amelia be in pain… I don't want to see her suffer. You want to fix it… You want to make it go away. You want to erase it. You know, you just want to take your child out of pain. You don't want your child to be in pain.'"
Before the episode aired, Amelia went on IG Story and said her "fear of food" prompted her to be "EXTREMELY rude" to her dad. She wrote:
"Tonight on the Housewives you will see how my eating disorder affected myself and my family. There is a scene where I am EXTREMELY rude to my dad and the food that he wants me to eat. During that time, one year ago — I was not in a good place at all… I may have looked like I was recovered, but I was most definitely not. Within the scene you will see me lashing out due to my fear of food. The person displayed in tonight's episode is not the person I am. It was the person anorexia made me… I just wanted everyone to know why I acted the way that I did."
Fortunately, the teen revealed she is now "100% recovered and happy."
If you or someone you know is battling an eating disorder, please contact the National Eating Disorders Association (NEDA) at 1-800-931-2237 or go to NationalEatingDisorders.org.
Source: Read Full Article