Kit Harington Has Checked Himself Into Rehab for Stress
05/29/2019
Game of Thrones star Kit Harington has checked himself into rehab, a rep confirmed to Cosmopolitan.
Reports came out earlier today saying he had checked himself into a rehab facility, but his rep later described the center as a "wellness retreat." "Kit has decided to utilize this break in his schedule as an opportunity to spend some time at a wellness retreat to work on some personal issues," they said in a statement to Cosmopolitan.
Page Six reports that the center is a luxury mental health/rehab center in Connecticut and he's been there since before the show's finale. According to multiple sources who spoke with Page Six, he's there mostly for exhaustion and stress. Entertainment Weekly confirmed this report.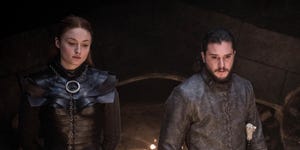 The outlet reported that the facility specializes in "psychological coaching, practicing mindful meditation and cognitive behavioral therapy to combat stress and deal with negative emotions at the facility." A source said Harington's wife, former Game of Thrones star Rose Leslie, is being "incredibly supportive" during his stay.
Harington finished his eight-season run on the show on May 19, when the HBO drama aired its last episode.
Source: Read Full Article