Jordyn Woods Responds to Kim Claiming She Owes Everything to Kylie
06/27/2019
Sunday's episode of Keeping Up with the Kardashians was, let's be real, a complete and utter mess. Like, Khloé was vomiting blood at one point. She went blind in one eye. But mostly, the episode revolved around Jordyn Woods betraying America's First Family by allegedly kissing Tristan Thompson at a party. And the Kardashians did not hold back.
One of the most buzzy moments from the episode was a quote from Kim, where she said, "Kylie, she provides for her whole family off of what you have given her." Fact check: Jordyn's been working since she was a kid, and Kim was quickly called out on Twitter.
Let's get something straight, @jordynwoods is basically Will Smith's Godchild. She was not "rescued" by the Kardashians. They didn't find her in an African orphanage and bring her to America, for her to have been at school with Kylie she was already rich. #KUWTK #Kardashians
I beg you pardon? Did Kim Kardashian just say Jordyn Woods provides for her whole family because of what Kylie gave her?
Kim goes on about how Khloe employed her and how Kylie helped Jordyn provide for her whole family. Uhmmm pic.twitter.com/iUpp2jHJI9
Jordyn's response? "I definitely work very hard for a lot of the things that I have, and as you can see, I'm out here hustling, and I've always been working," she told ET (watch below). "I started modeling when I was 18, and you know, I work hard."
The outlet also asked Jordyn about Khloé's claim that she never once said sorry (direct quote: "I'm not saying things can't happen. I'm the most understanding, calm person ever. But Jordyn… never once has Jordyn said, 'I'm sorry.'")
Her response to that? "It's just, you know, things happen," she said. "And of course I'm sorry and apologetic as much as I can be."
Awk.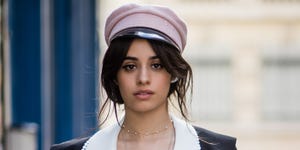 Source: Read Full Article