How Meghan Markle's Biggest Supporter Left In The UK Really Feels
09/07/2021
Meghan Markle has made it no secret that the driving force behind her and Prince Harry's decision to leave the U.K. was because of the stress that came from the British media, and according to the Duchess of Sussex, the lack of support from the royal family. In fact, Meghan even suggested that the royals might have had an "active role" in the way she and Prince Harry were portrayed in the media. "I don't know how they could expect that, after all of this time, we would still just be silent if there is an active role that The Firm is playing in perpetuating falsehoods about us," Meghan told Oprah Winfrey in her and Harry's bombshell interview from March, per BBC. "And if that comes with risk of losing things, I mean — there's a lot that's been lost already."
And while the Duke and Duchess of Sussex have been heavily criticized for leaving London and the royal family behind, there has been one person who has supported their each and every move while also showering them with praise for carving a new path in their lives. Call him the anti-Piers Morgan, if you will, but newscaster Jeremy Vine has stood by the Sussex's side without hesitation — until now. Keep scrolling to learn what Vine's latest statement about Meghan and Harry is all about.
Meghan Markle's biggest supporter is even having a hard time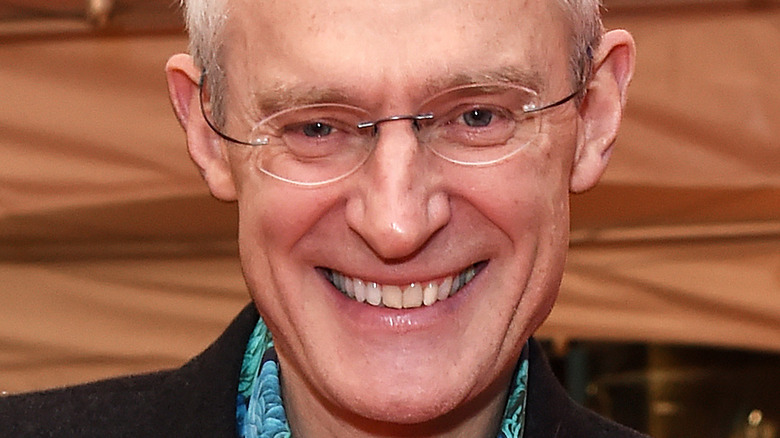 Jeremy Vine has been one of few voices across the pond that has stood in favor of Meghan Markle. In 2019, he took to his Twitter account to say that Meghan needed to "sack her entire PR team" because her reputation was being "incrementally ruined by their haplessness" over an article that suggested Wimbledon fans were told not to take photos of the Duchess. 
The BBC Radio 2 presenter has now admitted, though, that Meghan's behavior "has been trying for even her most ardent supporters." In a September 7 interview with Express, Jeremy revealed that while Prince Harry and Meghan are a very "divisive subject" on both sides of the pond, it's been very difficult to even get in a word about them, as public opinion about the royal couple is so split. "What I noticed is that if you mention Meghan and Harry the room just splits straight away. It really does," he explained. 
So, does that mean Meghan's supporters are remaining quiet just because they don't want to get into a heated debate? Maybe, but Jeremy did add that some of the commentary towards Meghan has been "too harsh." He didn't have all positive thing to say, though, as he also said  that when it comes to the Duke of Sussex, he thinks he "brings it on himself sometimes." It seems like Meghan's biggest fans are even split about who to support amid her and Harry's rocky relationship with the royal family. 
Source: Read Full Article