Hersheys debuts vegan oat-based Reese's PB cups & chocolate bars: will you try them?
03/09/2023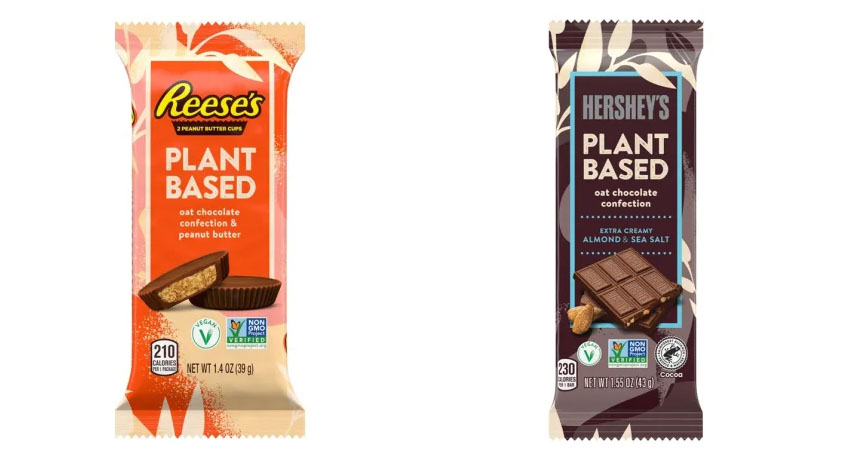 Everyone's favorite peanut butter/chocolate mashup is turning green. Reese's, the Queen of Cups, is getting a vegan makeover. An oat-based chocolate wrapped around their peanut butter debuts this month. And next month, we'll be seeing an extra-creamy version of the Hershey's chocolate bar with almonds and sea salt as well. Obviously, there's a catch – the vegan versions will both cost more financially and calorically. So what do you guys think? Are you on board?
Reese's Peanut Butter Cups are getting the vegan treatment.

The Hershey Company said on Tuesday that Reese's plant-based peanut butter cups, which go on sale this month, will be its first vegan chocolates sold nationally. A second plant-based offering, Hershey's plant-based extra creamy with almonds and sea salt, will follow in April.

The chocolates are made with oats instead of milk, Hershey said.

Hershey has experimented with vegan chocolate before. It sold an oat-based chocolate bar called Oat Made in some test markets starting in 2021. But the new products will be the first sold throughout the US under the "plant based" label.

Hershey said consumers want choice and are looking for products they consider healthier or with fewer ingredients, including reduced sugar and plant-based options. Hershey also introduced an organic version of Reese's peanut butter cups in February 2021.

Hershey said it developed plant-based versions of Reese's peanut butter cups and Hershey bars – some of its most popular products – because there is a dearth of mainstream vegan chocolates in the US market.

The vegan versions will cost more. Hershey would not share details because it said retailers set final prices. But Rite Aid lists a 1.4-ounce package of two plant-based Reese's peanut butter cups for $2.49; that's about $1 more than consumers would pay for a regular package. Hershey charges a similar premium for the organic version.

And ditching the dairy won't cut calories. While Hershey didn't release all of the nutritional facts, the 1.4-ounce package of plant-based Reese's peanut butter cups contains 210 calories; that's the same number of calories as a 1.5-ounce package of the traditional candy.
[From The Guardian]
My answer is sure, I'll try it. I've completely jumped into the plant-based parade these days. In some cases it's conscious, we're trying to keep Meatless Mondays and selecting oat milk plus other products to help the environment. In some cases it's just that I've been swayed by vegan products tasting good. I picked up some Sidecar Doughnuts (iykyk) this weekend and randomly selected my dozen, including vegan choices because I liked the flavor options. They were equally delicious. It's a bummer about the Reese's plant-based price, but I get it. That's the breaks right now. Once plant-based becomes more mainstream, the prices will level out. I'm sure major corporations are also imposing a luxury tax at their discretion, but that'll fall away the more companies get on board. And the calories aren't going to dissuade me either. It's a me thing, I can handle less candy/same calories in a pack over more calories per pack. I don't know why but that mental switch is easier for me to take. I only ever get a candy bar from a store once in a blue moon as a treat anyway so I won't miss the .001 loss of chocolate.
I love that Hershey's is doing this. Making vegan options mainstream is very important for those observing a vegan lifestyle. Whatever reason someone has gone plant-based, they should be allowed ready access to food options. It's time to stop making them extravagance items. And for heaven's sake, everyone deserves a Reeses!
On a completely superficial note, I love the packaging. And thanks Alnaaze for the tip!
— D from the 5th floor (@718dmv) March 8, 2023
https://www.instagram.com/p/Cck9S-psLfM/
https://www.instagram.com/p/CFwzlxzpPc3/
Photo credit: Hershey Company, Twitter and Instagram
Source: Read Full Article