Former U.S. Olympic Gymnasts Who Are Unrecognizable Now
07/19/2021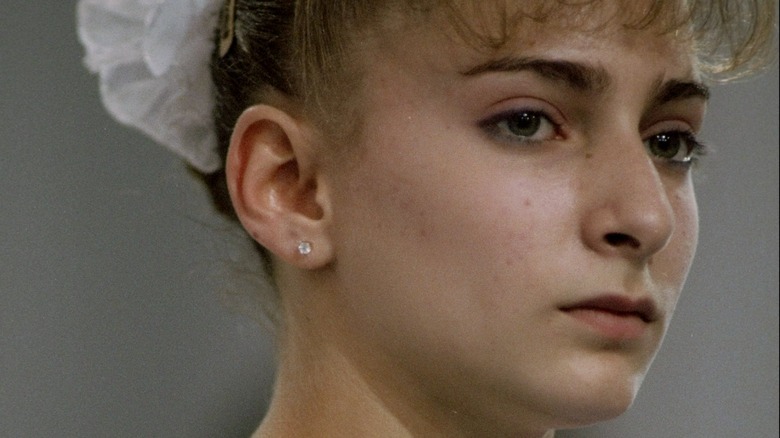 The sport of gymnastics has been around since Ancient Greece, according to Scholastic, and even though USA Gymnastics reports that the sport has been part of the Olympic games for men since 1896, women weren't involved until 1928 and the United States didn't enter a women's team until 1936. Save for a bronze medal in 1948, it wasn't until the 1980s that the U.S. Women's Gymnastics Team became a serious contender to win each year, beginning with a team silver medal in 1984. Starting that year, many of the most highly decorated U.S. women's Olympic gymnasts became icons of their time at a very young age. 
According to NBC Sports, the 2021 Olympics marks the first time in decades that the median age for women's gymnasts has been in the twenties. Every other year, the majority of competitors have been teenagers. It's no wonder, then, that we remember so many of our favorite Olympic gymnasts as kids, even though they're all grown up and virtually unrecognizable today. Here are just a few of the former U.S. Olympic gymnasts who are unrecognizable now and what they've been up to.
Dominique Dawes is working to change the future of gymnastics for the next generation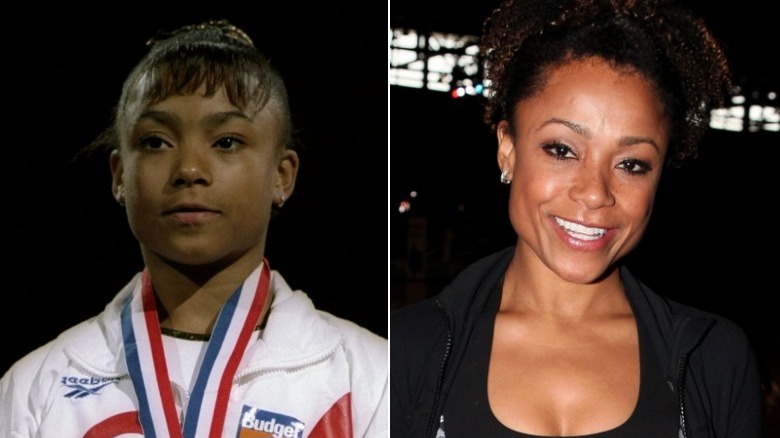 During the 1996 Olympics in Atlanta, Georgia, the U.S. Women's Gymnastics Team became known as the Magnificent Seven for bringing home the U.S. Women's Team's very first team gold medal (per Elle). One member of that historic team was Dominique Dawes, who made history herself during the games: She was the first African American female gymnast to win an Olympic medal for an individual event, according to her official USA Gymnastics biography. 
Since her retirement from gymnastics, Dawes has continued to make waves as she works to change the culture of gymnastics. She told local news outlet WUSA9 that the culture of gymnastics when she competed was "toxic, unhealthy and abusive," and that as the coach and owner of the Dominique Dawes Gymnastics Academy she's changing that culture from the inside out. Dawes is also no longer afraid to speak up like she was when she was competing. "What gives me the courage today to speak out is thinking that I am standing up and protecting my own four children and today's and tomorrow's generation of gymnasts," she explained.
Shawn Johnson is finding new purpose outside of gymnastics in motherhood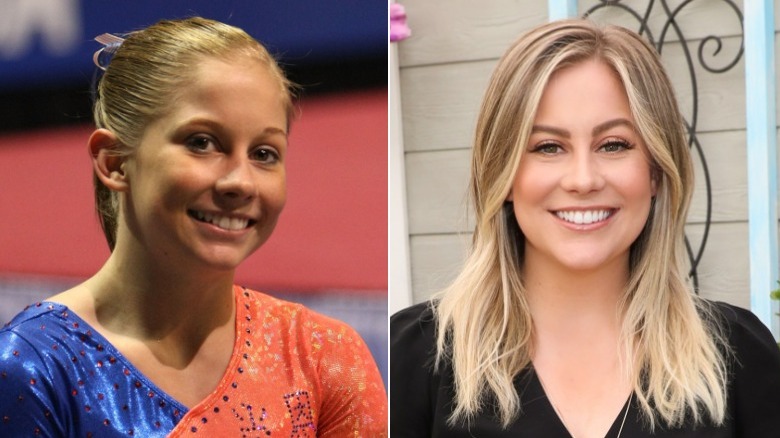 Shawn Johnson, now Shawn Johnson East, competed as part of the 2008 U.S. Women's Gymnastics Team and won a gold medal for the balance beam. But following the Olympics, she struggled to make sense of it all. In a June 2020 video posted to her family YouTube channel, East spoke about dealing with depression, anxiety, and eating disorders following the Olympics. She revealed how the perfectionism that was helpful to her in her sport also led to some body image issues that ultimately caused her to start using prescription drugs in an attempt to lose weight to look the way she did during the Olympics. In a follow-up interview with Today, East revealed that once the Olympics were over, "I felt like I ran straight into a brick wall at full speed … I felt like I had no purpose." 
Becoming a mom changed all that and made her life feel more purposeful, East said, adding during the interview, "I want to share with people that there's light at the end of the tunnel." In January 2021, East announced on Instagram she was pregnant with her second child.
Former Olympic gymnast Mary Lou Retton is still America's sweetheart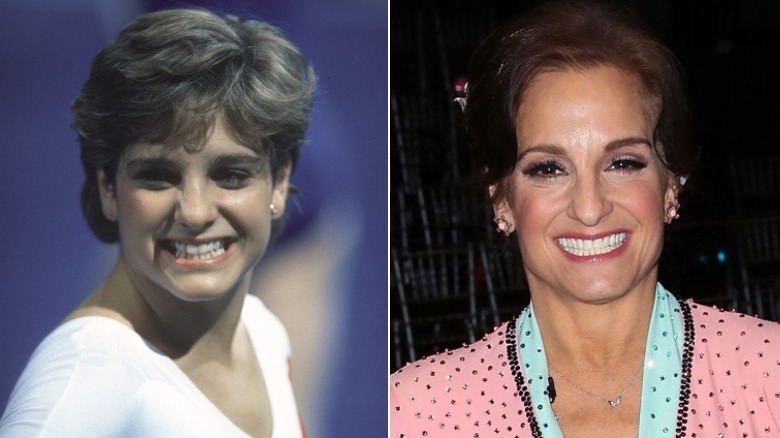 In 1984, Mary Lou Retton made history at the Olympic games; she took home five medals including gold for individual all-around, a first for the U.S. Women's Gymnastics Team, and according to her bio, the most of anyone for the 1984 Olympic games. Retton's accomplishments brought her undeniable fame, including being the first woman on a Wheaties cereal box, according to Sportscasting. 
Retton took some time away from the sport to dabble in acting and travel as a public speaker, but all these years later, she has stayed involved with the gymnastics community; she's raising four athletic daughters, two of whom are competitive gymnasts, as she told Inside Gymnastics magazine. Retton also sat on the board of USA Gymnastics for eight years, according to Access Live. But recently she's been taking some time to try new things, like competing in season 27 of "Dancing with the Stars." In an interview with Access Live during her time on "Dancing with the Stars," Retton said, "It's so much fun, it's a challenge, it's exactly where I'm supposed to be right now." Though she was eliminated during the sixth week, she's arguably still America's sweetheart.
Shannon Miller is an advocate for women's health after her own battle with ovarian cancer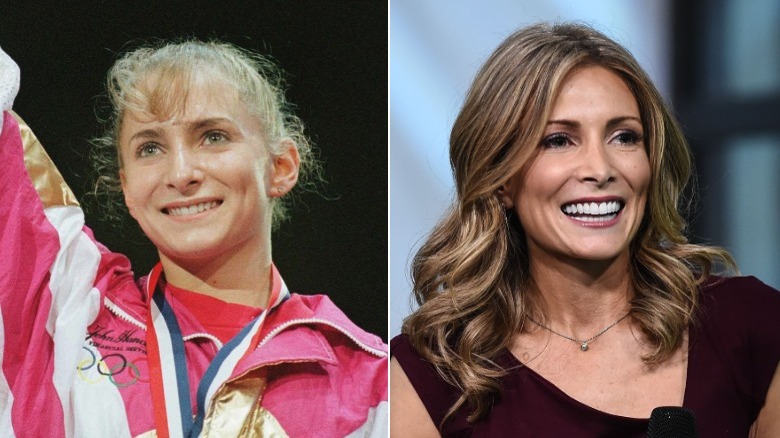 Shannon Miller helped lead the Magnificent Seven to team gold in the 1996 Olympics, winning her own individual gold for the balance beam. Together with her five medals from the 1992 Olympics, Miller was the most highly decorated Olympic gymnast at the time, according to Britannica. Nearly 20 years later, Miller found she needed to put her training to the test in unconventional ways after being diagnosed with ovarian cancer. She told Sports Illustrated, "​​I think at that point is when I reverted back to that competitive mindset that I knew so well through sport." 
That competitive spirit helped Miller beat cancer and now she's speaking out to get other women to take their health, and any warning signs, seriously, even though it doesn't come naturally to her. She explained to Survivornet in a 2020 interview that despite being a naturally shy person, some things are worth talking about. "I'll go around and talk about my ovaries all day long if it really does make even one person think, 'yep, I'm going to go to the doctor. I'm going to focus on my health,'" she revealed. "Then it is all worth it."
Nastia Liukin is giving back to the community that made her an Olympic gold medal gymnast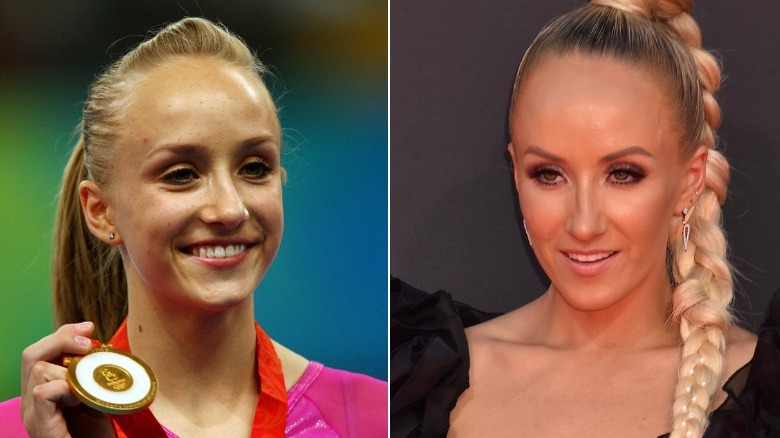 In 2008 at the Beijing Olympics, gymnast Nastia Liukin took home five medals, bringing her to a total of nine world championship medals and tying her with Shannon Miller as the most decorated American gymnast in history at the time, according to ESPN (a record since broken by Simone Biles). But Liukin wasn't content to just take home gold and walk away from gymnastics. "When I won the Olympics, after that I was always wanting to give back to the next generation," she told Wisconsin radio station WTMJ. 
Not only is Liukin a gymnastics analyst for NBC Sports, she partnered with USA Gymnastics to create the Nastia Liukin Cup as an opportunity for young gymnasts to compete. According to the event's website, proceeds from the event go to the Nastia Liukin Fund, a charitable fund whose goal is to keep young athletes involved in gymnastics, no matter their financial need. Of the fund, Liukin said, "Gymnastics has given me so much, and now I want to give back to the community that has supported me for my entire career and to help others."
Olympic gymnast McKayla Maroney has pivoted from gymnastics to music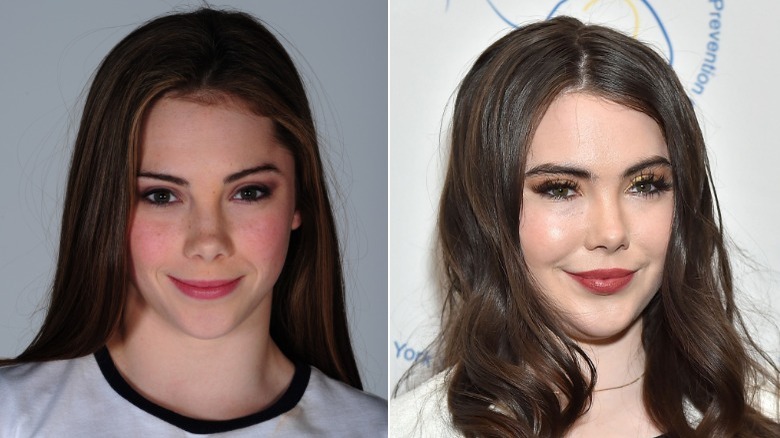 Perhaps best remembered for her "not impressed face" that made her a meme sensation, McKayla Maroney was part of the Fierce Five U.S. Women's Gymnastics Team at the 2012 Olympics where she earned an individual silver medal in the vault event in addition to helping the team bring home the gold. Though Maroney revealed in 2016 that she was no longer competing in gymnastics, the former Olympian made headlines again when she spoke openly of the sexual abuse she suffered at the hands of Larry Nassar while training as a gymnast, abuse suffered by hundreds of other gymnasts over the years, Vox reported. 
These days, Maroney is working to put all of that behind her, and began a brand new career in music. In March 2020, Maroney released her first single "Wake Up Call" followed very shortly by her second single "COVID Lockdown," which she revealed on Twitter she originally wrote as a joke. Despite moving into a new career, Maroney hasn't forgotten where she came from, appearing in a 2021 Geico commercial doing her equally famous gymnastics moves and "not impressed face" to great success.
Carly Patterson went from balancing on the beam to balancing motherhood and public speaking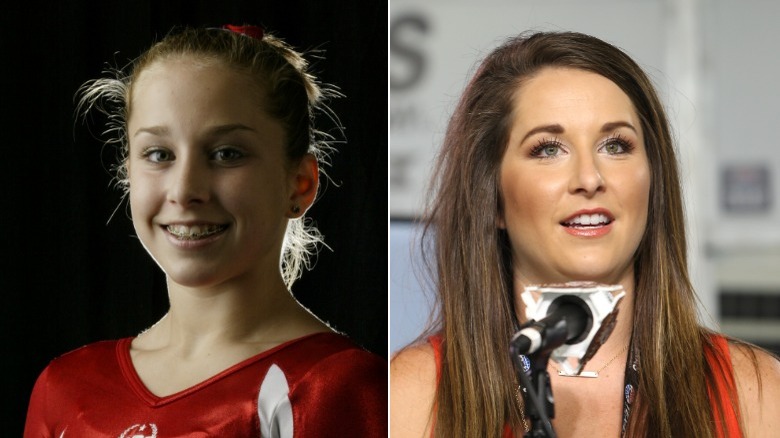 Carly Patterson was only the second U.S. female Olympic gymnast to earn the gold medal all-around, following in Mary Lou Retton's footsteps when she competed in the 2004 games. As hard as she worked to win the Olympic gold, Patterson had to do the same to achieve another goal as well: motherhood. Patterson told WFAA in a 2017 interview how much she struggled to get pregnant, learning she had polycystic ovary syndrome, and trying to conceive through intrauterine insemination. But these days, Patterson is a mother of three children; she announced the birth of her third child on Instagram in February 2021, calling her family complete. 
In addition to being a mother of three, Patterson is also a motivational speaker who speaks about redefining success. As she juggles motherhood and public speaking, it's clear that Patterson truly is a master of balance, on and off the balance beam.
Courtney Kupets found her true calling in coaching college gymnastics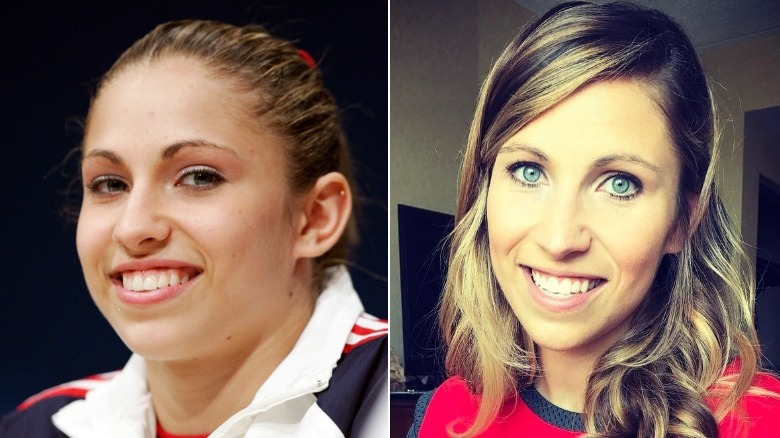 Courtney Kupets, now Courtney Kupets Carter, won two medals during the 2004 Olympics, coming back from a torn achilles tendon that The Washington Post noted at the time put her whole career in question. Just a year later, she joined the gymnastics team at the University of Georgia where she competed until her retirement in 2009. Shortly after college, she took a somewhat unlikely path, joining a dance, acrobatics, and synchronized swimming show called "Le Reve" in Las Vegas in 2014. In an interview with Team USA at the time, she said, "I figure while I'm still there I can still do it, and if I wait any longer I probably won't be able to." 
But Carter couldn't resist the call of gymnastics in her life. In 2017, she was named the head gymnastics coach for the University of Georgia. In an interview with FloGymnastics, Carter revealed, "Did I ever think that I would be sitting here as the head coach of Georgia? Honestly, I've always kind of thought about it." She went on to affirm her commitment to UGA. "It's anybody's game and I think that's why I really feel strongly about making sure this program stays on top," she shared.
Amy Chow went from a career as an Olympic gymnast to practicing medicine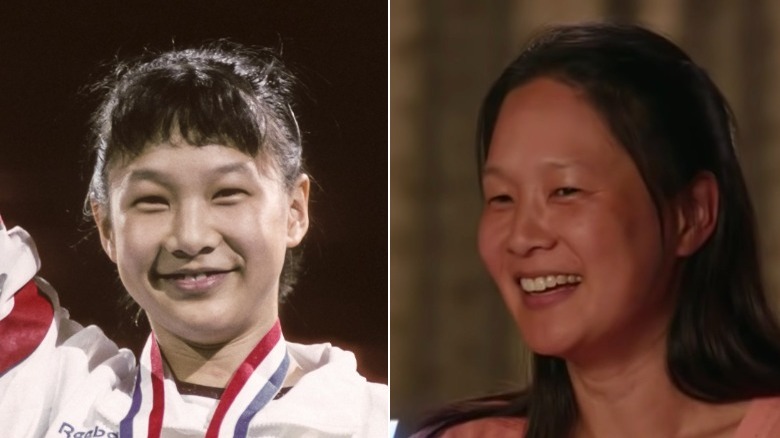 Part of the Magnificent Seven, Amy Chow has two gymnastics moves named after her, according to the U.S. Gymnastics Hall of Fame. These moves, the Chow I and Chow II, are part of what earned her the silver medal on the uneven bars in the 1996 Olympics, helping the team toward their first ever gold medal all-around and helping the U.S. Women's Gymnastics Team earn bronze all-around in the 2000 Olympics. But training for the Olympics wasn't the only thing on Chow's mind.
Chow graduated from Stanford University with a bachelor's degree in 2002 and from Stanford Medical School in 2007. These days, she's a pediatrician with two children of her own. She told the Silicon Valley Business Journal in 2016, "The reason I went into pediatrics is because I like to work with kids and I do get to work a lot with kids when I'm in the office." But how does it compare to the grueling schedule of training for the Olympics? "It's a 24/7 kind of job," she continued. "Even if you're done with the clinic, you're still taking care of patients if they need help any time of day or on the weekend."
Olympic gymnast Julianne McNamara leaves the spotlight to her daughter these days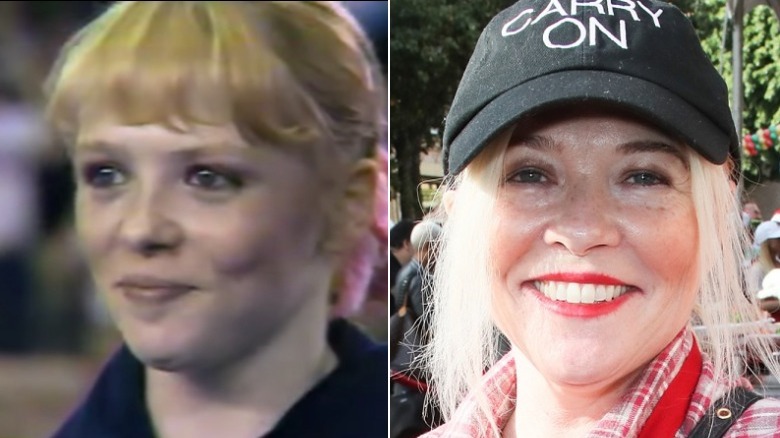 In the 1984 Olympics, Julianne McNamara was a force to be reckoned with; she won a gold medal on uneven bars, a silver medal on the floor routine, and placed fourth all-around, helping lead the U.S. Women's Gymnastics Team to a silver medal as what the Olympics calls "the top U.S. female gymnast in the early 1980s." But shortly after the 1984 Olympics, McNamara retired from gymnastics and started pursuing an acting career. That year she started appearing on "Charles in Charge" and then appeared in an episode each of "Knight Rider" and "True Confessions" in 1985. She revived her "Charles in Charge" character again in 1987 before appearing in the films "Saturday the 14th Strikes Back" in 1988 and "Monday Morning" in 1990. 
McNamara's acting career all but came to an end when she married Major League Baseball player Todd Zeile in 1989 and the couple started a family (via the New York Post). Though it seems none of the couple's four children inherited their parents' athletic prowess, one did seem to inherit McNamara's acting chops: Daughter Hannah Zeile plays teenage Kate Pearson on the NBC hit drama "This Is Us," and McNamara seems content to let her daughter take all the spotlight these days.
Former Olympic gymnast Betty Okino now teaches life mastery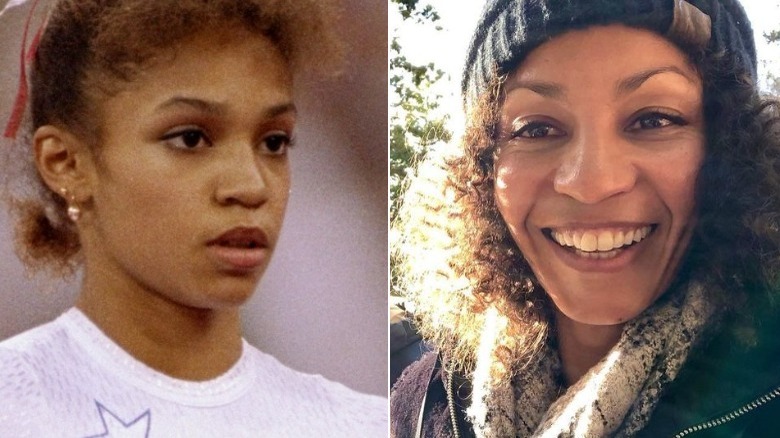 Julianne McNamara isn't the only former Olympic gymnast to make a move toward an acting career after competing. Betty Okino's 13 acting credits all occurred after her appearance in the 1992 Olympics in which the U.S. Women's Gymnastics Team brought home the bronze medal. Though she didn't win any other medals at the 1992 Olympics, Okino did win World Championships medals in multiple events, earning the bronze medal in the 1991 Indianapolis World Championships for the balance beam and the silver medal in the 1992 Paris World Championships for the uneven bars, further securing her spot in gymnastics history. 
While her acting career may be on hold and her own gymnastics competitions are in the past, Okino has found another purpose in life: She now runs gymnastics camps and clinics, teaches dance choreography, and runs life mastery groups, all under the umbrella of her Betty Okino brand.
Source: Read Full Article