Dua Lipa Reveals 'Getting Bullied Online' Makes Her 'Get Better'
06/04/2021
When celebrating the fourth anniversary of her debut album 'Dua Lipa', the 'Don't Start Now' hitmaker expresses her gratitude for 'all things good and bad' and 'for helping me grow.'
AceShowbiz –Dua Lipa has found the positive side about being "bullied online." When celebrating the fourth anniversary of her debut album "Dua Lipa", the "Don't Start Now" hitmaker revealed that the negativity only inspired her to "get better."
On Wednesday, June 2, the Grammy-winning singer took to her Instagram Stories to express her gratitude to fans and critics. She said, "I'm so grateful for all the incredible opportunities, the amazing people I met, all the incredible lessons that I learnt, touring for like three years, getting bullied online which made me want to dance my a**e off, and just really get better." She added, "So thank you so much."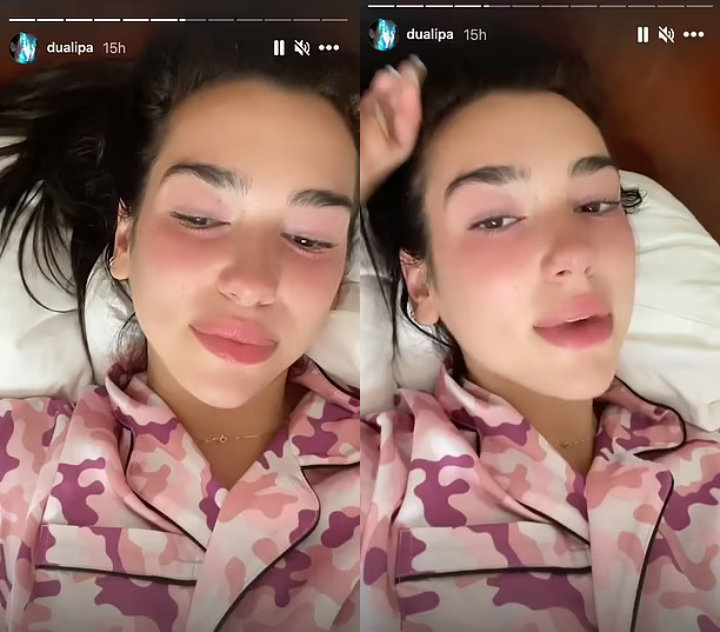 Dua Lipa celebrated the fourth anniversary of her debut album 'DUa Lipa'.
"It's been four years since my debut album has been out," Dua, who was seen wearing pink patterned pajamas while relaxing in bed in the Story, continued. She also told her followers, "Just wanted to say a massive, massive, massive thank you to everyone who has been listening to music from the very beginning."
The "Levitating" hitmaker was also thankful "for all things good and bad, for helping me grow." The 25-year-old singer concluded her clip by saying, "I'm forever grateful and I'm excited for you guys to see what we've got coming up next."
In the following Stories, Dua shared a screenshot of the iconic album cover and wrote a caption that read, "4 years since the release of my debut album. Thank you to everyone that has been here for the whole journey so far."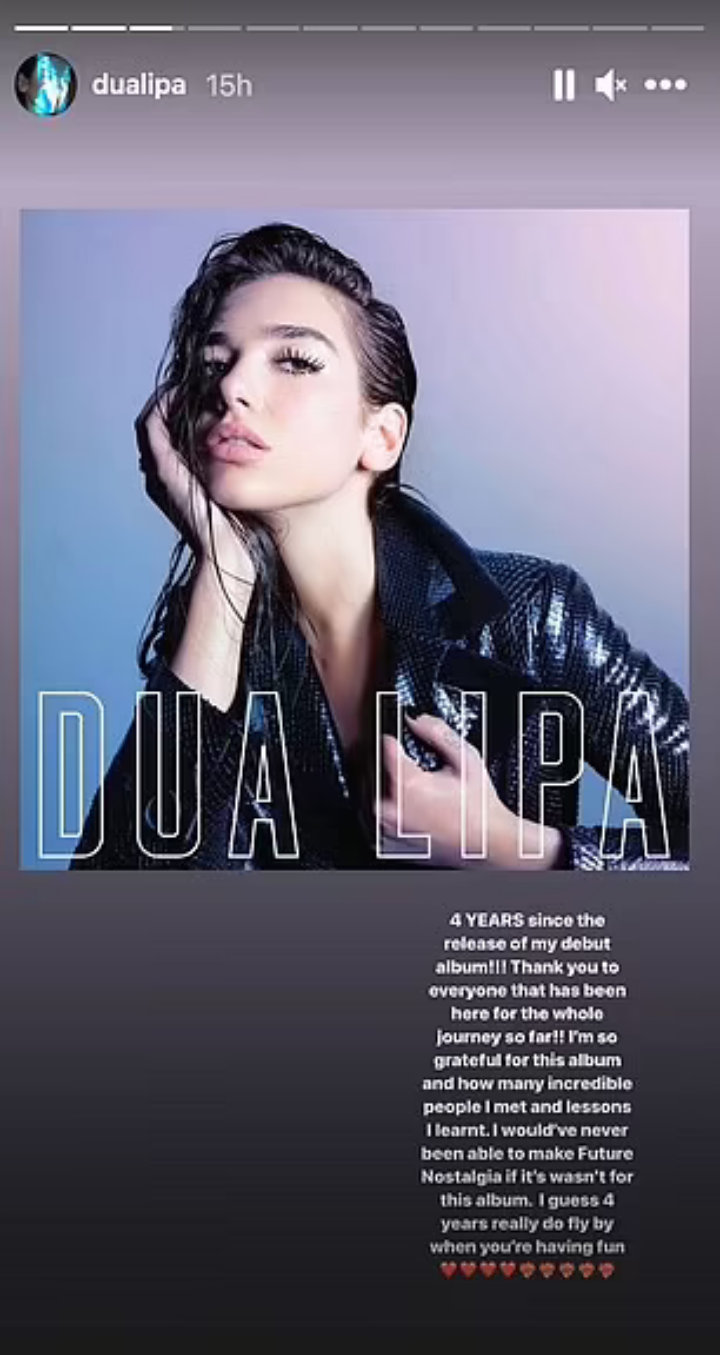 Dua Lipa expressed her gratitude cia Instagram Story.
"I'm so grateful for this album and all the incredible people I met and the lesson I learned," the "IDGAF" singer continued. "I would never have been able to make Future Nostalgia if it wasn't for this album. I guess 4 years really do fly by when you're having fun."
Back in November 2020, Dua spoke out about being bullied for her dancing to Attitude magazine. "I experienced a s*** tonne at the end of my first record, and it was definitely something that gave me anxiety and made me upset and made me feel like I wasn't good enough and made me feel like, maybe I'm not meant to be here and on the stage," she recalled at the time.
"Even after the Grammys, some people were like, 'Well, she doesn't deserve it,' " she told the publication. Elaborating further, she looked back, "There were so many things, especially when you start out, like a video of me dancing and they're like, 'Ah well, she has no stage presence' – but they'd never been to one of my shows, they'd never seen me perform.' "
Source: Read Full Article