Dolly Parton on Why She Dumped 'Dixie' Name From Her Theme Parks: 'Don't Be a Dumbass'
08/17/2020
"I don't want to offend anybody," singer and entrepreneur tells Billboard
Morning and daytime TV hosts have taken an annual Halloween tradition to new heights this year, wearing elaborate and wacky frocks. Take a look at this year's costume crop.
ABC
Ellen Degeneres 
Ellen Degeneres never fails with a pop culture Halloween costume, and this year is no different. The talk show host dressed as the "lesser-known Karla Kardashian"– and pregnant no less — a not-so-oblique wink to the pregnancy news from sisters Kylie Jenner and Khloe Kardashian. 
Ellen Show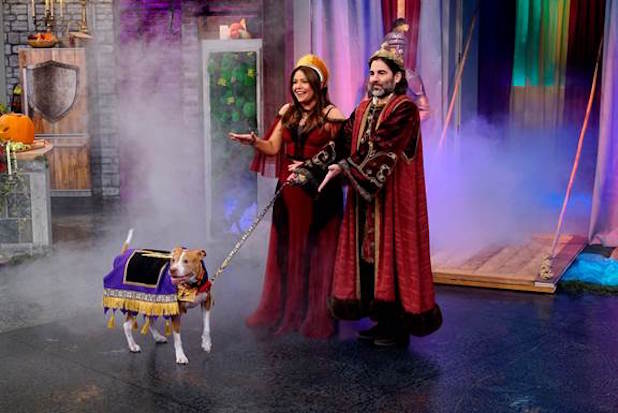 Rachael Ray
Your favorite cooking princess has turned into a medieval queen this Halloween. Rachael Ray's whole set turns medieval, complete with a draw bridge and turkey leg recipe. 
The Rachael Ray Show
"The Chew"
Mario Batali, Michael Symon, Clinton Kelly and Carla Hall decided to dress as sitcom stars the Golden Girls for 2017 Halloween. "The Chew" episode features festive cocktails and main dishes, along with more costume fun. 
The Chew/ABC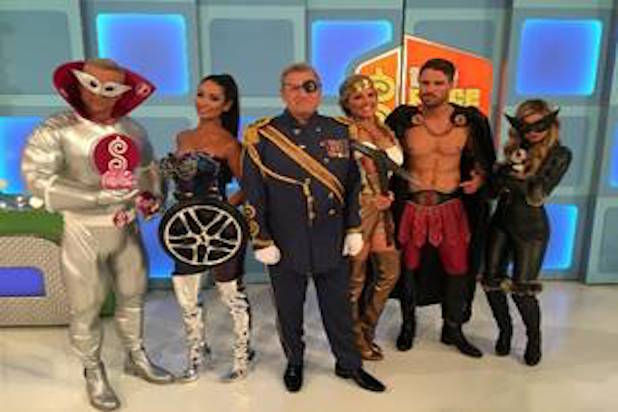 "The Price is Right"
Drew Carrey is dressing up as Captain Giveaway. As for the rest of the crew: James O'Halloran is the "Ab Man" and George Gray is "The Plinkster." The audience and contestants will also be in costume. 
The Price is Right
"Fox and Friends"
The group on "Fox and Friends" dressed as idioms this year: Janice Dean is "Raining Cats and Dogs;" Steve Doocy "Looks Like a Million Bucks;" Ainsley Earhardt is a "Blessing in Disguise;" Brian Kilmeade says "Don't Judge a Book by its Cover;" and Jillian Mele is the "Devils Advocate."
Fox News
"Good Morning America"
This year, GMA opted for a "Super Powered Halloween," and all the hosts dressed as superheroes, complete with Wonder Woman, Spiderman, Black Widow, Thor, Clark Kent/Superman, Lego Batman and Baby Groot. 
ABC
"Today"
The "Today" show team all dressed as iconic country music stars. Carson Daly went as Billy Ray Cyrus, Al Roker was Willie Nelson, Megyn Kelly was Shania Twain, Hoda Kotb went as Blake Shelton, Kathy Lee Gifford was Miley Cyrus, and Savannah Guthrie was Kenny Rogers next to Matt Lauer's Dolly Parton.
The Today Show
"The Wendy Williams Show"
Wendy Williams dressed up as Lady Liberty this year. During the broadcast, Williams "overheated" and fainted. She returned shortly after, saying "I'm a champ and I'm back."
Wendy
"The View"
The hosts of "The View" took on some fairytale costumes, including Pinocchio, Little Red Riding Hood and the Very Hungry Caterpillar.  
ABC
"Live with Kelly and Ryan"
Kelly Ripa and Ryan Seacrest dressed as Khaleesi herself, along with golden boy Jaime Lannister from "Game of Thrones." But later in the show they also dressed as the "Stranger Things" kids and a mashup costume of the "Real Housewives of Manhattan" and "The Handmaid's Tale."
ABC
"Thinking Out Loud"
Monday night's "Thinking Out Loud" became "Screaming Out Loud," and hosts Marcus Spears and Greg McElroy dressed up as Darth Vader and a King. They invited employees' kids to come trick or treat–and the trick was petting a snake.
SEC Network
"NFL Live"
Ryan Clark, Trey Wingo and Louis Riddick also went the superhero route by dressing up as Avengers the Incredible Hulk, Captain America and Iron Man. 
ESPN
"The Talk"
"The Talk" celebrated ther third annual Rocktober Lip Sync War on Halloween's show. Host Julie Chen dressed as Cyndi Lauper, guest co-host Carrie Ann Inaba went as Lady Gaga, Sharon Osbourne was Mary Poppins, Sara Gilbert was Ozzy Osbourne, and Sheryl Underwood dressed as Prince. 
CBS
"Page Six TV"
The musical icon theme continued over at "Page Six TV." Host John Fugelsang dressed as Ziggy Stardust/David Bowie, Carlos Greer went as Prince, Elizabeth Wagmeister was Britney Spears and Bevy Smith dressed up as Dolly Parton. 
Page Six TV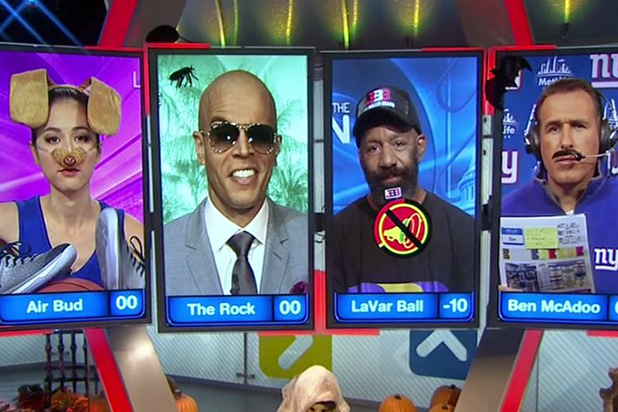 "Around the Horn"
Panelists Mina Kimes, Israel Gutierrez, Kevin Blackistone and Frank Isola all got into the Halloween spirit, dressed up as Air Bud, The Rock, LaVar Ball and McAdoo. 
ESPN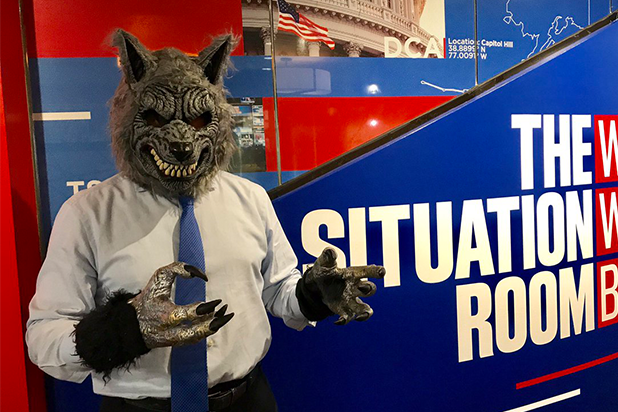 "The Situation Room"
CNN anchor Wolf Blitzer dressed up as an excellent pun for Halloween: Werewolf Blitzer. 
Wolf Blitzer Twitter
Yes, Matt Lauer even dolled up as Dolly Parton
Morning and daytime TV hosts have taken an annual Halloween tradition to new heights this year, wearing elaborate and wacky frocks. Take a look at this year's costume crop.
Source: Read Full Article