Denise Richards Finally Confronted With Brandi Glanville's Hookup Allegations In New RHOBH Ep: &#
07/30/2020
The moment we've all been waiting for has finally arrived!
The ladies of The Real Housewives of Beverly Hills traveled to Rome, Italy for their annual girls' getaway on Wednesday night's brand new episode, and everything came out about Brandi Glanville's infamous accusations that she hooked up with a married Denise Richards. Hey, talk about when in Rome, right?!
The whole thing kicked off during a nice group dinner at the cast's hotel one night early in the trip. There, Teddi Mellencamp decided it'd be the perfect time to confront Denise about the allegations Brandi had been loudly (and repeatedly) making. And at first, it wasn't even about the hookup! Mellencamp was mad about how Brandi claimed Denise had been talking s**t about the rock star's daughter behind her back!
Mellencamp confronted the Wild Things star about it then and there, saying (below):
"I need to kind of, like, say something 'cause I'm, like, awkward and I'm, like, breathing heavy and all these things. Denise, somebody told me some terrible things that you've said about me. You said things like I am pathetic, you can't stand me, and that I'm desperate to fit in with this friend group because I've been living in my father's shadow my entire life."
Here we go! All of a sudden, we've got ourselves a classic Real Housewives fight, all started by Mellencamp's vicious ambush!
Kyle Richards sensed it was her moment to jump in at that point, too; the longtime Bravo reality TV veteran doubled down, claiming Brandi told everyone how Denise thought fellow cast member Erika Jayne was "a cold bitch." Yikes!!!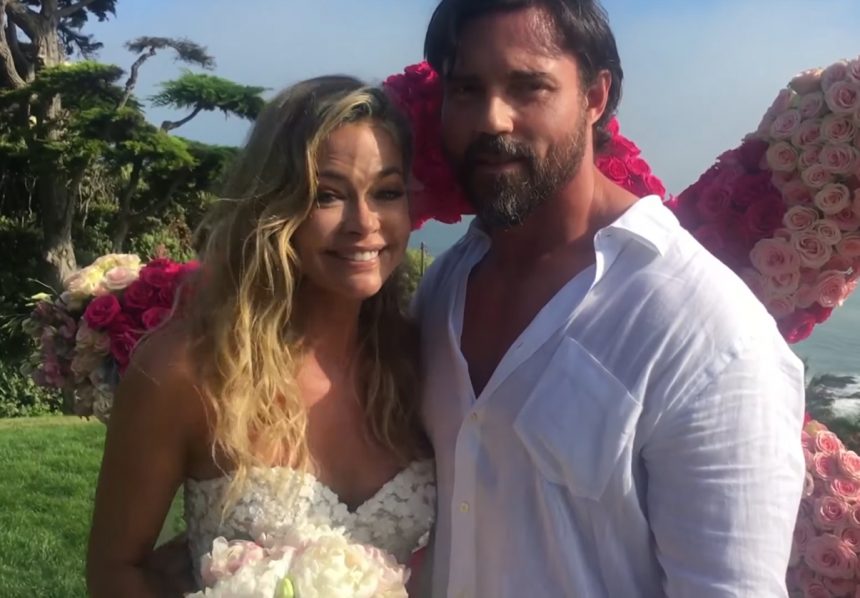 Denise flat out denied the accusations, saying she "never said that," and further scoffed at how Brandi was being held up as a truthful source of information. Clearly not seeing Glanville as a reliable insider, Richards tried to make her case, saying:
"I haven't said anything about anyone to Brandi at all. I've hardly talked to her. I have not spent much time with her. I don't talk to her much."
Uh-oh…Unable to hold back any longer, Teddi blurts out what we've all been waiting all year to hear:
"Denise, I'm not gonna torture you any longer. She said you two had sex, OK?"
BOOOOOOOM! Bomb. Dropped.
Shocked AF, Denise appeals to the group for help AND breaks the fourth wall! The 49-year-old star turned directly to the camera to forcefully deny the hookup claim, and reference hubby Aaron Phypers being on the April 2019 trip in question where Brandi has claimed the hookup occurred:
"Aaron was there, my daughter was there, I was there with three kids. Are you f**ing kidding me? … You guys, I'm going through so much stuff. It has nothing to do with any of us. It has nothing to do with this show, and Bravo, Bravo, Bravo… Please do not air this. Please. That is not true. It is not true … I'm a very married woman, and I love my husband to death."
Wow!!! It's one thing to deny the allegations, of course — Denise has denied everything since the start — but to break the fourth wall in the middle of the scene in an attempt to get the production team to cut out the footage altogether?! Desperate times meet desperate measures!!!
Teddi was skeptical of that tactic, too, saying in a side confessional:
"One of the most frustrating things about Denise is that she is so concerned with her image that every single time we talk about something she doesn't want to talk about, she's gonna 'Bravo, Bravo, Bravo' so she can continue to get an edit that she wants."
The girl who cried wolf Bravo? Hey, if the shoe fits… As if on cue, Denise wrapped up the dinner with another threat to the producers, saying:
"If they ever want me to be on this show, they need to cut that."
She then added this gem, too:
"I'm gonna go. I have to call a f**king lawyer."
Us Weekly recently confirmed Denise did send a cease and desist letter to her 47-year-old nemesis, so, there's been some action on this, at least!!! What did U think of last night's episode of RHOBH, Perezcious readers?! Are you #TeamBrandi or #TeamDenise in regards to these allegations?? Sound OFF with your reactions to last night's CRAZY episode of RHOBH down in the comments (below)!!!
Related Posts

Source: Read Full Article