Chris Evans Has The BEST Response To Boston's Potential 'Straight Pride Parade'
06/05/2019
Chris Evans wants the men behind Boston's possible "Straight Pride Parade" to be a bit more honest with themselves.
The Avengers: Endgame star took to Twitter to share his thoughts on the ongoing efforts of three straight men to put on a parade this summer in celebration of the Massachusetts city's heterosexuals — whom the organizers describe as an "oppressed majority."
According to The Washington Post, the men behind the proposed parade say they've become unfairly labeled as homophobes by criticizing Boston's efforts to support the gay community, and that the event is meant to poke fun at the "identity politics" of nasty, gay leftists.
Well, the Boston-born actor shared his two cents about the potential parade on Tuesday, and he thinks they doth protest too much… if you know what we're saying.
The Captain America portrayer, who has an openly gay brother Scott Evans, wrote: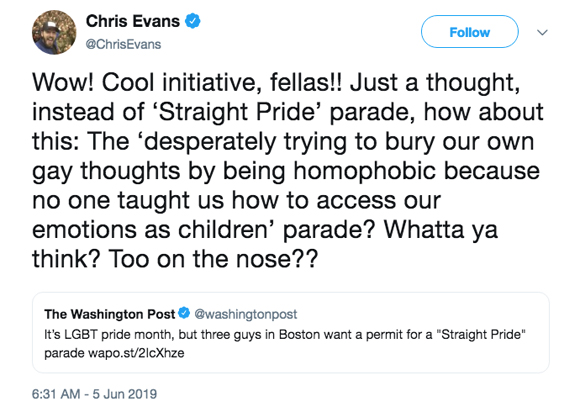 Ha! Too real, Cap…
The parade organizers designed a flag and have designated ladykiller Brad Pitt as their "mascot." So, he's not wrong: the whole thing is quite homoerotic, in a discreet-glancing-in-the-locker-room kind of way.
Organizers, meanwhile, are hoping that their proposed parade sheds light on what they feel is the persecution of heteros in a world that is becoming far too kind to the LGBT community.
Confusingly enough, the organizers even want straights to get in on the LGBT acronym. John Hugo, one of the men behind the Straight Pride Parade, told The Washington Post that he and his fellow organizers want to add an "S" for "straight," adding:
"We want tolerance, and we want tolerance for everybody — not just the LGBTQ community."
Yup, it's #AllLivesMatter all over again. How shocking.
Conservative organizer Mark Sahady wrote in a recent Facebook post:
"For them everything is based upon identity and whether or not one is categorized as a victim or an oppressor. If you get victim status then you are entitled to celebrate yourself and expect those with oppressor status to defer to your feelings."
Nah, dude. We just want equal rights and the freedom to kiss in public without feeling any shame about it.
Whether or not you get an unholy rush of blood by that is your business. 
Happy Pride Month, y'all!
Source: Read Full Article