'90 Day Fiance' Polyamory Couple Tarik Myers and Hazel Cagalitan Split as She Accuses Him of Abuse
12/10/2021
The TLC reality television couple who adopt a polyamory lifestyle have broken up and the wife, Hazel, accuses her husband Tarik of abusing her 'mentally and emotionally.'
AceShowbiz -"90 Day Fiance" couple Tarik Myers and Hazel Cagalitan have confirmed they called it quits after just over a year of marriage. Tarik confirmed he was dumped by Hazel, "Hazel doesn't live with me anymore. She said she is [in] another state with people I don't know."
He initially spoke in her favor on Instagram Story, "She is going back to the Phillipines. I do know that bc she has no choice. No matter what happened, I ask that you viewers and bloggers leave her alone. Please do not attack her or harass her like you've been doing for the last 3 years."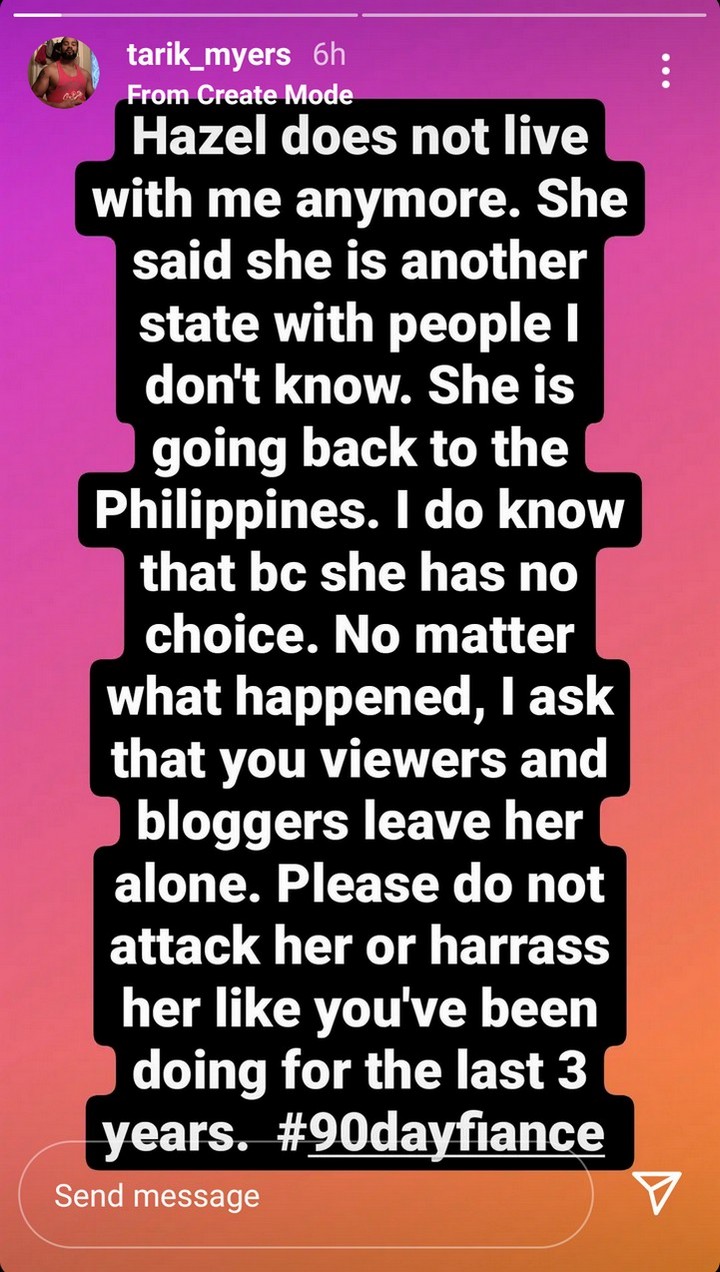 Tarik Myers confirmed Hazel Cagalitan split
But things quickly went left as Hazel suggested he was abusive during their relationship. "A real man won't abuse his women mentally & emotionally. Real man won't run his mouth n social media. Thruth [sic] prevail 1 day. #facts," so she wrote on her Instagram bio.
Tarik followed in her footsteps by updating his own Instagram bio as well. "I can't believe you're snake too," so he penned a cryptic note before directly mentioning his estranged wife on a newer Instagram Story, "Hazel. Use your head."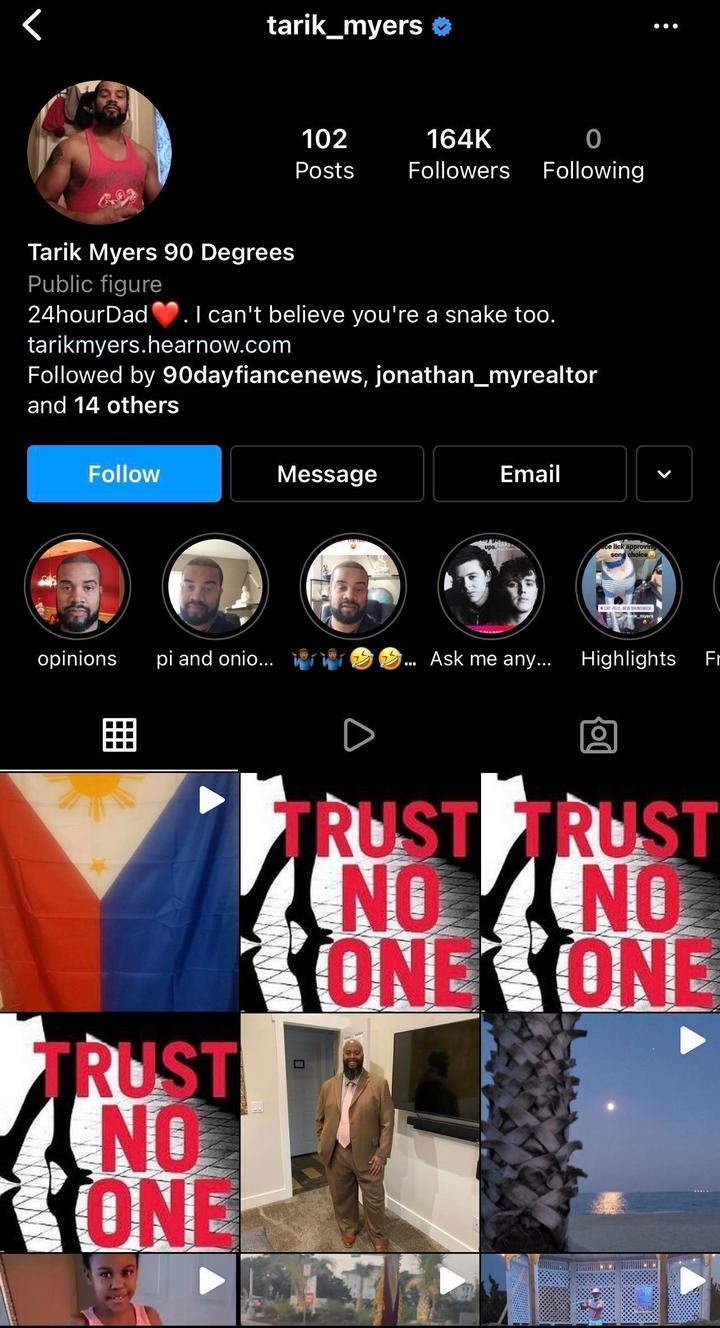 Tarik Myers wrote a cryptic bio
In a longer message, he addressed her abuse claim, "Lawyers told me that you would claim this. They say it's the go to claim to try to stay in the U.S. I said no way, not my wife. She'd never. She'd go back willingly first."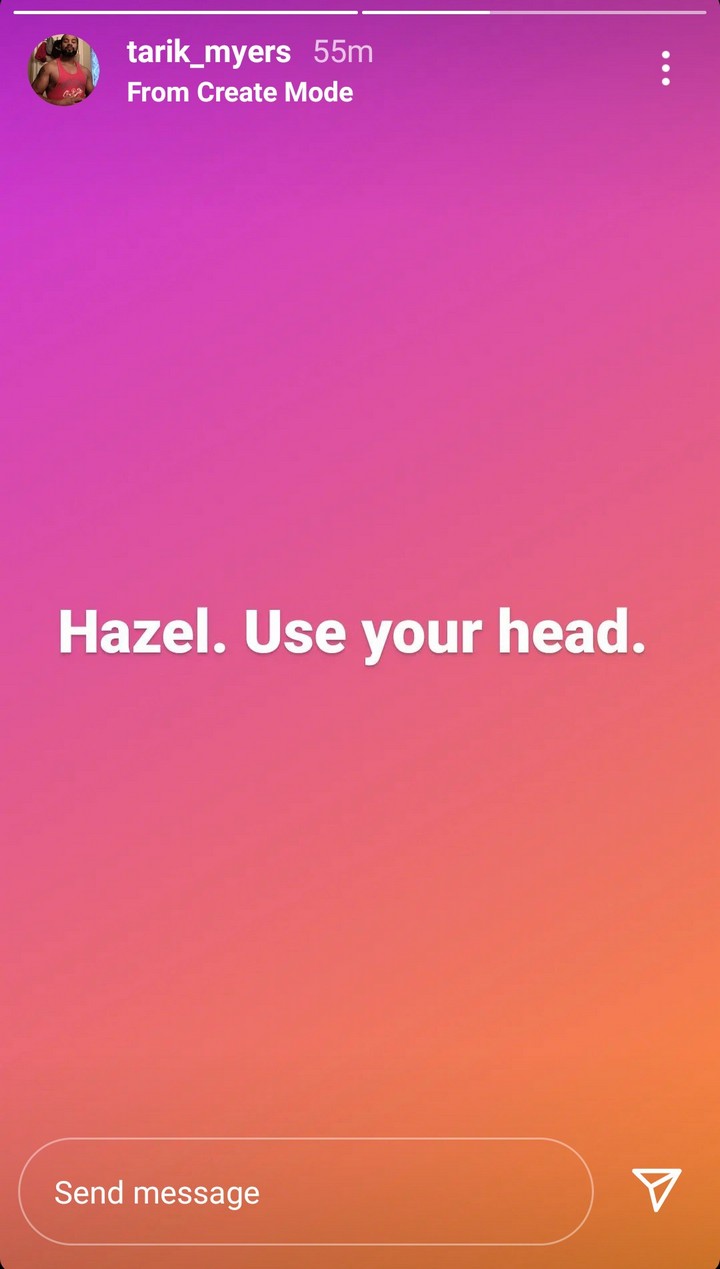 Tarik Myers fired back at Hazel Cagalitan
"Is this really who you are? I still will not bash you or air out our personal life. I will say that you know everything I ever said or did was to provide a wonderful life for you, my daughter, and YOUR SON. No one is fighting harder for him than I am to this day. Not even you."
"So don't let IG haters and the 'friends' around you push you to make a bad decision because you're upset. Would they put their life on the line for you or your son? NO they won't. I know one person who would."
The pair have seemingly calmed down following their social media outbursts. They have since scrapped all traces of their back-and-forth from their online pages.
Tarik and Hazel met on season 2 of "90 Day Fiance: Before the 90 Days" in 2018. Their wedding was documented in the new installment of the TLC reality series airing this year.
Ahead of their nuptials last year, Tarik confirmed Hazel was bisexual and they brought "a girlfriend" into their relationship. Things, however, didn't go well. "Hazel felt like Minty was more into me than she was into Hazel," Tarik claimed.
Tarik later defended the couple's lifestyle when they were met with criticisms. "There are hundreds of thousands – if not millions – of married couples who do exactly what we're doing. The term is polyamory, and it is absolutely possible that two married people can have a boyfriend or girlfriend of their choosing and still absolutely have a loving, moral, upstanding marriage like everyone else," he insisted.
Source: Read Full Article