45 Photos of Prince Philip Through the Years
04/09/2021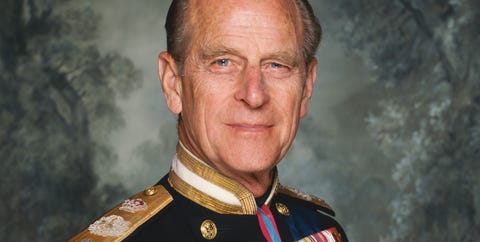 Prince Philip, the Duke of Edinburgh, lived most of his life in the public eye, first as a Greek and Danish royal before joining the British royal family in 1947 when he married Elizabeth, who became a queen five years later. Here's a look back at the long and spectacular life of the Duke.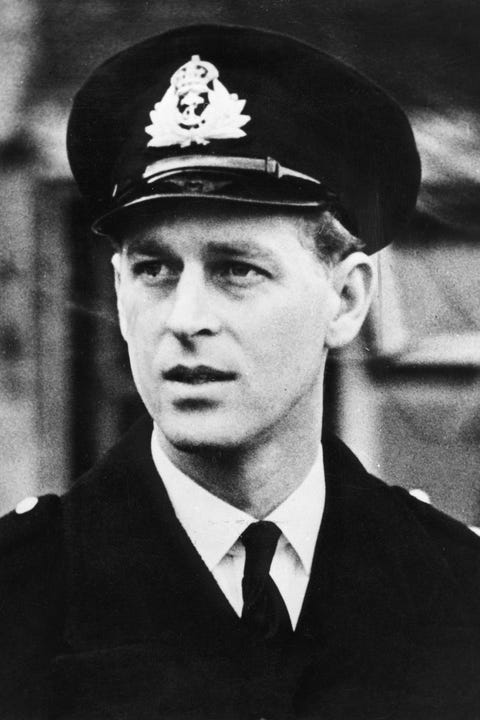 Philip is photographed in uniform shortly after the end of World War II. At 24, Philip had already been in frequent contact with Princess Elizabeth, his second cousin once removed, for nearly seven years. In the summer of 1946, Philip asked King George VI for permission to marry Elizabeth, but the couple would not announce the news until the Princess' 21st birthday the following year.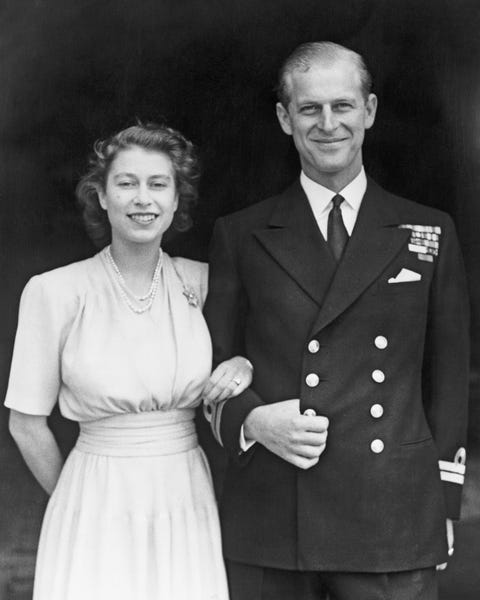 Princess Elizabeth and Prince Philip pose shortly after announcing their engagement at Buckingham Palace. Earlier that year, Philip abandoned his Greek and Danish royal titles to become a naturalized British subject via his maternal grandparents, who had the surname Mountbatten.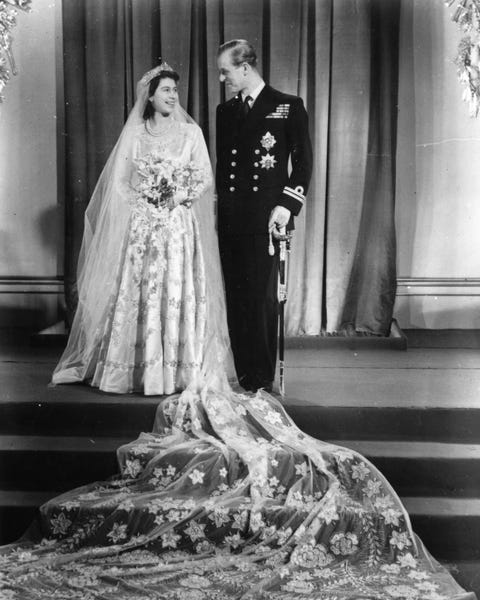 Princess Elizabeth and the newly-named Duke of Edinburgh are photographed on their wedding day on Nov. 20, 1947. The nuptials took place at Westminster Abbey and was broadcast on BBC radio to 200 million listeners around the world. After the wedding, Elizabeth took the title of Princess became Princess Elizabeth, Duchess of Edinburgh. The title lasted until 1952, when Elizabeth became Queen.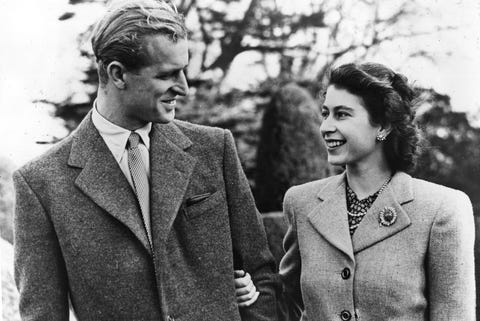 Newlyweds Philip and Elizabeth smile during a walk on their honeymoon at Broadlands in Hampshire, which was the home of Philip's uncle, Earl Mountbatten.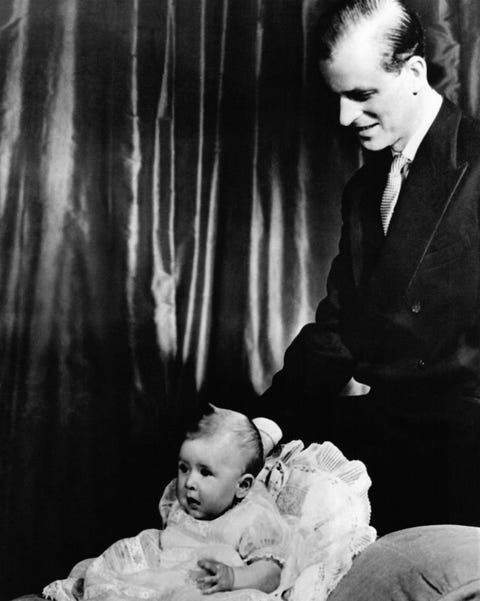 Philip plays with Charles, 5 months, at Buckingham Palace. Philip and Elizabeth would welcome three more children: Princess Anne (1950), Prince Andrew (1960), and Prince Edward (1964).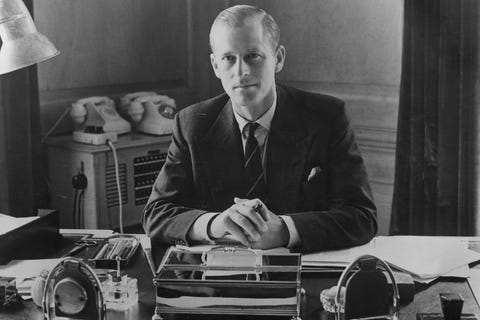 Prince Philip is photographed at his desk in Clarence House, where he and Elizabeth resided with Charles and Anne until 1952. Shortly before this photo was taken, Philip had officially ended his active naval career, which had included a post in Malta.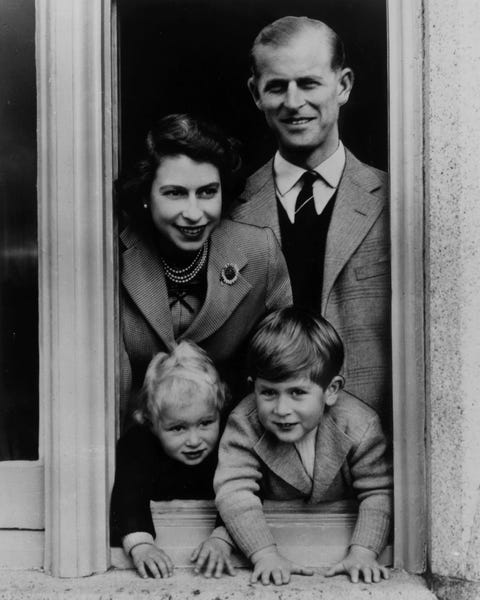 Prince Philip, Queen Elizabeth, and their children Anne and Charles pose while holidaying at Balmoral Castle in Scotland. Seven months earlier, Elizabeth was made Queen after the passing of her father, King George VI. As per royal protocol concerning the appropriate time period for mourning a monarch, Elizabeth's coronation took place the following June.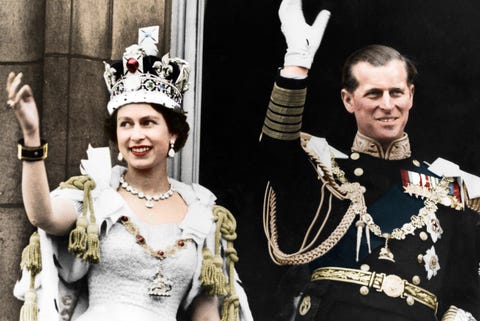 Queen Elizabeth II and Prince Philip wave at the crowds from the famous balcony at Buckingham Palace on the Queen's Coronation Day. The ceremony, which was televised, took 14 months of preparation; Philip, forever the jokester, reportedly asked his wife, "Where did you get that hat?" during the coronation.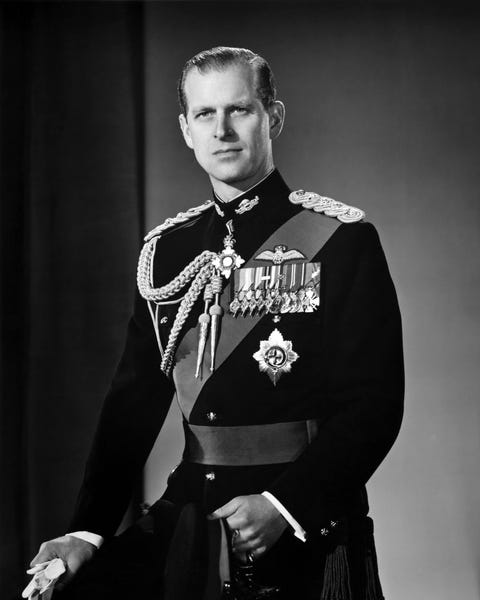 Prince Philip poses for an official portrait taken inside Buckingham Palace. Not long after Elizabeth became Queen, Philip received several appointments, including Admiral of the Sea Cadet Corps, Air Commodore-in-Chief, and Marshal of the Royal Air Force.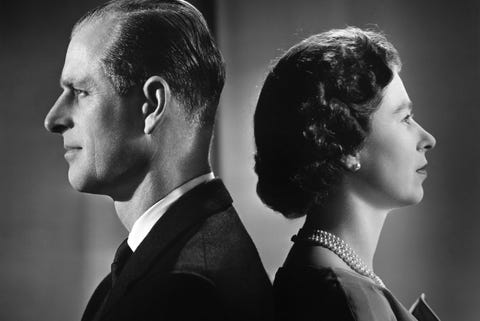 Prince Philip and Queen Elizabeth pose in a now-iconic photo during an official portrait session at Buckingham Palace.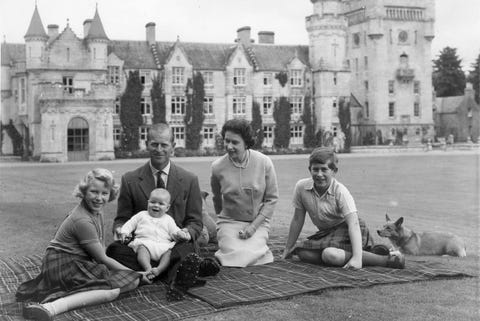 Philip and Elizabeth enjoy a picnic with their children Charles, Anne, and 7-month-old Andrew on the grounds of Balmoral Castle in Scotland. Years later, at a celebration for their silver anniversary, Elizabeth said in a speech, "If I am asked what I think about family life after 25 years of marriage, I can answer with equal simplicity and conviction, I am for it."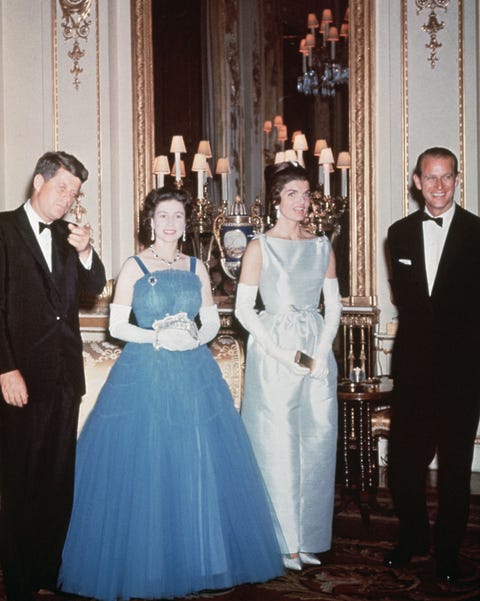 Philip and Elizabeth greet U.S. President John F. Kennedy and First Lady Jackie Kennedy at a banquet held at Buckingham Palace. JFK later wrote about the evening in a birthday letter to the Queen. Via CNN, part of the letter read, "May I also at the same time say how grateful my wife and I are for the cordial hospitality offered to us by your Majesty and Prince Philip during our visit to London last Monday. We shall always cherish the memory of that delightful evening."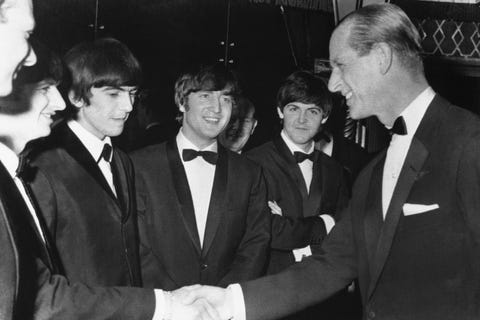 Prince Philip shakes Ringo Starr's hand while meeting the Beatles at the Carl Alan Awards in Leicester Square. The following month, the group would make Billboard history by occupying all top five positions of the Hot 100 chart with "Can't Buy Me Love," "Twist and Shout," "She Loves You," "I Want to Hold Your Hand," and "Please Please Me."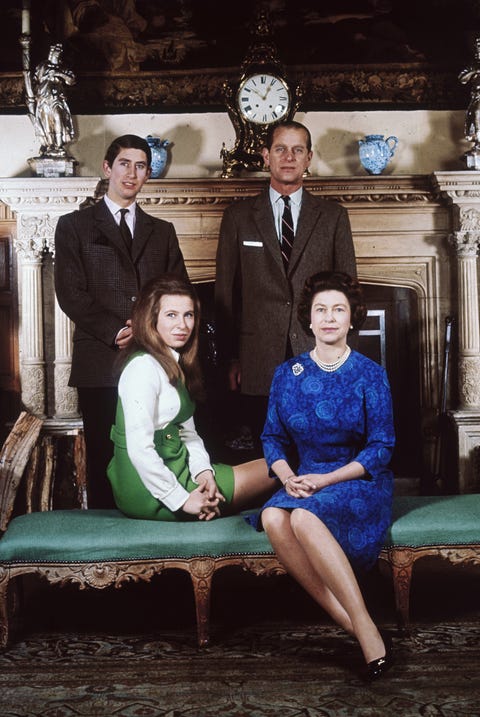 Philip and Elizabeth pose with son Charles, 21, and daughter Anne, 19, in the salon of Sandringham House in Norfolk, England. The portrait was taken ahead of the family's royal tour of Australia in celebration of the bi-centenary of Captain James Cook's journey up the east coast of Australia in 1770.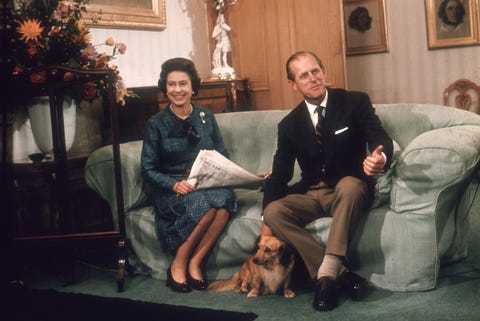 Queen Elizabeth, Prince Philip, and a pupper sit on a couch that matches the green carpet of their home in Balmoral Castle, Scotland.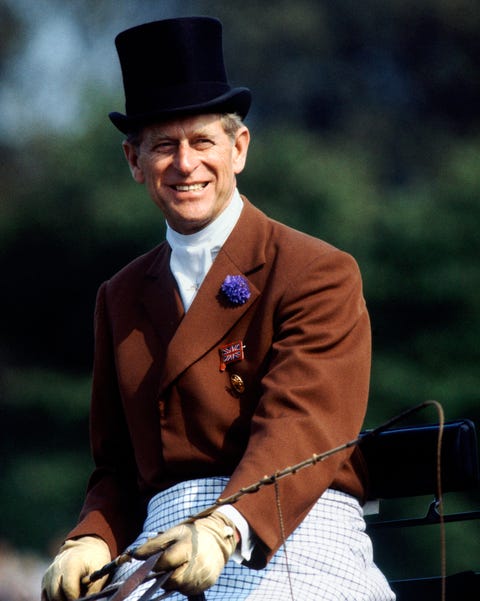 Prince Philip smiles while driving a carriage at the Royal Windsor Horse Show. Philip was a key player in the development of carriage driving as a competitive sport.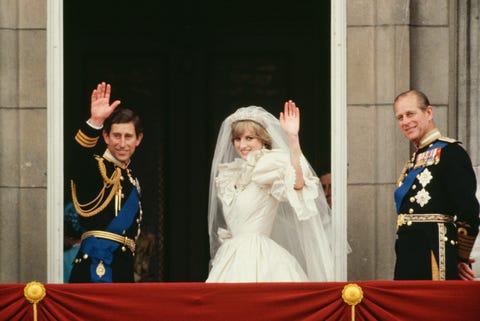 Prince Philip looks at the crowd from the famous balcony at Buckingham Palace as Princess Diana and Prince Charles wave on their wedding day. Diana and Charles were wed at St. Paul's Cathedral in London in a ceremony watched by an estimated 1 billion people around the world.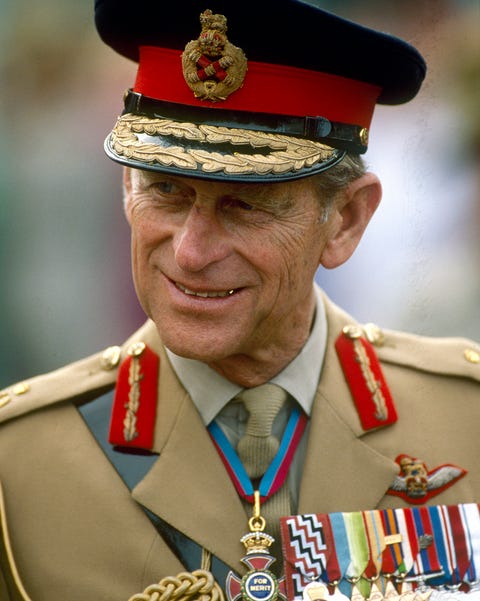 Prince Philip meets with Gurkhas of the Seventh Regiment while on an official visit to Hong Kong, which would remain under British rule for another 11 years.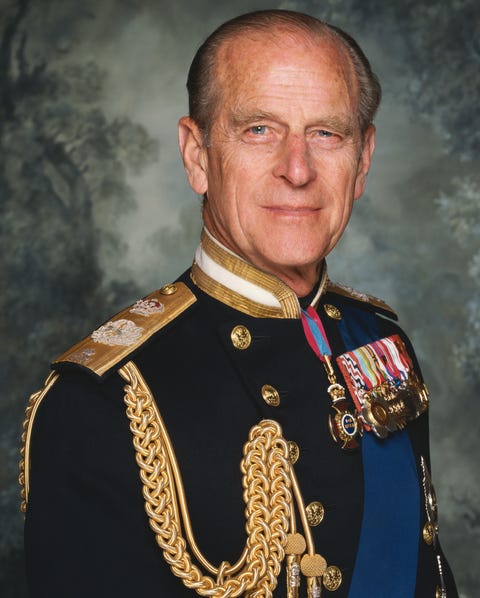 Prince Philip, 68, poses in military dress uniform in an official portrait.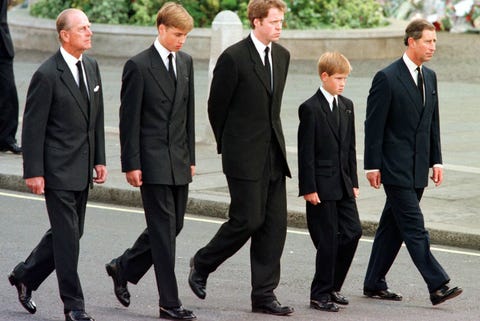 Prince Philip walks alongside grandsons Prince William and Prince Harry, son Prince Charles, and Charles Spencer at Princess Diana's funeral one week after her death. Despite pushback from Diana's brother, William and Harry agreed to walk during the procession after reportedly being told by their grandfather, "If I do it, will you?" In the 2017 documentary, Diana, 7 Days, William said, "It wasn't an easy decision, and it was a collective family decision to do that. It was one of the hardest things I've ever done."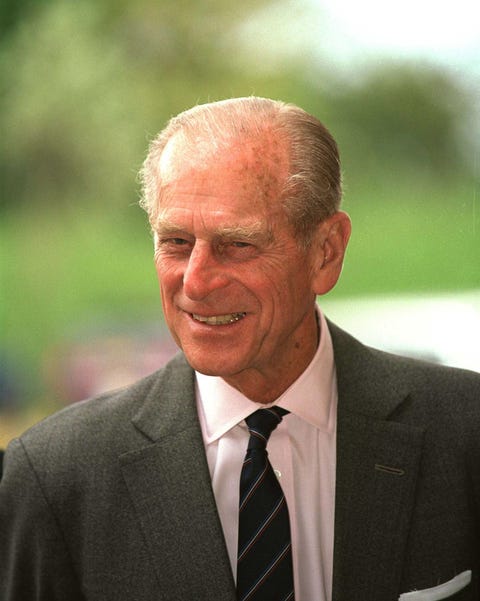 One month before his 78th birthday, Prince Philip makes an official appearance at the Windsor, Slough, and Eton Athletics Club to open a new athletics center in Eton, Berkshire.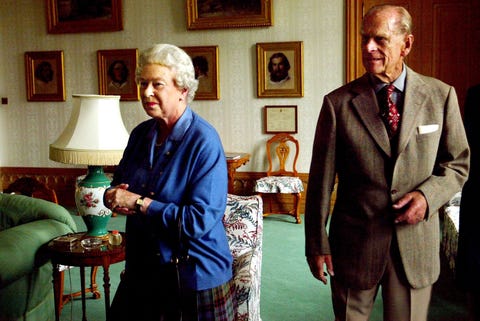 Prince Philip and Queen Elizabeth get ready to receive the President of Malta and his family while holidaying at Balmoral Castle in Scotland. In 2016, their granddaughter Princess Eugenie revealed what it was really like to hang out at Balmoral: "Walks, picnics, dogs—a lot of dogs, there's always dogs—and people coming in and out all the time. It's a lovely base for Granny and Grandpa, for us to come and see them up here, where you just have room to breathe and run."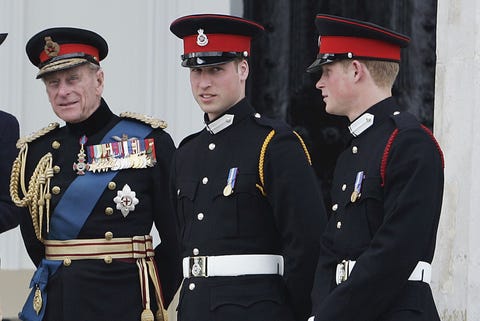 Prince Philip chats with his grandsons William and Harry during the latter's official commission as Second Lieutenant at Sandhurst Military Academy.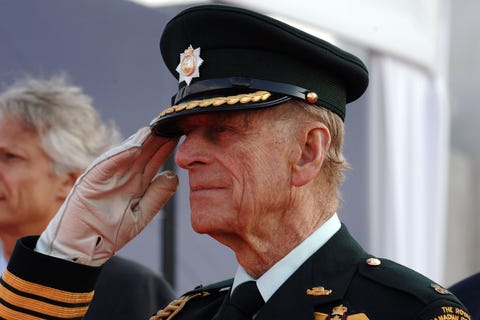 Prince Philip salutes during a ceremony commemorating the 90th anniversary of the Battle of Vimy Ridge.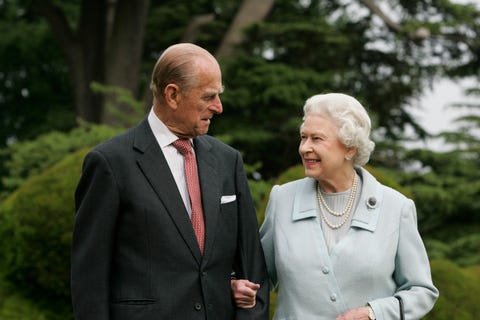 Prince Philip and Queen Elizabeth recreate their honeymoon photo during a visit to Broadlands in a photo released on November 18, 2007. The couple marked their diamond (60th) wedding anniversary two days later.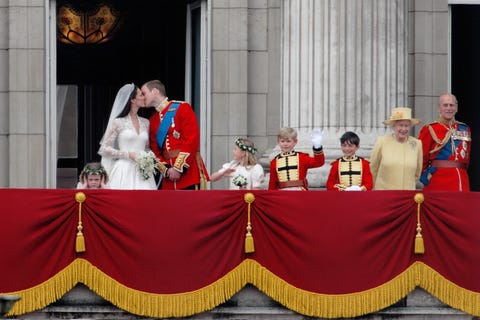 Prince Philip and Queen Elizabeth look on as Kate Middleton and Prince William kiss on the famous balcony at Buckingham Palace following their wedding.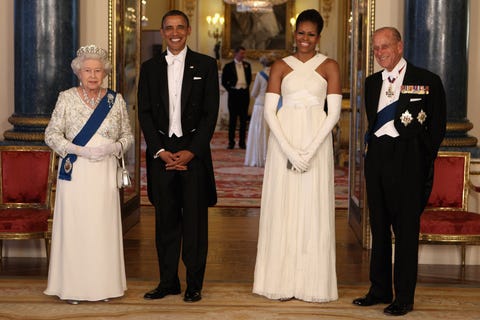 Prince Philip and Queen Elizabeth receive U.S. President Barack Obama and First Lady Michelle Obama during an official visit to Buckingham Palace. The Obamas were invited by the Queen for a two-day state visit, which included a state banquet and the President addressing both houses of parliament. During Obama's presidency, Philip and Elizabeth received him for three official visits.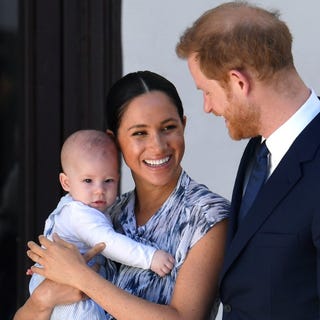 Source: Read Full Article