Prince Harry and Meghan's school choices for Archie and Lilibet revealed by Montecito resident
01/19/2023
A Montecito resident who lives near to Prince Harry and his wife Duchess Meghan has exclusively revealed the royal couple's school options for their children.
Speaking on HELLO!'s new A Right Royal Podcast, which you can listen to below, Richard Mineards, gave us a unique insight into the type of education Archie Harrison and Lilibet Diana may have in the sunny Californian town, where famous residents include Oprah Winfrey, James Corden and Katy Perry.
LISTEN: Royal experts chat Prince Harry and Meghan's life in Montecito below…
HELLO!'s Emmy Griffiths asked Richard what kind of upbringing Archie and Lilibet will have in Montecito, to which he replied:
"I'm obviously guessing now, I don't know… but he's at a pre-school, a very good pre-school in Montecito. We have very good schools, which are not like England public schools but they're state schools. And we have a very good one called Cold Spring School which has got great ratings and that's in their catchment area."
MORE: Prince Harry's closest family members as revealed in Spare book
WATCH: See inside Harry and Meghan's Montecito home below
Richard added: "So if Archie then follows through getting a state education, the next stop after this pre-school he goes to is going to be some sort of junior school. We have a very good junior school here called Montecito Union School which is very, very good, has a lot of Tony names attending, children of the rich and famous.
"Then, as I say, he could go to Cold Springs or maybe they'll say that 'Hey, we want to follow a private education'."
HELLO! also spoke to Sandro Monetti, a royal expert in LA, who told us all about whether Prince Harry and Meghan will stay in Montecito and the impact Lilibet will have on Los Angeles as she grows up – listen to our podcast above!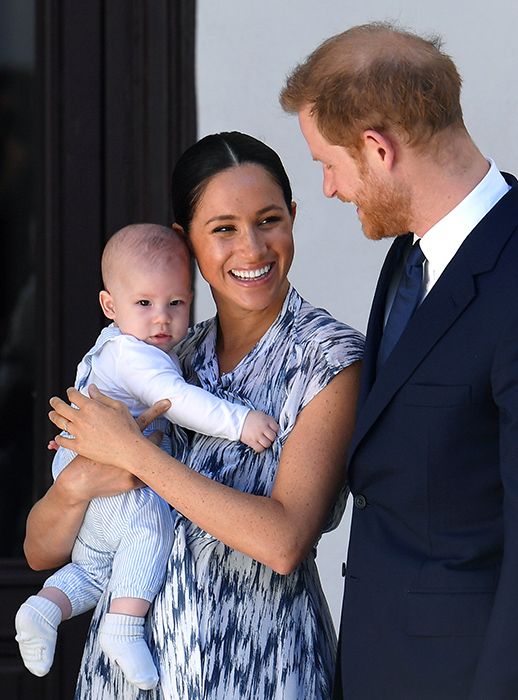 Archie as a baby with his royal parents
Richard continued: "Obviously, Harry was at Ludgrove and then at Eton College and they might go the private route, which will be something like Laguna Blanca or Cate School, which are very good private schools – so it's really up to them what kind of path they take on educating the children.
"I mean, they've got the money to do it. But maybe Meghan would like to follow her normal roots and do it the state school way."
MORE: Revealed: How royal parenting styles impacted Prince Harry and Prince William
https://www.instagram.com/p/Cm91wefySYv/
A post shared by Laguna Blanca School (@lagunablancaschool)
The Laguna Blanca School that Richard mentions is one of the area's top private schools. It has been open since 1933, and it has a great reputation for success, with 100 per cent of Laguna graduates attending college. The fees go up to $31,950 a year.
Their website reads: "In and outside of the classroom, we create meaningful experiences that are true to our mission and help students develop a sense of the world around them."
The Duke and Duchess of Sussex
The Cate School was founded in 1920, has 310 students and a student-teacher ratio of 5:1. It boasts a 150-acre campus which is just five minutes form the beach; fees are an eye-watering $54k a year.
The school's website says: "For over 100 years, Cate has been combining the best of East Coast tradition and West Coast energy and innovation in the service of highly motivated, independent-minded kids."
https://www.instagram.com/p/Cf7nng4JJlf/
A post shared by Crane Country Day School (@craneschool)
Another option for Harry and Meghan's children is Crane Country School, which opened in 1928 and has built up an exclusive clientele since. The average class size is 15 pupils and there is a ratio of seven students to one teacher. The tuition can cost up to $31,950 per annum.
The website explains the school ethos: "Crane Country Day School is dedicated to providing an experiential education characterized by a thoughtful balance of academic challenge and creative expression. We thrive as a community that builds character and confidence, while celebrating the joy in learning."
Source: Read Full Article