How To Replicate Lucy Hale's Everyday Skincare Routine
07/23/2021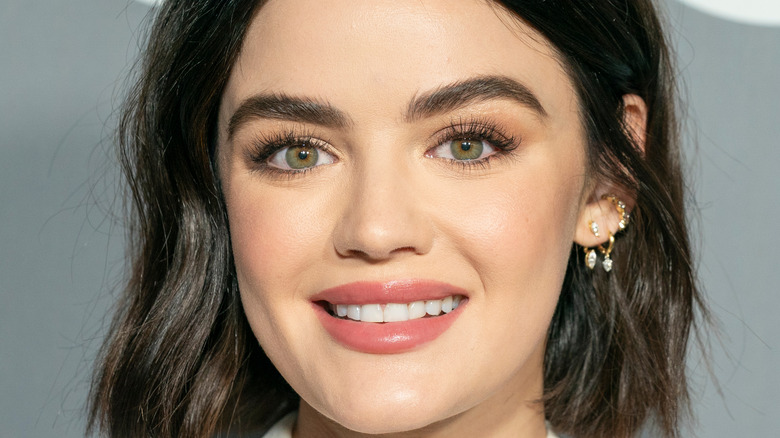 "Pretty Little Liars" star Lucy Hale has long enchanted audiences with her snow white complexion and cocoa-colored locks. But even though the actress' face appears impervious to breakouts now, Hale revealed to Vogue that even she has dealt with the banality of acne. "I am breakout prone … I had really bad cystic acne in my 20s, [but] I kind of got it under control now," she explained.
So how was Hale able to achieve the flawlessly clear skin we see today? A not-so-simple 25-step skincare routine, which she strives to complete everyday. "I'm obsessed with skin care; I'm obsessed with having clean skin," Hale confessed in her Vogue YouTube video. Even Hale's makeup artist, Kelsey Deenihan, turns to the "Katy Keene" actress for product recommendations. "When it comes to skincare, Lucy is usually the one giving me tips," Deenihan told Teen Vogue. "She introduced me to the Dr. Lancer line and we both love the lotion, exfoliator, and face wash."
Clearly, Hale isn't afraid to take risks with her makeup, hair, or clothes, but when it comes to her skin routine, she sticks with what works. Even if it means waking up a few hours early!
Lucy Hale uses milk or oil based cleansers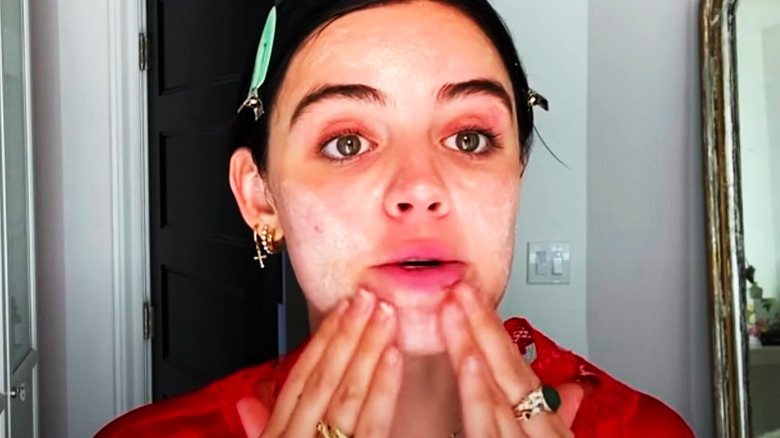 Lucy Hale began her "more is more" everyday beauty routine video by tying her raven tresses back and applying a few pumps of Joanna Vargas' Vitamin C Face Wash. "I usually like milk cleansers or oil cleansers because it doesn't strip my skin of the oils that I need," Hale explained (via YouTube). She recommended washing the face with cold water in the morning in order to hit two birds with one stone: shrink pores and wake up!
Next, Hale applied about a quarter-size amount of Lancer Skincare's The Method: Polish Normal – Combination Skin exfoliator to get rid of dead, flaky patches and achieve "baby [soft] skin!" After exfoliating and cleansing, Hale removed any raccoon-eye makeup remnants with Almay's Biodegradable Clear Complexion Makeup Remover Cleansing Towelettes to attain "a clean palette." 
But Hale's favorite part of her skincare routine is using the "American Psycho"-esque Dr. Dennis Gross Skincare SpectraLite FaceWare Pro mask. While the LED mask may give off storm-trooper vibes, it also promises to smooth fine lines and wrinkles, balance discoloration and redness, and firm facial contours in just five minutes (via SkinStore). Hale switched between the blue light, which attacks acne-causing bacteria and red, which promotes collagen and elastin growth.
Lucy Hale loves a sheet mask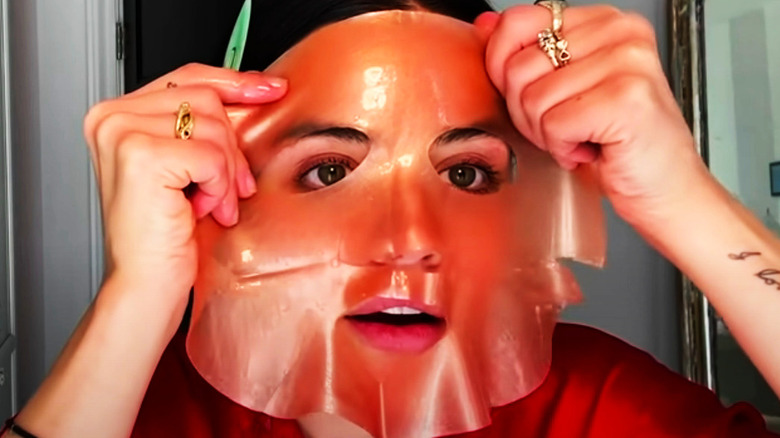 Lucy Hale is a self-proclaimed "big masker," so after using her LED face ware, she opted for a more traditional topical mask with ISUN's Skincare Rhassoul-Neem Face & Spot Mask. In order to purify the skin, Hale applied "a really thin layer … focusing on the spots where I get clogged." After letting the clay-based mask sit for 15 to 30 minutes (via ISUN), Hale rinsed of the soothing herbs and moved on to mask number three.
"I love a sheet mask!" Hale proclaimed (via Youtube), though, she prefers a "jelly" mask over the classic paper sheet mask. Hale called the 111SKIN Rose Gold Brightening Facial Treatment Mask her "favorite thing ever" and recommended using a massager, like the Jillian Dempsey Gold Sculpting Bar, to smooth the mask evenly over facial contours. After about 20 to 30 minutes, Hale was ready to brighten her eyes with Rohto's Original Cooling Redness Relief Eye Drops. "They are spicy … it wakes you up!"
Now that we're all masked up, it's time to feed the skin with a few serums.
Lucy Hale keeps her skin hydrated and protected with a number of serums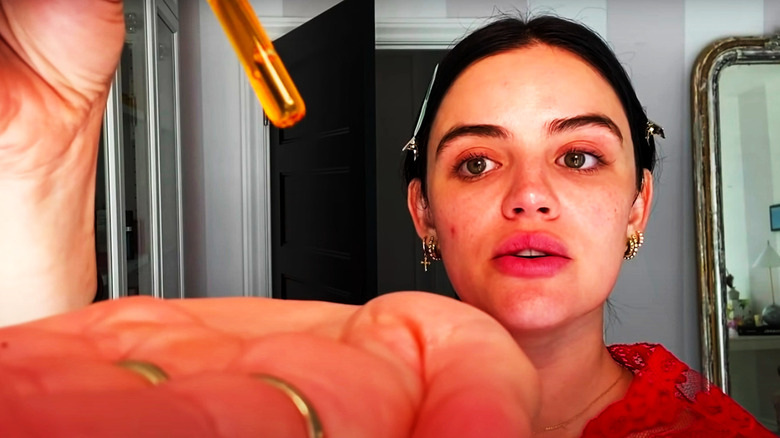 Lucy Hale prepped her skin with one to three drops of SkinCeuticals C E Ferulic ascorbic acid serum, said to protect skin from environmental free radicals like UV, ozone, and diesel exhaust (via SkinCeuticals). Next, Hale applied a few pumps of BENEV's GF-DNA Stem Cell Serum with peppermint. Hale used any leftover growth serum on her signature thick brows to keep them full and defined. To combat skin spots, the early-30s actress turned to her favorite color correcting serum: The Things We Do Pigment Remedy, dabbing the serum over the afflicted areas.
"My skin definitely in the summer time gets way more dehydrated than usual," Hale revealed (via YouTube). To nourish and hydrate her face, Hale swears by Kate Somerville DermalQuench Hyaluronic Acid Hydration Treatment. She applied the serum by shaking the bottle, spraying a thin layer into her hands, and then rubbing the product all over her face. "You always want to apply your products from thinnest to thickest," Hale reminded viewers. "Start with your serums, then your moisturizers, then your oils."
And don't forget your neck!
Lucy Hale skips the primer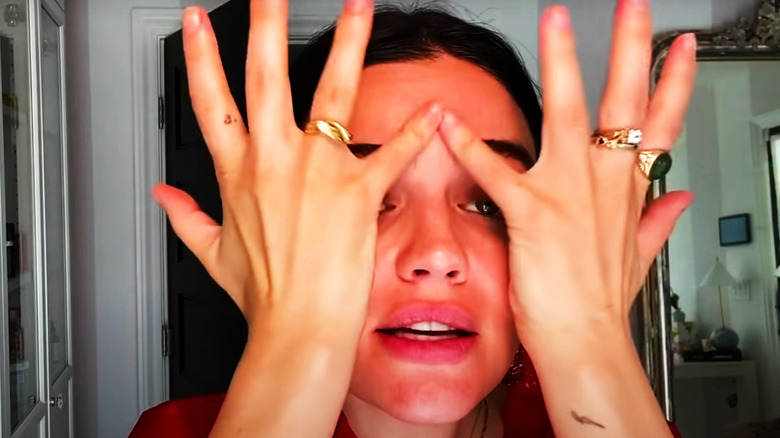 Lucy Hale cared for sensitive skin under her large chocolate brown eyes with ISUN Peptide Eye Cream, and even applied the product to smile lines and in between brows. "Obviously, like, skincare and your skin routine and being consistent is just one factor to having healthy skin that you love," Hale stated (via YouTube), but she also suggested viewers pay attention to the types of foods they're feeding their bodies. Hale warned against food like dairy, which she called, "not necessarily good for your skin." 
Hale protected her skin against the sun with a penny-sized amount of SUPERGOOP's matte Unseen Sunscreen SPF 40, which she used as both a sunscreen and a primer. "I typically don't use primers," Hale revealed (via YouTube) in order to let her skin breathe. Finally, Hale chose from her large array of lip balms, and selected the Lucas Papaw Ointment, made of fermented papaya. 
In about 15 more makeup steps, Hale will be ready to walk out the door, but we suggest you start with just her skincare routine for now. Rome wasn't built in a day!
Source: Read Full Article