Expect the Unexpected: Why This Beauty Content Creator Is Here For Experimental Trends
03/22/2022
Smashbox Hayley Gomez TikTok Eye Makeup Interview
Picture this: you're 11 years old and your mother just bought you your first beauty product. It's a sticky tube of lip gloss — the tackiness and shiny sparkle have you mesmerized — and you're thinking that this is the coolest thing you've ever been given. How could such a tiny tube of gloss — something that, in the grand scheme of life, seems so inconsequential — actually change your life? Well, if you're Hayley Gomez, it can — and did.
Gomez remembers that first lip gloss and credits it as the moment her beauty journey began. Now, her online audience (a combined 162,000 on Instagram and TikTok) is following that journey. Eleven-year-old Gomez probably never thought she'd turn her newfound passion into a full-time job, but she has. "I decided I wanted it to be more than just a hobby when I would watch beauty YouTube tutorials and I was so inspired by the creators," she says. "Once I saw that I could make it into something more, I knew this was it for me."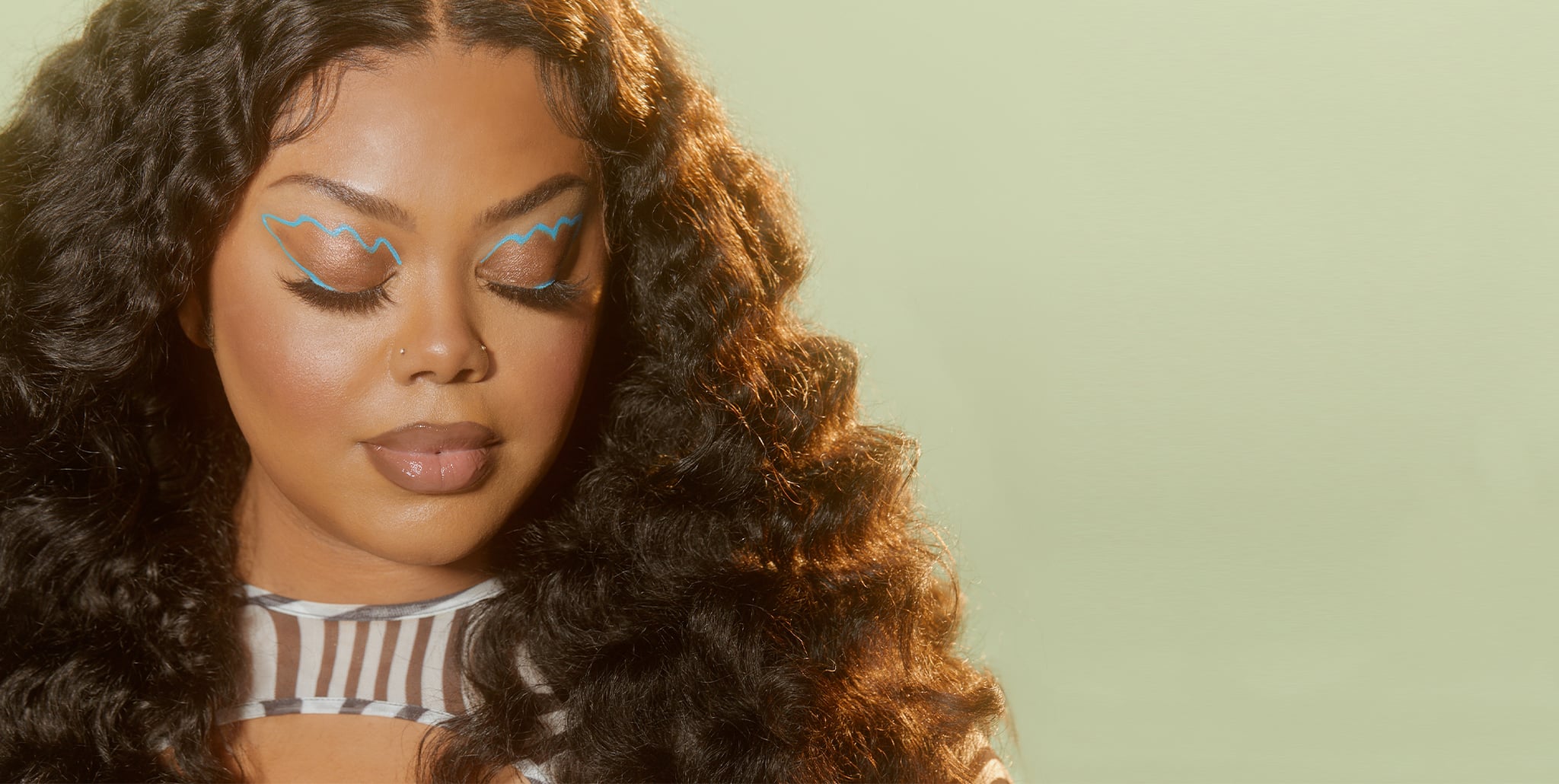 Although TikTok is where she's getting the most views, like Gomez said, she started on YouTube. Now, she has the skills of a pro. YouTube tutorials made up her core curriculum — she'd practice and play for hours, re-creating looks and studying other artists' skills. Now that she's got a proverbial tenure on TikTok, she's a part of that very community that helped grow her passion. In fact, it's the video platform that she owes for some of her more experimental beauty looks. "It's allowed me to get out of my comfort zone and try new things," she says. "That's why I love TikTok so much. You never know what style of makeup you're going to see trending next."
So, what's her new favorite trend? It doesn't have so much a name as it does a specific vibe. Some might describe it as graphic eyeliner, but it's more out of the box, unable to be pinned down by just one name or rule. When you see it, you know. Think creative twists on the old cat-eye wing or cloud-like shapes on the outer corner; it might even include delicate designs that are so precise they require actual paint brushes to create. It can be dramatic or low-key, colorful or monochromatic, and it certainly can't be bound by limitations, which is what Gomez loves about it.
"It's like putting art on your face," she says. "The TikTok beauty community loves to be creative, and sometimes, we don't want to do what's always expected." These eyeliner looks aren't always easy, but the challenge is half the fun. If it doesn't come out how you wanted it to, you can wipe it off and try again.
Gomez always does her eye makeup before her face makeup. Ask any veteran makeup artist and they'll tell you to do the same. If there's any eyeshadow fallout, or if you mess up your eyeliner, this strategy makes it easier to wipe away any mistakes without messing up your face makeup. Even with experimental graphic eyeliner, you'll want to prep your lid with a base product that creates an even canvas. We suggest the Smashbox Always On Cream Eye Shadow, a long-wearing matte cream that sits comfortably underneath shadow and liner.
While Gomez is willing to push boundaries with her eye makeup, she's a stickler for her base game. She describes herself as a full-coverage girl, one that feels 100 percent herself when in glam makeup. But a full glam look can't really begin without laying the foundation of a silk barrier between skin and makeup. "Primer helps my makeup last long and allows me to prep my skin for whatever I put on top," she says. "I love using a hydrating primer to balance out all of the powder that I usually use in my routine." Her go-to as of late is the Smashbox Photo Finish Primerizer+ Super Hydrating Primer, which uses hyaluronic acid and niacinamide to hydrate while it controls oiliness. The result is a smooth canvas that's compatible with Gomez's combination skin.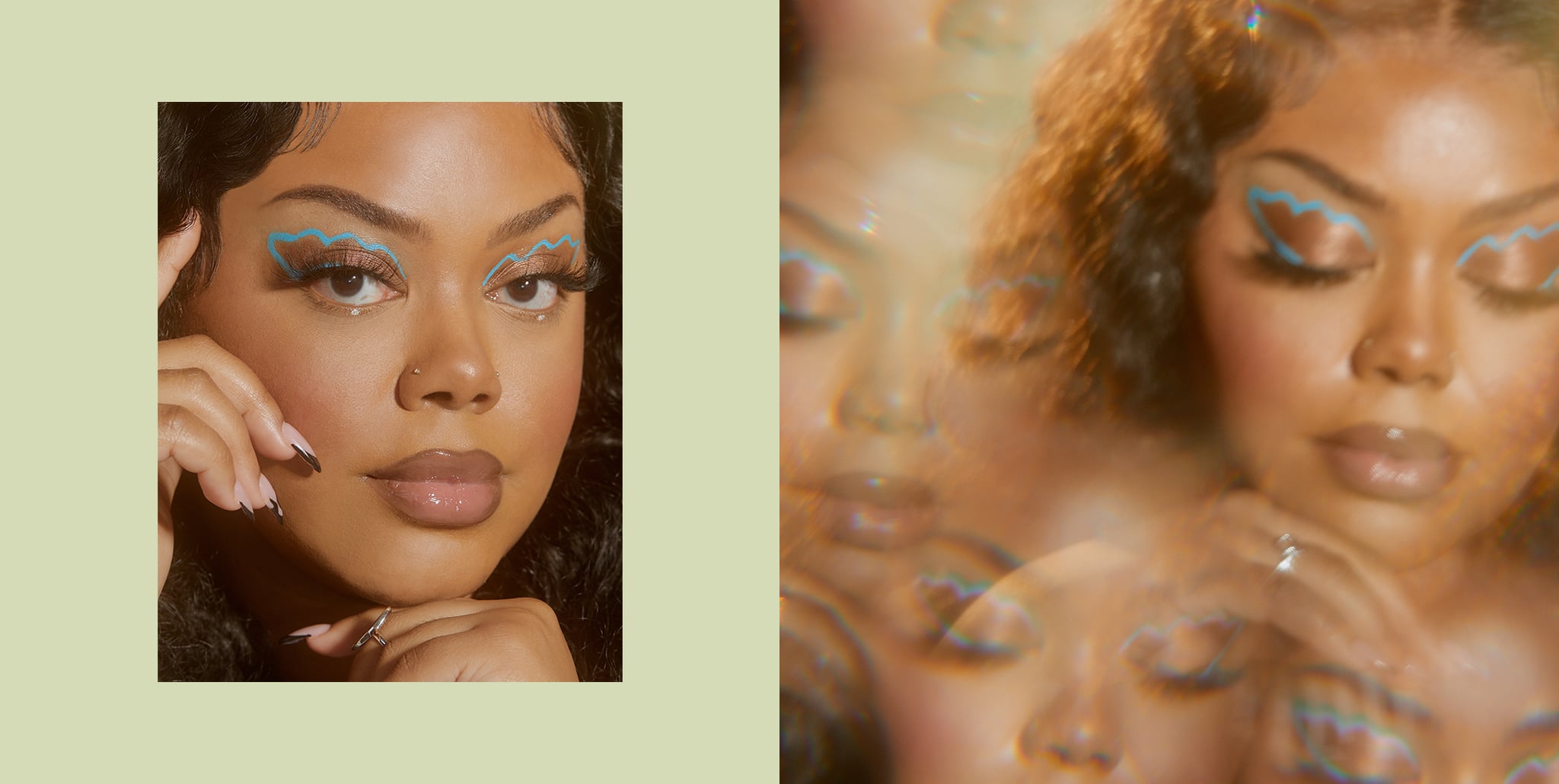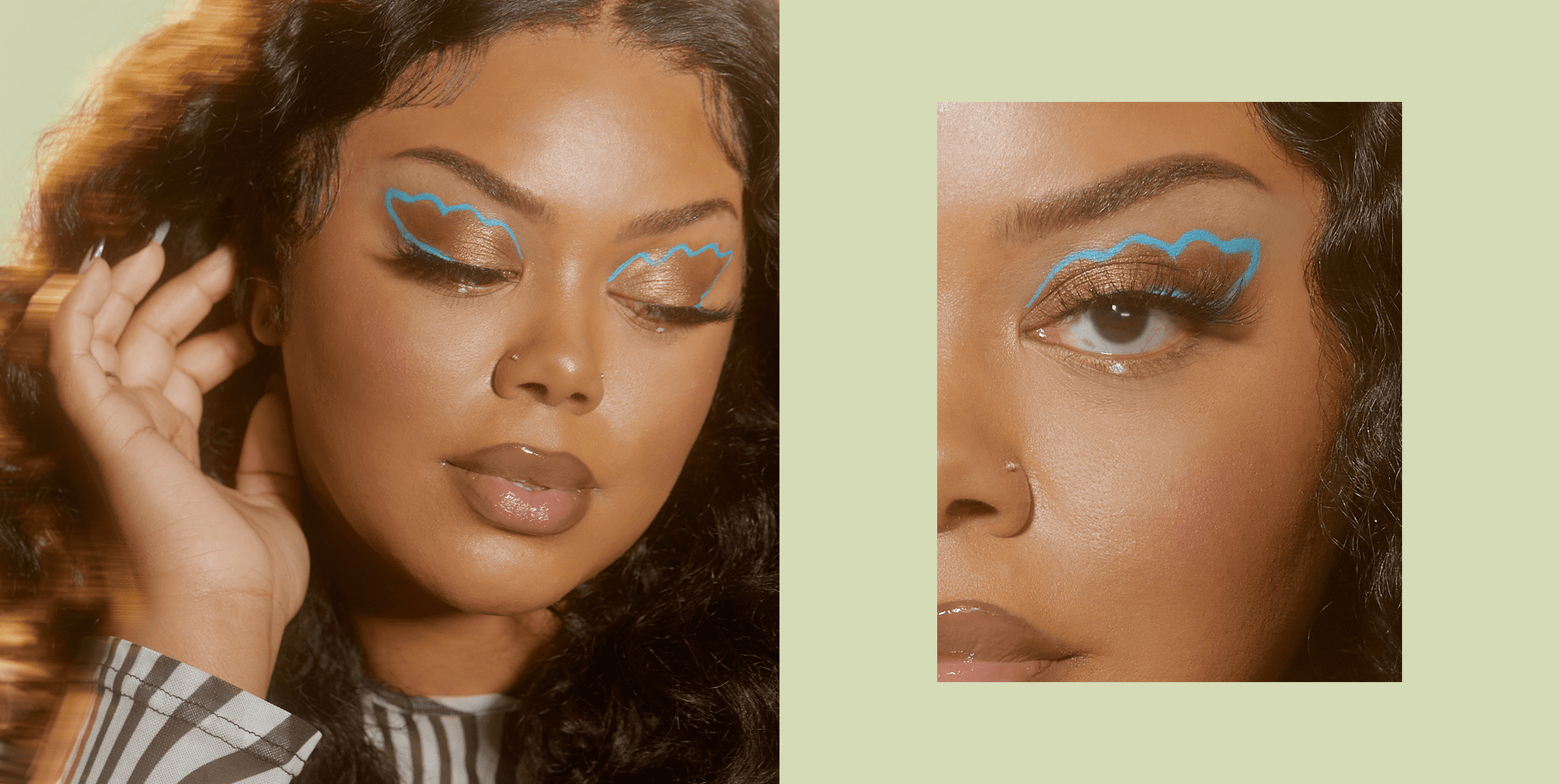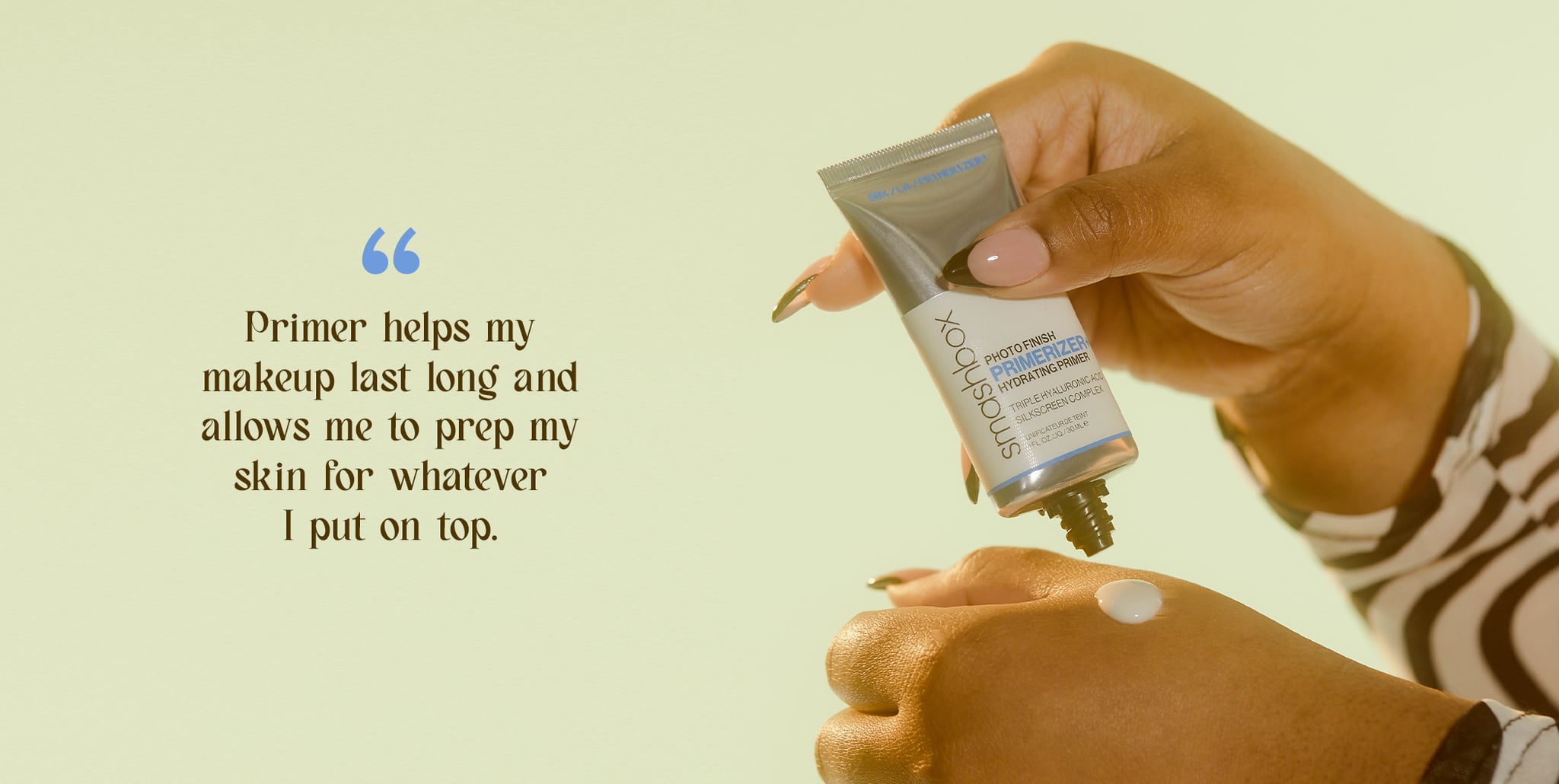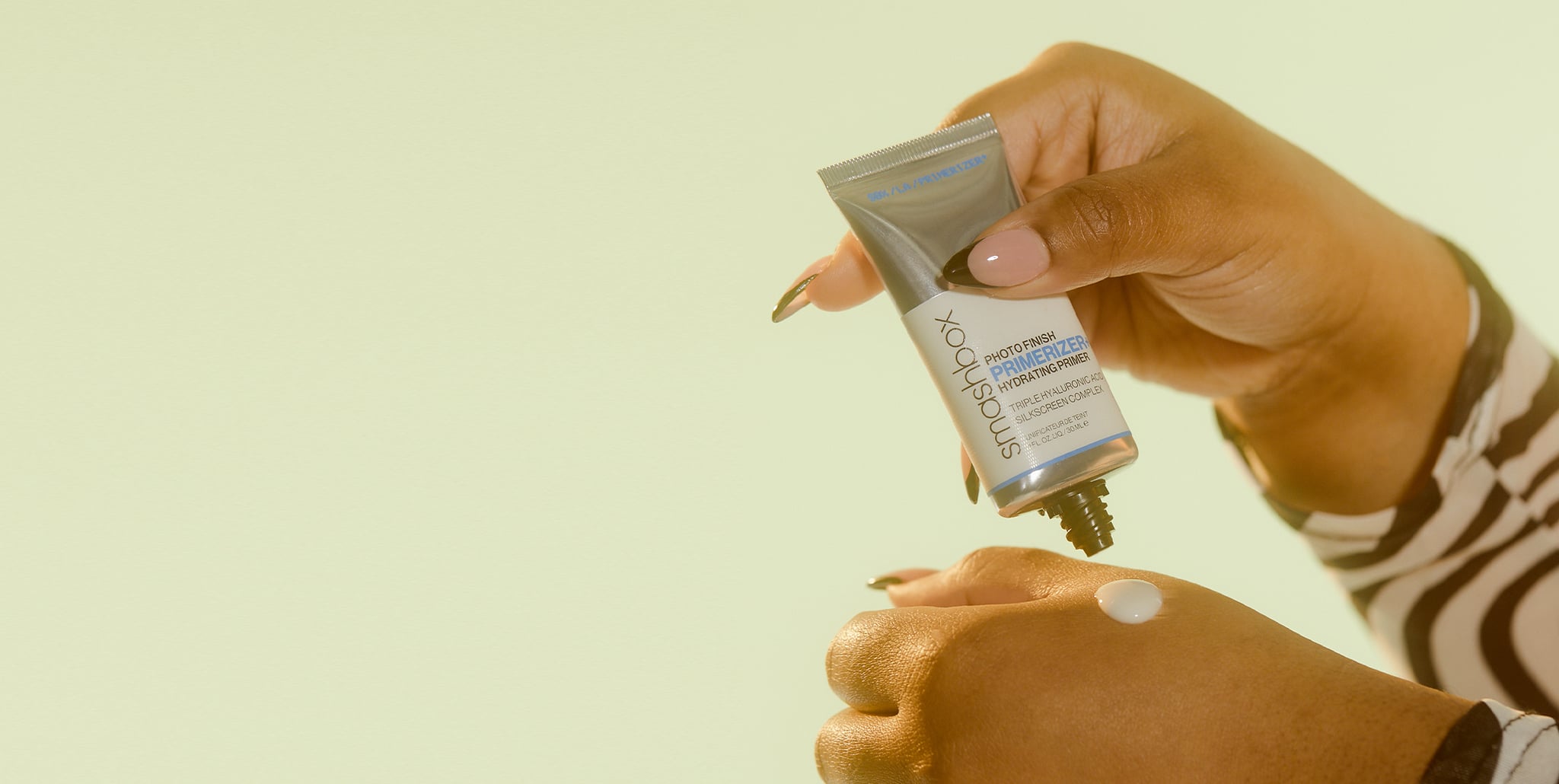 Next, she moves on to foundation. Her perfect foundation needs to offer budge- and sweatproof coverage while still making her skin look like her skin. Thanks to its long-wearing hydrating formula, the Smashbox Studio Skin 24 Hour Hydra Foundation checks these boxes. After applying her foundation, Gomez always follows up with concealer and sets her cream products with powder. Before revealing her take on the trend to her followers, Gomez tops everything off with a contoured lip. "My favorite [lip combination] right now is a dark lip liner with a matte nude in the center," she says. "It finishes off my look perfectly." The Smashbox Always On Liquid Lipstick offers weightless, nondrying color that complements her eyeliner du jour. If only 11-year-old Gomez could see herself now . . .
Shop the Article
Smashbox Photo Finish Primerizer+ Super Hydrating Primer

$39

from smashbox.com

Buy Now

Smashbox Studio Skin 24 Hour Hydra Foundation

$29

from smashbox.com

Buy Now

Smashbox Always On Cream Eye Shadow

$18

from smashbox.com

Buy Now

Smashbox Always On Liquid Lipstick

$19

from smashbox.com

Buy Now
Source: Read Full Article